If you're searching for a car insurance affiliate program, you may want to consider one of the most popular options: Liberty Mutual. Car insurance is an evergreen affiliate niche and the Liberty Mutual affiliate program may be an ideal option.
If you take a look at the Google Trends graph below, you'll see that in the past 12 months, the search for car insurance in the US is highly trending:
As an affiliate, you have the opportunity to make some steady commissions when targeting the right audience with your marketing efforts. Liberty Mutual is a well-known insurance company so conversions could be high.
I will provide details about the Liberty Mutual affiliate program below, how you can get started promoting their products, as well as an alternative to help you make even larger commissions.
Car Insurance Affiliate Program
There are various car insurance affiliate programs to choose from. We will focus on Liberty Mutual below and how its affiliate program works.
How the Liberty Mutual Affiliate Program Works
When you apply to the Liberty Mutual affiliate program, you will earn a commission for every referral you send who completes a quote. For every car insurance quote you refer, you'll earn $10.
The affiliate program is managed by CJ. What that means is that you'll create an account first with CJ and then apply to the Liberty Mutual affiliate program.
After you apply, you may need to wait several days until you're notified of being approved or not approved.
What to Do if You're Not Accepted
There are some cases where you may not be approved for an affiliate program. Sometimes you are not given a reason. However, it may be easy to decipher when you consider that most affiliate programs will ask for your website URL.
Oftentimes, the reason why they ask for a website is so they can know that you are able to generate a steady stream of targeted web traffic.
Therefore, if you are a beginner affiliate marketer and possibly don't have a website, your application may not be approved.
In the event that you are not approved, you should consider creating some type of online asset such as a niche website or even a social media following.
Create a Niche Website
A niche website is one of the best online assets you can have when it comes to making money with affiliate marketing.
It helps to choose a niche that is closely related to the product that you're promoting. In this case with car insurance, you could go in a lot of directions. Here are some niche website ideas:
Car insurance comparison website
Car buying tips
Vintage cars
Car maintenance
Car enhancements
Specific car website (Toyota, Honda, BMW, etc.)
Getting a website up is really easy nowadays. Find almost any web hosting provider and they can set you up with your domain name, web hosting, and WordPress.
There are plenty of WordPress tutorials on YouTube that you can follow to learn the basics. Then it is a matter of creating content (blog posts) to attract your target audience.
After you have 5 – 10 good posts, you can submit your website when you first apply or when you reapply to an affiliate program.
If you're reapplying, it may also help if you wait at least 30 days or longer before reapplying.
How to Promote Liberty Mutual as an Affiliate
There are multiple ways to do affiliate marketing. I will share some ways I've done affiliate marketing that may be of interest to you.
Use a Niche Website
As mentioned above, a niche website works really well for recommending affiliate products. The content on your website is what attracts your target audience. Within your content, you can add your affiliate links.
Recommend on Social Media
If writing blog posts is not your thing, you can utilize social media platforms such as Instagram, Facebook, and TikTok. You will still need to create content but in the form of photos and short videos (reels.) Place your affiliate link in your user profile and direct your audience to using a call-to-action.
FAQs About a Car Insurance Affiliate Program
Does Allstate Have an Affiliate Program?
I am not certain that Allstate has an affiliate program. After checking the Allstate website, there wasn't an affiliate program link that I could find. You can check with the various affiliate networks such as CJ, Impact, Awin, ShareASale, and others.
Does Liberty Mutual Have an Affiliate Program?
Yes, Liberty Mutual does have an affiliate program (see above) that is managed by CJ.com. They offer varying affiliate commissions for every completed quote you refer: $10 auto insurance, $10 home insurance, and $3 renters insurance.
What is an Insurance Affiliate Program?
An insurance affiliate program is put into place by some insurance companies to gain new customers via the marketing efforts of affiliate marketers. When you are an affiliate of an insurance affiliate program, you have the opportunity to make commissions for every successful referral you send that leads to a sale.
How I Make High-Ticket Commissions
Making money from a car insurance affiliate program can work really well if you have a good traffic source for leads who are likely to buy car insurance.
In the case of the Liberty Mutual affiliate program, the commissions are low ($10 for car insurance) so you would need to make several sales per month to make any significant income.
Let's say you have a monthly goal of $5,000 per month in affiliate commissions. At $10 per successful referral, you would need to make 500 sales each month.
However, if you recommend a high-ticket affiliate offer with a commission of $1,000 per successful referral, you would only need 5 sales.
Since shifting my focus from low-ticket to high-ticket, I've been able to make $1,000 – $2,000 commissions. Below are some screen captures of commissions I have made: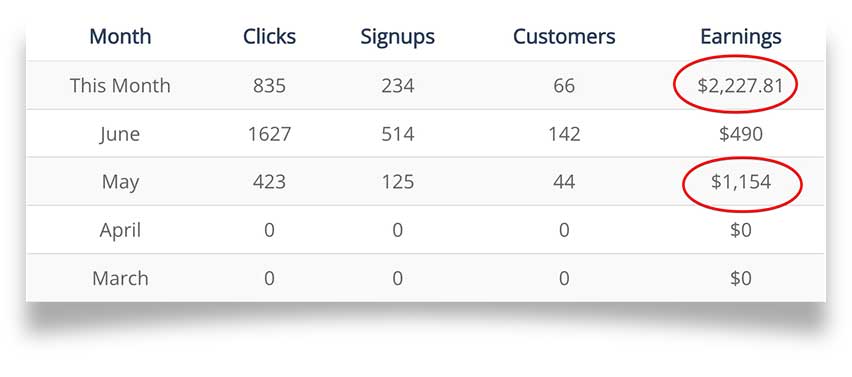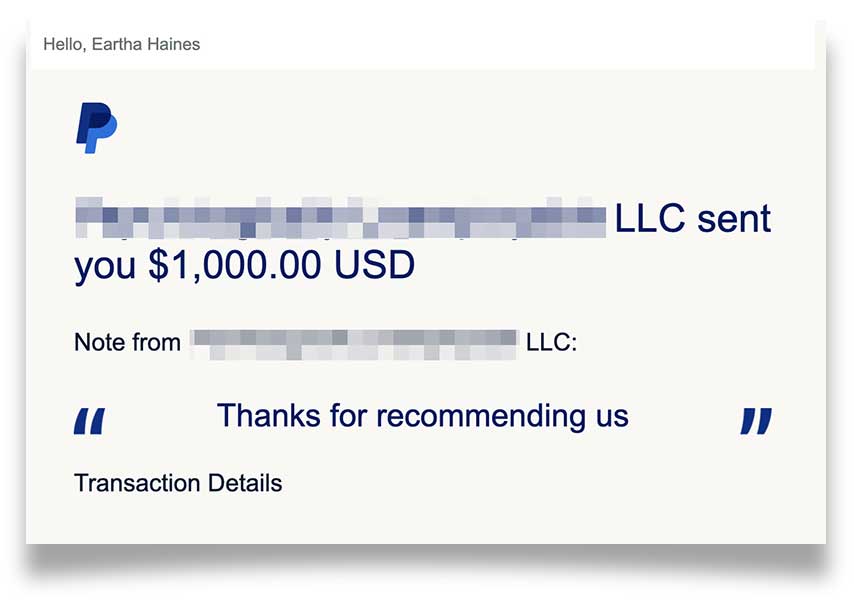 I had to learn how to make these high-ticket sales and rather than figuring it all out on my own, I sought an online training program and found this one.
By following what I learned in that course and taking action, I have been able to make a steady income online. Click the link below and I'll share exactly how I did it:
What to Do Next
If you are ready to dive into the car insurance niche, then join a car insurance affiliate program such as the Liberty Mutual affiliate program. Having an online asset such as a niche website may help improve your chances of being approved.
You may also want to consider recommending high-ticket affiliate offers. Making larger commissions is one of the fastest ways to help scale up your affiliate income.
Click here to discover how I went from working a full-time retail job to making $1,000 – $2,000 commissions.