Are you an introvert that likes marketing but doesn't necessarily want to work in a team environment? I completely understand and I answer the question, "can introverts work in marketing?" by sharing my own experience.
The answer is an absolute yes. Introverts can work in marketing without being in a typical team environment. This is possible with affiliate marketing which is done online.
Affiliate marketing is the promotion of another company's products and/or services in exchange for a commission when a sale is made. I do just that by creating niche websites. I'll explain how it works below.
Click here to learn how I make a consistent income online every month.
Is It Possible To Work in Marketing as an Introverted Person?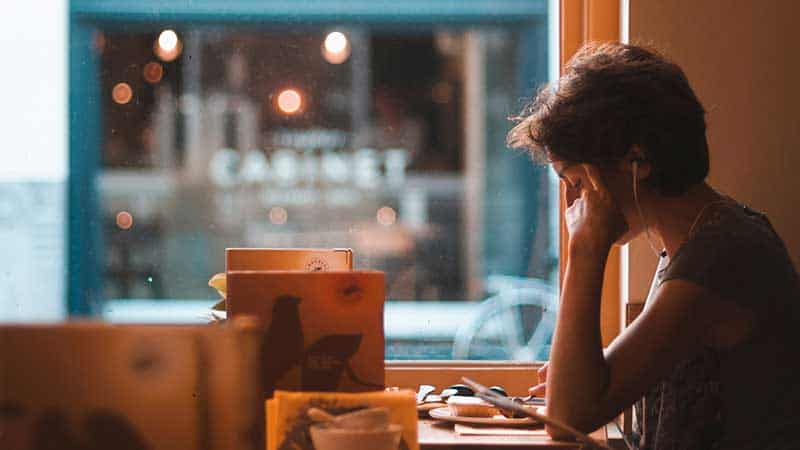 I'm an introvert and it has always been a pain point for me to be in any work environment. I've worked as a web developer for many years which meant working in an office environment.
While I liked my co-workers, I did not like the overall team aspect. It was uncomfortable to participate in team meetings or lunches.
I had one job where we were required to have a team meeting every single morning. We went around the room so that each person could talk about their day's tasks. Talk about annoying!
I've always preferred to work on my own. Give me a task and I can finish it with very little input from anyone else.
There is also a part of me that does not like working for anyone else. I've had an entrepreneurial spirit and dreamed of working for myself and by myself.
If you can relate to what I'm saying, keep reading! I will share how I escaped the cubicle life to work for myself doing what I love.
Along Came Affiliate Marketing
Fortunately, in an effort to quit one of my web jobs, I interviewed for another position that was closer to home.
There wasn't much that I could find on the company except a bit of information about the owner which said that he was in affiliate marketing.
I had no idea what affiliate marketing was so after the interview, I went home and began researching.
When I discovered that people were making money online from promoting other people's products, I was hooked.
How Affiliate Marketing Works
There are millions of products that have affiliate programs. Some major companies even have affiliate programs like Amazon, PetCo, Target, and more.
As an affiliate marketer can join any affiliate program (they are free to join) and once approved, can begin recommending these products to others online using a website (a niche website or blog).
Here are some affiliate programs that you can apply to:
There are hundreds of thousands more in just about any niche that you can think of. When you join an affiliate program, you'll be provided with special tracking links called affiliate links.
These affiliate links carry an ID that is linked to you so that when someone clicks on your link and makes a purchase at the merchant's website, you receive credit also known as your commission.
Here is what an affiliate link looks like when you are part of Amazon's affiliate program called Amazon Associates:

The Affiliate Marketing Flow
I create niche websites to promote affiliate products. A niche website is a website that focuses on one specific topic.
All of my niche websites are on self-hosted WordPress websites. All that means is that I register a domain name, get web hosting, and install WordPress on my domain (which your web hosting provider can help you with).
You can get everything that you need for a self-hosted WordPress website with any commercial web hosting provider. I use and recommend WPX Hosting (<= affiliate link – see how affiliate marketing works?)
Study the flow chart below to understand how the affiliate marketing process works: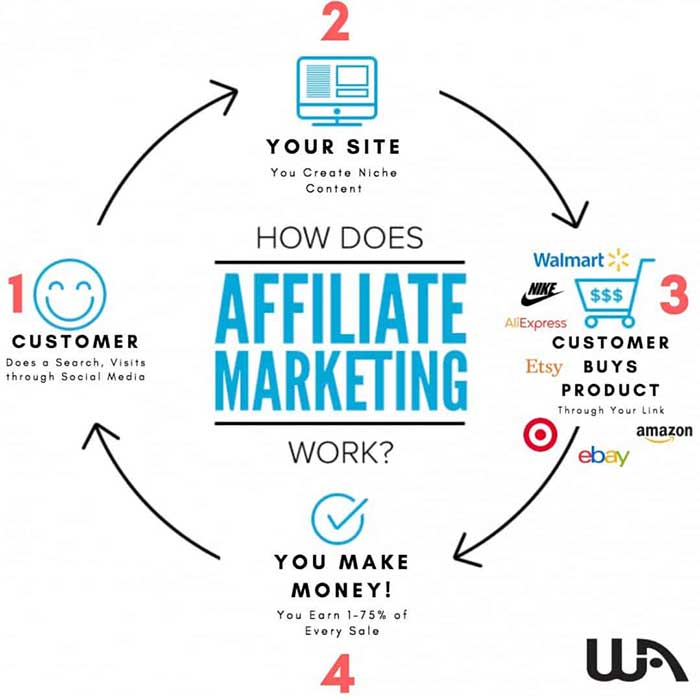 Content Creation (The Secret Sauce)
The reason why you'll want to create a niche website is that the content (blog posts) that you create is what drives free targeted web traffic to your posts.
For example, if I wanted to create a camping website but I want to focus on a sub-niche about outdoor cooking, I'd create content pertaining to cooking outdoors.
I could join an affiliate program like Solo Stove and recommend their camping stoves using my affiliate link within my content.
The key is to create helpful content for your target audience. Your content is what eventually gets indexed by the search engines like Google and then ranked.
There is more to the process such as learning how to do keyword research and SEO (search engine optimization)
That is why I sought out an online affiliate marketing training program when I started. I found this one and it helped me to make tremendous progress with my websites.
Click here to start your niche affiliate website for free.
So Can Introverts Work in Marketing? Heck Yes!
Although affiliate marketing may not be as glamorous as working at a marketing agency, it is likely a better fit for introverts in terms of a work environment.
You'll likely be starting part-time and that is perfectly fine. It takes time for a new website to begin receiving web traffic. However, once it does, it can then begin making money.
I work on my websites full-time and here are the primary reasons why I favor affiliate marketing:
You don't need your own product
There is nothing to pack or ship
No customer service issues to deal with
Millions of products that you can promote
Work from anywhere with a WiFi connection
Lifestyle freedom & time freedom
Choose any niche that you want
Replicate the process over and over
Unlimited earning potential
What You Need to Know About Affiliate Marketing
Affiliate marketing definitely has its perks. Making money online is awesome but it is important to understand that it does not happen quickly.
It is easy for people to equate the internet with speed when it comes to making money and that is not the case.
Like any business, an online business takes time to grow. Affiliate marketing is more like a marathon and not a sprint.
Meaning, you put in the work upfront and the payoff happens in the long-term. To give you an idea, I was laid off from my last web job.
I had to take on a retail job and during that time, I started my niche website at the same time. I worked on my website in every free moment that I had.
A year and a half after starting that retail job, I was able to leave it and work on my website full-time.
This doesn't mean that my timeframe is the same that will work for you or anyone else. There are a lot of factors that come into play.
However, I can tell you that with hard work, you can achieve your own goals with your niche website.
Closing Thoughts On Introverts Working in Marketing
I hope this post has been helpful in answering the question "can introverts work in marketing". Affiliate marketing is a form of marketing that can be done 100% online.
You can start for very little and create a website that generates consistent income each and every month.
Niche websites are what I use to earn a consistent income online through affiliate marketing.
It is one of the best ways to earn affiliate commissions. I make commissions while I am sleeping, out grocery shopping, or relaxing with my loved ones.
Beginners may find it a bit challenging to get started. I did as well so I followed a step-by-step training program.
That training program made all of the difference for me and I use it today to help others one-on-one with creating and growing their own niche websites.