Pet products sell extremely well. Pet owners will often go above and beyond to ensure that their fur babies are well cared for. That is what makes the Brain Training for Dogs affiliate program worth looking into as an affiliate marketer.
The Brain Training for Dogs training program teaches dog owners how to eliminate bad behaviors in dogs and train well-behaved, obedient, loving pets by bringing out a dog's "hidden intelligence". The training program was created by Adrienne Farricelli, I'm a professional CPDT-KA certified dog trainer.
I will cover what is included in this training program as well as how to best promote this product so that you can make steady commissions.
Commission: 75%
Average Sale: $31.73
Affiliate Network: Clickbank
Tired of not making sales? Learn how I went from zero to consistent affiliate commissions every month. Click here to learn how I did it.
Brain Training for Dogs Affiliate Program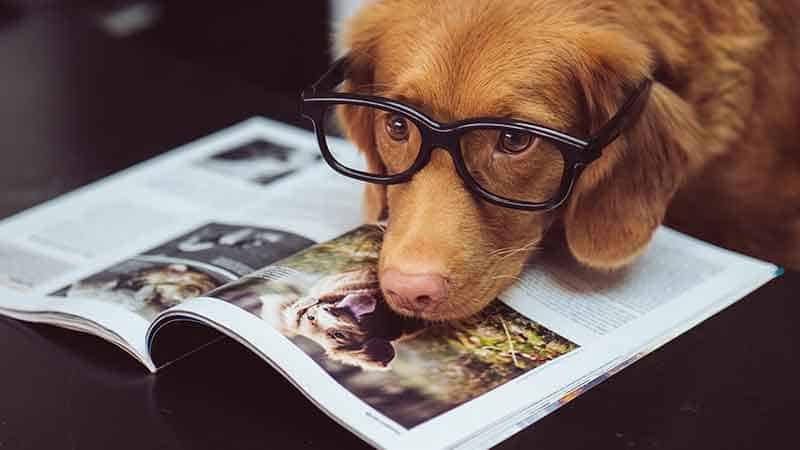 The Brain Training for Dogs training program was created by CPDT-KA certified dog trainer, Adrienne Farricelli. Her training program is based on the idea of neuroplasticity. According to the website:
With the right mental stimulation and training… (That you will get in my program) your dog's brain will become more open and receptive to learning new information.

BrainTraining4Dogs.com
The training program covers a variety of dog training issues to include potty training, aggression, jumping, digging, whining, chewing, hyperactivity, and more.
The program contains easy to understand directions, troubleshooting guides, step-by-step guides, and pictures and video demonstrations.
Customers also receive a support system, an archive covering almost every dog behavior problem you can think of, access to a private forum, plus bonus trick training videos and other bonuses.
What is great about this dog training program is that it is gentle, force-free training that relies on positive reinforcement rather than punishment.
The entire program costs $47 which is a great price for all of the value offered. It includes a 60-day money-back guarantee. Since it is on the Clickbank affiliate network, it is simple for anyone to receive a refund, no questions asked.
How to Join the Affiliate Program
Joining the affiliate program is extremely easy. Since the product is sold on Clickbank, you'll need to create an account on the Clickbank platform.
The Brain Training for Dogs product doesn't require whitelisting so you will have immediate access to your affiliate link.
You will receive 75% commission on every sale that you refer. The affiliate program offers plenty of resources for affiliates to include:
Banners
Lead magnets for building an email list
Email swipes
Promotional videos
Keyword ideas
Overall, I think this is probably one of the more quality products offered on the Clickbank platform. It is useful and offers a lot of bang for the buck.
People can train their dogs easily and at their convenience without spending hundreds of dollars hiring a professional dog trainer.
How to Best Promote Brain Training for Dogs
With all of the many ways that you can promote affiliate products as an affiliate marketer, the one tried-and-true method I use is niche blogging.
A niche blog is a blog that focuses on one specific topic. You may be thinking that the niche in this case would be dogs. Yes, you are right, but there are many dog blogs on the web to compete with.
This is why I recommend that anyone that wants to start a niche blog sub-niche even further if possible. For example, rather than create a general dog blog, you could focus on a specific sub-niche such as:
puppy training
training a specific breed of dog
teaching dogs how to do tricks
focus on a specific dog behavior (for example, chewing)
Let's say that you want to focus on a specific behavior like dog chewing. You can then register a domain name like "stopdogchewingnow.com" or whatever you want.
I would then recommend getting a self-hosted WordPress website which you can set up with any commercial web hosting provider.
Most of my niche websites are hosted by WPX Hosting. They offer fast web hosting, excellent customer service, and one-click WordPress installation.

Your Content Generates Free Web Traffic
A blog isn't a blog without content. Content refers to the blog posts that you write. Your content is what is eventually indexed and ranked by the search engines like Google.
Creating content begins with finding out what the people in your target audience are searching for. This requires keyword research and you don't need any fancy keyword tools to do it.
Open up Google search and begin typing in a keyword phrase. Google's autocomplete feature will show you what people in your target market are searching for.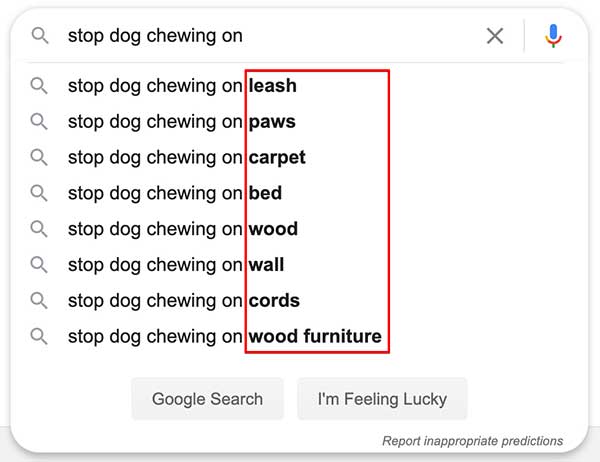 By searching for various keyword phrases you will have a ton of blog post ideas to choose from. Write unique and helpful content for your readers. That is what will help you to rank in the search engines like Google.
Be sure to place your keyword phrase in your blog post title and in the first paragraph of your post. Write the rest of your post naturally and try to write a minimum of 1,000 words.
One thousand word blog posts used to seem intimidating to me but now I usually exceed that number on almost all of my blog posts.
When you are writing content to help people, exceeding 1,000 words is actually really easy and happens naturally.
Get Your Blog to $500 Per Month or $1000 Per Month
Don't underestimate niche blogs. Many people shun them because blogs do not generate income as quickly as they want. However, most online businesses do not make money quickly.
A lot of people also do not like the work involved with niche blogging. Yet, I'd write a blog post every day versus working in a job or career that I disliked.
In reality, blogging is a low-maintenance endeavor that can lead to thousands of dollars per month in affiliate commissions!
That being said, with consistent effort, you can grow a blog from zero to $500 to $1,000 or more per month within 6 to 12 months' time. The keyword here is consistent effort. If you do not put in the work, you will not achieve any results.
When I got started, I had no idea how to make affiliate sales with a blog. I purposely sought out an online training program and found this one.
That training program helped me to go from zero to making a consistent income online with affiliate marketing.
Is Brain Training for Dogs Worth Promoting?
This Clickbank product is in an evergreen niche and offers a lot of content for a low price. Not only that, it has a 75% commission rate which is awesome for a dog training product.
I have no doubt that by creating an informative niche blog for dog lovers, you will get high conversions promoting this training program.
The affiliate program has a lot of resources that you can use to help generate new leads. This is especially helpful if you want to incorporate email marketing which involves building an email list.
Closing Thoughts On My Brain Training for Dogs Affiliate Program
The Brain Training for Dogs affiliate program is worth pursuing if you have an interest in the dog niche. It is a good product with a great commission rate.
You can set up your Clickbank account to pay commissions weekly or bi-weekly via direct deposit or by check.
Niche websites are an excellent way to promote an affiliate product such as this. It is how I got started and what I continue to do today to make steady affiliate commissions.
If you are ready to level up your affiliate earnings, I recommend following the same step-by-step training program I used.
I use the same training program to help others one-on-one with creating their own niche websites.