Are you curious to learn more about the NutriProfits affiliate network? Affiliate networks are great when you want to promote products within a certain niche. In this case, the health and beauty niche. In this NutriProfits affiliate review, I will cover what this network is about.
NutriProfits is an affiliate network founded in 2013 by affiliate marketers with many years of experience. They offer high-quality health & beauty products that can be promoted in over 100 countries. Affiliates can earn up to 40% commissions and 20% on a referral's future orders.
There is a wide variety of products that you can promote covering niches such as weight loss, bodybuilding, hair loss, colon cleansing, nootropics, male enhancement, anti-aging, varicose veins, acne, and more.
NEXT: How I Make a Steady Income Online with One Simple Website
NutriProfits Affiliate Review
Commission: up to 40% plus 20% on referral future orders
Cookie Length: lifetime
What stands out about this affiliate network is that it was founded by affiliates. The benefit of this is that affiliate marketers understand what other affiliates need in terms of support.
For example, the affiliate dashboard has an easy to follow display for tracking your clicks and sales: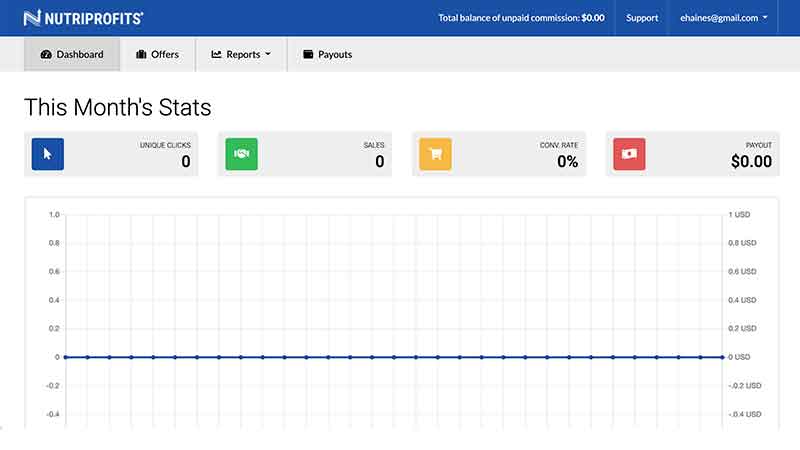 You are assigned an affiliate manager and all offers are listed for easy access. You can view the offers as well as the niche (category) they are in and each commission rate: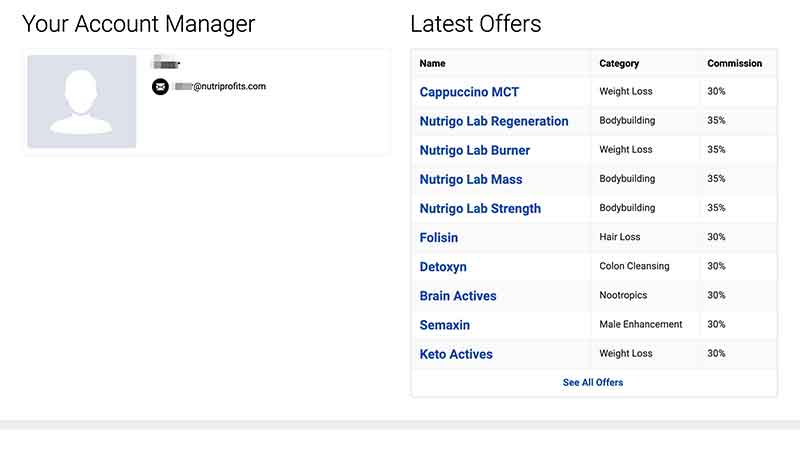 When you click through to an offer page, you get full details about the product, its commission rate, average commission, and conversion rate:
NutriProfits Affiliate Products (Offers)
All of NutriProfits products are made from the highest quality premium ingredients. They ensure that no matter your traffic source, you are marketing high-quality products to your audience.
Their products cover a variety of niches to include:
weight loss
bodybuilding
hair loss
nootropics
male enhancement
anti-aging
varicose veins
thyroid
joint health
sleep aid
female libido
testosterone
colon cleansing
snoring
breast enhancement
acne
general
The large number of niches enable you to target multiple audiences. There are a number of ways to promote these types of offers. A common way is to create a landing page and collect your visitor's email addresses.
You can then continue to market to your email list and promote the various products. However, getting traffic to a landing page is difficult without using paid ads.
If you are not wanting to use paid advertising, don't worry. There is another way to generate free web traffic which I will outline below.
How to Promote NutriProfits Affiliate Products Using a Niche Blog
Niche websites are what I use to generate a steady income online with affiliate marketing. They work extremely well for promoting affiliate products.
A niche website is basically a blog. I often refer to niche websites as niche blogs. The content that you create is what drives free targeted traffic to your website.
What I like about niche blogs is that they are low-cost to start and easy to manage. The work comes in the form of creating relative content (blog posts) related to your niche.
There are many opportunities for promotion, but we particularly encourage our Affiliates to create valuable websites and blogs with unique and interesting content.

NutriProfits.com
Which Niche to Choose?
The great thing about NutriProfits is that they cover a large number of niches. Let's say, for example, that you have an interest in building muscle mass.
Maybe you have a bit of knowledge or you are a complete beginner and want to document what you learn on your niche blog.
You can create helpful content around building muscle mass. If you can sub-niche even better. What I mean by sub-niche is to focus on a specific group of people that want to build muscle.
For example, adults over the age of 40 is a target audience. Or what about women or men that have an ectomorph body type and struggle with building muscle mass.
You can sub-niche any of the niches that NutriProfits products cover. The more targeted you are, the less competition that you deal with in the search engine results.
There are tons of blogs covering muscle mass. However, how many of them target women over the age of 40? Get the idea?
Writing Your Blog Posts
The great thing about blogs is that you can write in a casual tone. You do not need to be an expert on the topic either. Any niche that you choose can be written from the perspective of being a beginner.
What is important is to write blog posts on topics related to your niche that your target audience is actually searching for.
You do not need a fancy keyword tool to figure out what people are searching for. Open up Google search and begin typing in a keyword phrase. Google's autocomplete feature will display user search queries: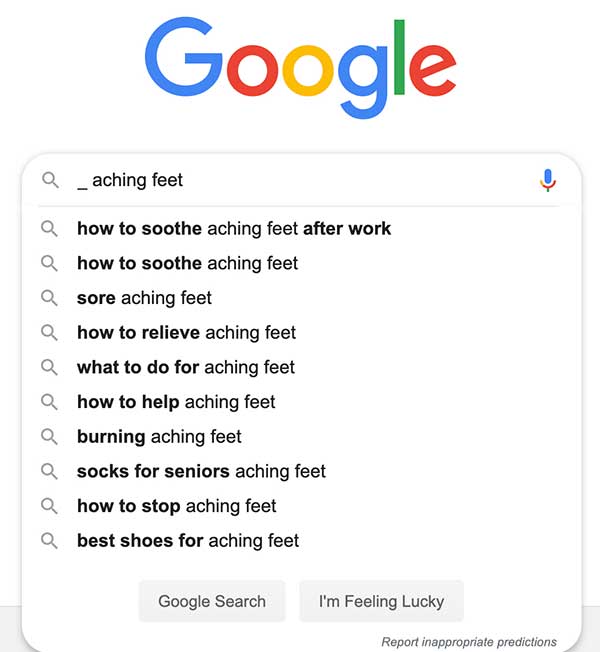 Using this method for finding keyword phrases can provide you with a ton of content ideas for your blog.
When you write a new blog post, you can recommend the NutriProfits product that you are promoting within your content.
In time, the blog posts that you create will eventually become indexed and ranked in the search engines like Google.
Soon, your blog starts to receive traffic and when that happens, your blog has the ability to make money!
Getting Your Niche Blog Up and Running
I build all of my niche websites on self-hosted WordPress websites. All that means is that I register a domain name, get a web hosting account, and install WordPress on my account using one-click software installation.
You can get everything that you need for a self-hosted WordPress website with almost any web hosting provider. I use WPX Hosting for most of my niche websites.
If all of the technical stuff is intimidating to you, I recommend following the same step-by-step training I used when I started with niche websites.
Once you have your niche website up, the next step is to choose a WordPress theme. Some are free and then there are premium themes that have a fee.
Don't spend a lot of time choosing a theme. You can always change it later. Many people get caught up in the bells and whistles of having a WordPress website.
It is more important to start creating content for your website and being consistent with it.
Is NutriProfits Affiliate Network Worth Joining?
I would say absolutely, yes. Joining the affiliate network is really easy and they have instant approval. All that you have to do is create your account and verify your email address.
You will then have full access to all of the offers and your affiliate links. There are enough products that you can choose from to promote in popular niches.
Your commission payment options include bank transfer, ePayments, and Paxum. You are able to withdraw funds as long as your account exceeds EUR 100 or GBP 80 or USD 120 or PLN 400.
Closing Thoughts On My NutriProfits Affiliate Review
I hope this NutriProfits affiliate review has been helpful to you. I think NutriProfits is a great affiliate network and worth considering if you are seeking high-converting products in the health & beauty niche.
Their products can be promoted globally which opens you up to even more people to promote to.
Niche websites are how I am able to create a consistent monthly income online with affiliate marketing.
If you want to level up your affiliate earnings, consider following the same step-by-step training program I used to help grow my online business.
I use the same training platform to help others one-on-one with creating their own niche websites.