All types of people enjoy boxing whether it is as an athlete or simply for the workouts. Boxing affiliate programs are great to join to begin earning income from this niche.
The sport of boxing is quite popular and if you have a love for the sport, you can easily make money from it by becoming an affiliate of any number of boxing affiliate programs.
These affiliate programs below can help you on your way to earning profits. If you have an established website or blog in the boxing niche, any of these programs could be a great fit.
HOW I MAKE $1,000 COMMISSIONS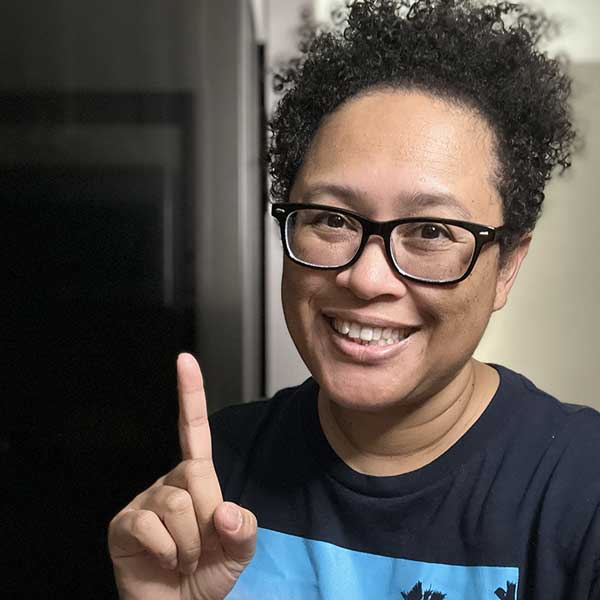 Hi! I'm Eartha, the author of this website and an affiliate marketer. I share a variety of affiliate programs as well as ways to help boost affiliate income. Click the link below and I'll share how I am able to make $1,000 – $2,000 commissions:
Boxing Affiliate Programs
Expert Boxing
Elite Sports
DICK'S Sporting Goods
Everlast
Trifecta Nutrition
FightCamp
1. ExpertBoxing.com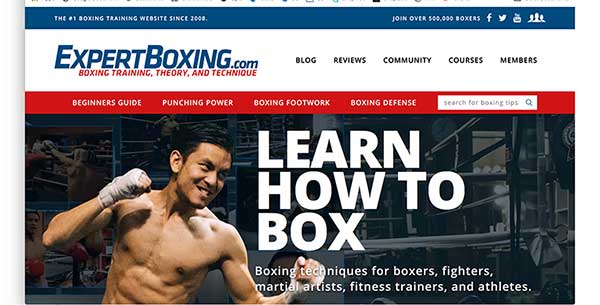 URL: https://www.expertboxing.com
Commission: 25%
Cookie Length: Not disclosed
ExpertBoxing.com was established in 2008 by boxer Johnny Nguyen. The website teaches boxing techniques for boxers, fighters, martial artists, fitness trainers, and athletes. The affiliate program consists of six products that you can promote to include:
How to Box in 10 Days
Advanced Boxing Workshop
The 30 Day Fighter's Diet
Dancer's Footwork for Fighters
SECRETS to Punching Power
The EB Membership
Why Promote Expert Boxer?
This is one of the few online boxing training courses that I've come across. There is a segment of people that prefer to learn boxing on their own time in their homes. This program provides all of the basics and it also makes for a great home workout.
2. Elite Sports
URL: https://www.elitesports.com
Commission: 10%
Cookie Length: 60 days
Elite Sports is an online retail shop that sells clothing and gear for mixed martial arts. They offer a 10% commission with a 60-day cookie length. They have an average conversion rate of 3.5% with a 75% customer return rate. They also offer a dedicated affiliate manager. Their affiliate program is run through ShareASale.com.
Why Promote Elite Sports?
Boxers aren't the only ones that need clothing and boxing gear. There are mixed martial artists and even non-athletes that are interested in this type of clothing and gear.
3. DICK'S Sporting Goods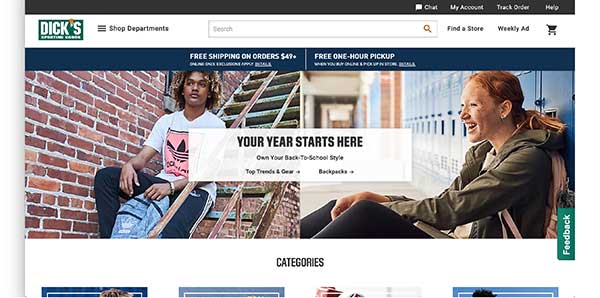 URL: https://www.dickssportinggoods.com
Commission: Not disclosed
Cookie Length: Not disclosed
DICK'S Sporting Goods has physical store locations across the country. They also have an online retail store that you can join as an affiliate. While they are not solely focused on boxing they do sell a wide variety of boxing-related gear. Their affiliate program is managed by Impact Radius.
Why Promote DICK'S Sporting Goods?
This is a well-known company that has a huge product line. You can promote boxing gear and equipment as well as other products that are related to athletes. The wide variety of products can increase conversions.
4. Everlast
URL: https://www.everlast.com
Commission: 5%
Cookie Length: 30 days
Everlast is a well-known brand in the boxing industry. They have an online retail store that sells a wide variety of boxing gear. Their affiliate program is run through the Pepperjam affiliate network.
Why Promote Everlast?
Everlast is a well-known boxing brand. Their name and logo resonate with the boxing community. Conversions could be high when targeting the right audience.
5. Trifecta Nutrition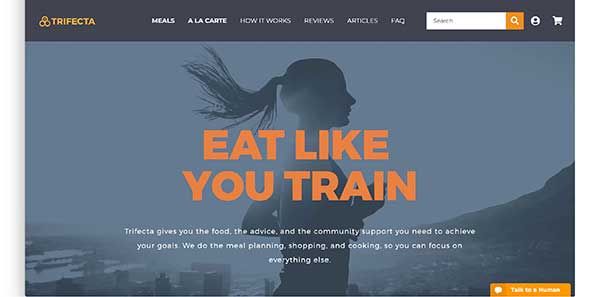 URL: https://www.trifectanutrition.com
Commission: 50/50 split based on SKUs
Cookie Length: 30 days
Trifecta Nutrition is an organic meal delivery plan catered to athletes or anyone that wants to eat clean. This is a great program to promote to boxers as they have partners from UFC and Bodybuilding champions. They offer weekly reoccurring residual incomes.
Why Promote Trifecta Nutrition?
There are various types of meal plan delivery services online. However, this company caters to athletes. Nutrition plays a large part in any athletes training program. The organic meals and convenience of delivery make it easy for any fitness-minded individual to eat clean.
6. FightCamp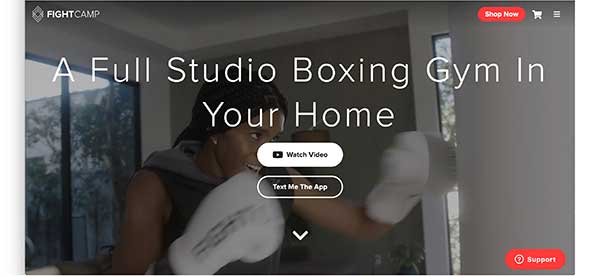 URL: https://www.shareasale.com
Commission: $30 on subscriptions
Cookie Length: 30 days
FightCamp is a home studio boxing gym. It includes everything that someone needs for a boxing workout. It comes with the FightCamp punching bag, punch trackers, quick wraps, boxing gloves, and fight mat. The affiliate program is run through ShareASale but the actual FightCamp URL is located at: https://joinfightcamp.com.
Why Promote FightCamp?
Boxing workouts are some of the best workouts anyone can do. You burn fat, and calories, and build endurance, and strength. FightCamp provides these types of workouts for the home. They can be done anytime from the comfort of home.
Ready to make commissions with these affiliate programs? Learn how I went from zero to consistent affiliate commissions. Click here to learn how I did it.
How To Make Affiliate Sales With These Boxing Affiliate Programs
One of the best and long-term strategies for promoting affiliate programs is to have a niche blog.
Many affiliate programs ask for your website URL. Therefore, having a niche blog in the boxing niche will help you to be approved.
Another reason why niche blogs work well is that over time with consistent content creation, you can receive free organic web traffic.
This free targeted traffic can last for years and that means long-term affiliate commissions.
Using WordPress for Your Niche Blog
I recommend creating your niche blog with a self-hosted WordPress website.
Most commercial web hosting providers make it easy to create your own WordPress website. Most have one-click WordPress installation software.
There are also some web hosting providers that will auto-install WordPress for you.
Ongoing Content Creation is Key
It helps if you have a strong interest in boxing to create a boxing niche blog. However, you do not have to be an expert.
You can create a blog from the viewpoint of a novice learning boxing techniques. You can also write content as if you are a reporter and write about up-and-coming fighters, matches, and more.
Another option is to outsource the writing for your blog to freelance writers. This can save time and eliminate the need for you to have to do research.
Learn SEO and Keyword Research
If you do plan on creating your own content, it is essential to learn some basic SEO (search engine optimization) and how to do basic keyword research.
You do not need any fancy keyword tools. I use Google's autocomplete feature and AnswerThePublic.com.
My Closing Thoughts On Boxing Affiliate Programs
I think that the sport of boxing appeals to people of all ages and backgrounds. You can create a boxing niche blog that caters to all levels of interest.
The boxing affiliate programs mentioned above are only a handful of what is available to choose from.
Affiliate marketing with a niche blog is one sure way to earn passive income. Meaning, you can earn commissions while you sleep, are out shopping, or relaxing on the beach.
It won't happen overnight and it will require your dedicated time and effort. You can make the process easier by following the same step-by-step affiliate training course I used to create niche blogs that produce a consistent monthly income.