Did you know that the essential oils market is a billion-dollar industry? That means there plenty of opportunities to earn money with aromatherapy affiliate programs.
According to Statista.com, the essential oil market is estimated to reach 27 billion dollars by 2022! Essential oils aren't the only products to promote in this niche.
There are aromatherapy diffusers, necklaces, bracelets, car diffusers, nasal inhalers, and more. Below are some aromatherapy affiliate programs to consider if you are wanting to cash in on this niche.
Aromatherapy Affiliate Programs
Rocky Mountain Oils
The Harmonious Mind
Artisan Aromatics
From Nature With Love
Starwest Botanicals
Barefut
Diffuser World
Dharmaceuticles
Shaman Oils
Aromafloria
Ready to make more affiliate commissions? Learn how I went from zero to consistent affiliate commissions every month. Click here to learn how I did it.
1. Rocky Mountain Oils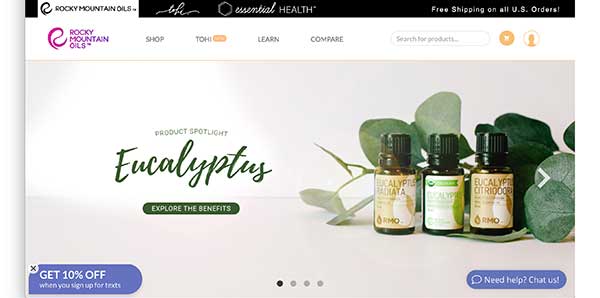 Commission: 9%-16%
Cookie Length: 30 days
The Rocky Mountain oils company has been in business for over 13 years. They specialize in single essential oils as well as creating various blends. Their oils are verified by third-party industry experts.
In order to increase approval to join their program, it will help if you have a blog or vlog related to lifestyle, wellness, fitness, cooking, DIY, skincare, essential oils, etc.
Why Promote Rocky Mountain Oils?
This is a well-established company with high-quality products. They offer decent commissions and a long cookie length. Their website is well-designed which can also help with conversion rates.
2. The Harmonious Mind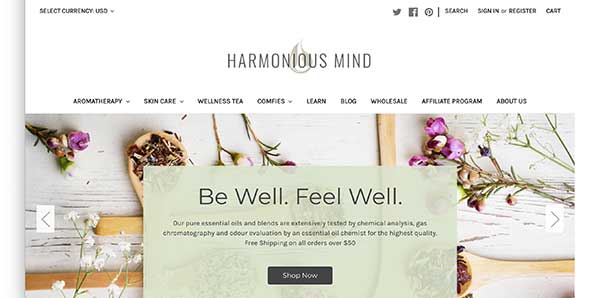 Commission: 10% first sale, 5% next orders
Cookie Length: not disclosed
The Harmonious Mind is a Canadian owned retailer and wholesaler of product in the aromatherapy and wellness niche. They carry a variety of products to include essential oils, diffusers, skincare, tea, and comfy clothing.
Their affiliate program has a $50 minimum payout. The affiliate program is hosted by Affiliatly.
Why Promote Harmonious Minds?
This company carries a good amount of products to include tea which I haven't found in many other affiliate programs in this niche. I also like that they are pursuing the "comfy clothing" area as well.
3. Artisan Aromatics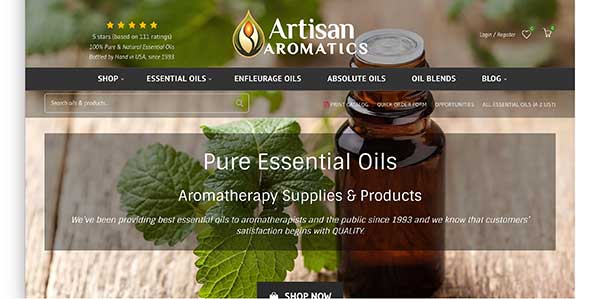 Commission: 10%
Cookie Length: 30 days
The Artisan Aromatics website sells a wide variety of aromatherapy products to include essential oils, diffusers, inhalers, perfumes, resins, carriers, and lotions.
Their affiliate program is straight forward with a $50 minimum payout. They pay commissions via PayPal.
Why Promote Artisan Aromatics?
This is another company with high-quality products that also provides a wide array of items besides essential oils. They don't appear to have any major requirements for account approval besides wanting to know how you intend on promoting their products.
4. From Nature With Love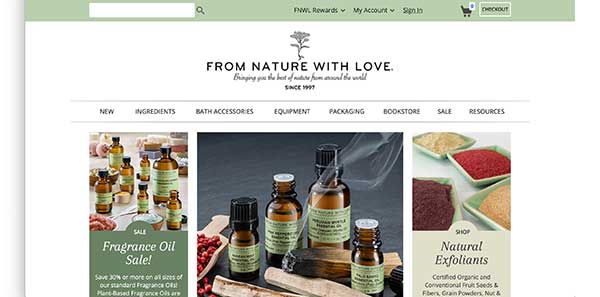 Commission: 8%
Cookie Length: not disclosed
The From Nature With Love company was established in 1997. They have over 1,750 of products and ingredients. They specialize in certified organic personal care ingredients for skincare, haircare, aromatherapy, massage, spa, herbalism, and soap making.
This affiliate program is ideal if you have a holistic based health and wellness website as you can promote the various ingredients and equipment offered in their online store.
There are many people that like to create their own products and this company has a wide variety to satisfy any home crafter.
Why Promote From Nature With Love?
This is probably one of my favorite aromatherapy affiliate programs I've come across. Primarily because of their large selection of ingredients.
You can create an unlimited amount of content to promote just about every single ingredient they have to offer.
After all, the more content you create, the more organic traffic you can generate back to your website.
5. Starwest Botanicals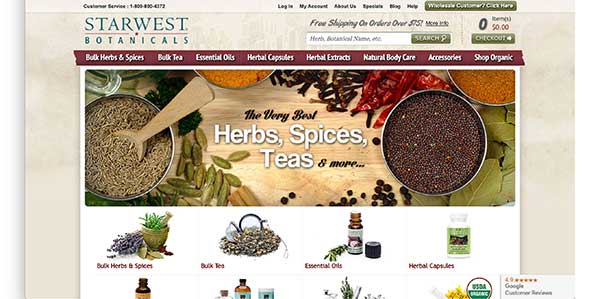 Commission: not disclosed
Cookie Length: 60 days
The Starwest Botanicals company carries over 3,000 products to include bulk organic herbs, organic spices, loose leaf organic teas, organic essential oils, and aromatherapy supplies. The company was established in 1975.
Their affiliate program is managed by ShareASale.com. They do require that you have a web presence before applying for the program.
Why Promote Starwest Botanicals?
This is another company that sells ingredients in bulk and has a large product line. They have been around for many years and longevity in a company is helpful.
Similar to From Nature With Love, you can create a lot of content based around the ingredients that they sell.
Learn how to earn income with these affiliate programs by following a step-by-step training course. Get one-on-one help, training, and tools! Get started for FREE by clicking here!
6. Barefut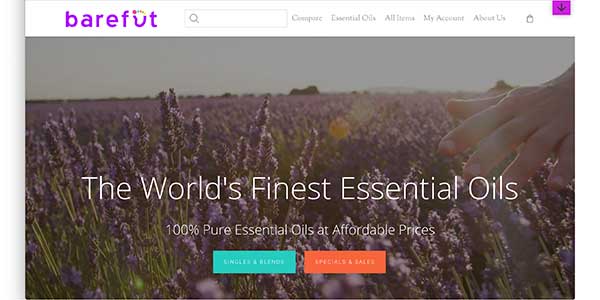 URL: https://barefut.com
Commission: 20% on first orders, 10% on subsequent orders
Cookie Length: not disclosed
The Barefut company was founded in 2010. They create essential oils that are 100% pure, therapeutic; organically grown, ethically produced and free from chemicals or pesticides.
They also sell diffusers, carriers, balms, bottles, and tea. What's nice about this affiliate program is that you also receive 10% off of your own orders.
Why Promote Barefut?
I like this company because they put a lot of thought and effort into how their essential oils are sourced and produced. They carry a nice variety of products and their commission rates are higher than most affiliate programs in this same niche.
7. Diffuser World
Commission: 15%
Cookie Length: 30 days
Diffuser World specializes in a variety of diffusers. The three main types include atomizing, vaporizing, and portable diffusers. They also carry essential oils, diffuser bundles, accessories and some replacement parts for diffusers.
A plus about their affiliate program is that you can link to any page on their website by adding your affiliate ID to the end of the URL. Commissions are paid monthly on the 15th via PayPal.
Why Promote Diffuser World?
If you take a look at the diffusers being sold on their website, you will see that they are not the run of the mill diffusers that you can get anywhere. They are specialized. That can be a selling point when promoting them on your website.
8. Dharmaceuticles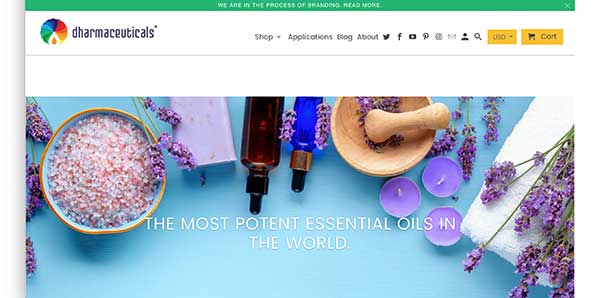 Commission: 15% with the ability to earn up to 40%
Cookie Length: 90 days
Dharmaceuticals has been selling its essential oils for over 20 years. The company was founded in 1991.
They sell products such as essential oil blends, body sprays, bath salts, bubble baths, shower gels, raw skincare oil, and healing master essential oil.
Their affiliate program is managed by ShareASale.com and they pay either through PayPal, gift card or by check.
Why Promote Dharmaceuticals?
This is another great company that has been around for a long time. They have a large variety of products and decent commission rates. This is one of the only affiliate programs that enable you to earn up to 40% commissions. It is also one of the only ones that have a 90-day cookie length.
9. Shaman Oils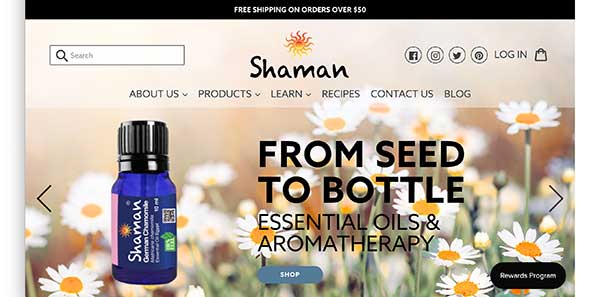 Commission: 25%
Cookie Length: 30 days
Shaman Oils was founded in 2013. They create and source the highest quality essential oils. Their product line includes single oils, carrier oils, butters, hydrosols, blends, kids, and accessories. A nice plus about their affiliate program is that for every $1,000 in sales that you generate, you will receive a $100 bonus.
Why Promote Shaman Oils?
Not only do they have awesome products but they offer a high commission right off the bat. They also have a nice cookie length. I also like their added $100 bonus for every $1,000 in sales that are generated. It is a great incentive to promote their products.
10. Aromafloria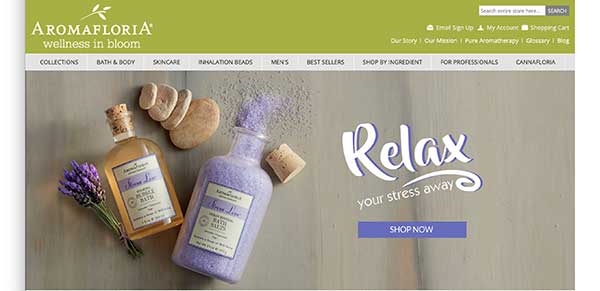 Commission: 15%
Cookie Length: not disclosed
The Aromafloria company has been delivering aromatherapy products for nearly three decades. They specialize in essential oils, bath & body, skincare, inhalation beads, as well as selling some of their products in professional sizes. Their affiliate program does have a $50 minimum balance before payout.
Why Promote Aromafloria?
They have a great product line related to overall health and wellness. If you have a website that focuses on self-care (skin care, grooming, etc.), the products in this store will be easy to recommend.
How To Best Promote Aromatherapy Affiliate Programs
Chances are you already have a website related to the aromatherapy niche and want to now find affiliate programs to promote.
If not and you're wondering how to promote affiliate programs in this niche, then I highly recommend creating a niche blog.
Niche blogs are websites that focus on one specific topic. In this case, you can focus on aromatherapy or other sub-niches such as skin care, massage, etc.
Most affiliate programs won't approve you without a related website. That makes it even more important to establish one first.
I have been earning a consistent online income for years thanks to the various niche blogs that I created. I learned how to do so following this affiliate training program.
Niche blogs are a long-term business strategy that can generate passive income for years to come.
My Closing Thoughts On Aromatherapy Affiliate Programs
The essential oils market is booming and creating a niche blog within this niche is a wise investment. This is particularly true if you have a strong interest in aromatherapy.
Creating a niche blog and promoting affiliate products is one of the best ways to create a passive income online. You can literally make money while you sleep, shop, or are on vacation.
It requires your hard work and dedication but it can be made easier when following a step-by-step affiliate training course like I did.