Are you running a food blog or interested in starting one? Chances are you seeking out affiliate programs for food bloggers in order to earn income with your blog.
Food blogging is a fun endeavor and one often based on the love of eating, cooking, and trying new food. A dedicated food blogger will eventually gain organic web traffic.
A food blog can make money from these web visitors through affiliate programs. I'll share some of the affiliate programs for food bloggers below that you can consider for your own blog.
Affiliate Programs for Food Bloggers
The Flavor Chef
TalkToChef
VitaClay
The Junior Chef
HelloFresh
Amazon Associates
ButcherBox
WineExpress
Murray's Cheese
Gourmet Food Store
Vitamix
NatureBox
Ready to make sales with these affiliate programs? Learn how I went from zero to consistent affiliate commissions. Click here to learn how I did it.
1. The Flavor Chef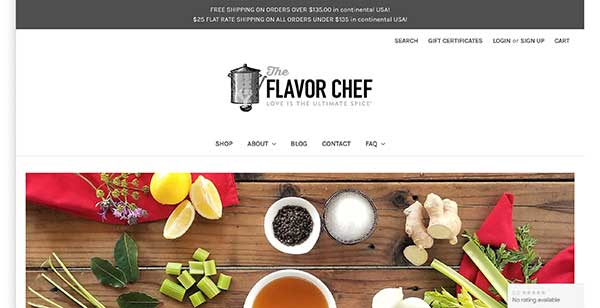 Commission: 10%
Cookie Length: not disclosed
The Flavor Chef is a company that sells organic bone broth. Broth is a common staple for many recipes. The Flavor Chef bone broth is made with organic ingredients, no salt added, no MSG, no added sugars.
Promoting this product can work well with a number of other food affiliate programs you may be interested in. The affiliate program offers a 10% commission per sale. They deposit $25 into your account just for signing.
There is a $50 minimum balance for a payout and payments are made once per month for the previous month.
2. TalkToChef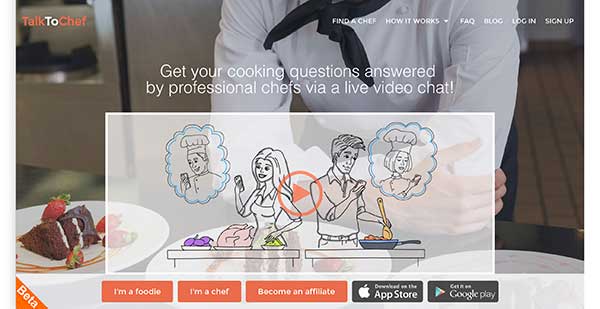 Commission: 10% of donation
Cookie Length: not disclosed
TalkToChef is a service that enables home cooks to ask a cooking related question to a live chef.
The user clicks on the "Hotline" button, they select a cuisine, cooking method, and diet, they are then connected via a live video chat with a culinary professional.
The user can then rate the chef based on experience and make a voluntary donation. As an affiliate, you place a widget on your website and receive 10% commission on donations made through your website.
3. VitaClay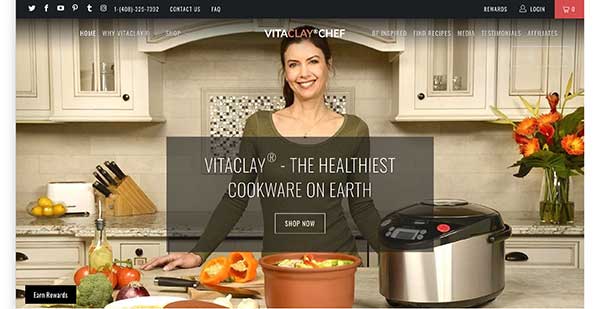 Commission: 10%
Cookie Length: 30 days
VitaClay® is slow cooker software in which the cooking liner is made of unglazed clay. The clay has no toxins or dangerous coatings.
The product comes in various models which include rice cooker/slow cooker combo, multi-crock and stock pot, 2-in-1 organic rice and slow cooker, and 2-in-1 slow cooker and yogurt maker.
Many people are seeking out healthier ways to cook meals as well as using non-toxic cookware. VitaClay combines both. This is a great product to promote for any food blog.
4. The Junior Chef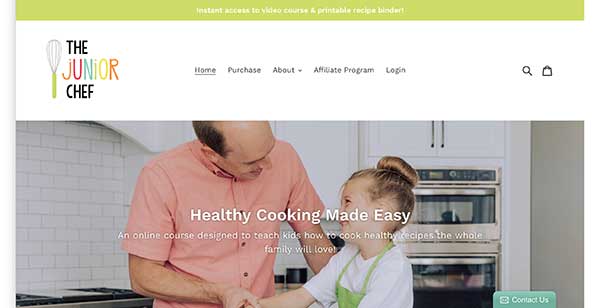 Commission: 20% of sale price
Cookie Length: not disclosed
The Junior Chef is an online course that teaches kids how to cook healthy recipes. This may be an ideal affiliate product if you run a food blog related to healthy cooking for families or healthy cooking in general.
The affiliate program works by receiving a unique coupon code. For each sale that is made, you receive 20% which equals about $20 per sale. Payments are made monthly via PayPal.
5. HelloFresh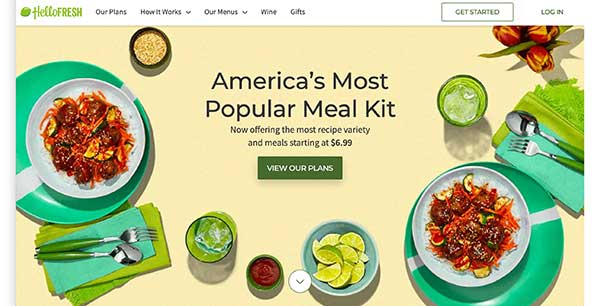 Commission: 40%
Cookie Length: 14 days
HelloFresh is one of the most popular meal delivery services online. A user can pick from various meal plans. Plans can include meat & veggies, veggies, family-friendly, and calorie smart.
This is an ideal affiliate product to promote on any type of food-related blog. Meal kit delivery has gained popularity. It is a convenient way for people to prepare healthy meals at home.
6. Amazon Associates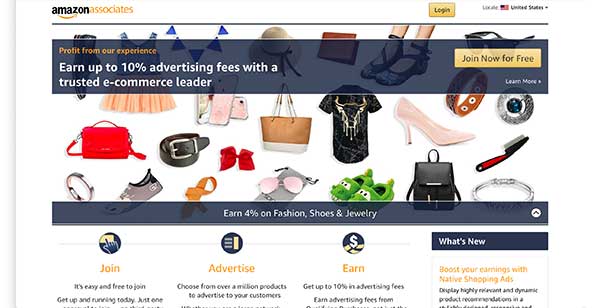 Commission: varies per category
Cookie Length: 1 day
The Amazon Associates program is one of the largest and most popular affiliate programs online. As you know, Amazon carries millions of products.
There are plenty of items to promote on a food blog such as cookware, appliances, food items, and more. The great thing about Amazon's affiliate program is that you earn a commission on any item that a visitor buys.
Commissions vary by category and the cookie length is extremely short at one day. However, there are many affiliates that manage to earn a full-time income from this affiliate program alone.
7. ButcherBox
Commission: up to $20 on new customer orders, $5 for loyalty partners
Cookie Length: 30 days
ButcherBox is a meat delivery service. They offer five box options to choose from to include Custom, Mixed Box, Beef & Pork Box, Beef & Chicken Box, and the All Beef Box.
Their beef is grass-fed, the pork is heritage bred, and the chicken is organic fed and non-GMO verified. All of their meat is antibiotic and hormone-free.
This service can fit in nicely with any other affiliate products or services that you want to promote on a food blog. Meal delivery is on the rise and people love convenience.
8. WineExpress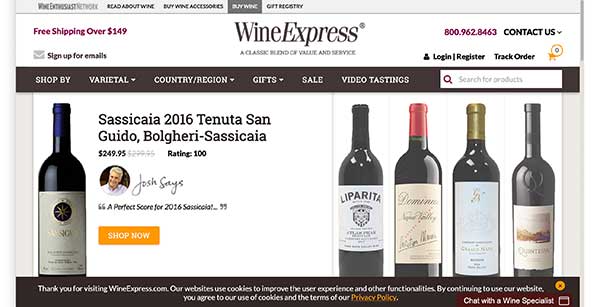 Commission: 6% for regular purchases, $10 for Wine Clubs
Cookie Length: 30 days
Wine delivery is a popular option for food lovers and wine lovers alike. Wine clubs are great to promote on a food blog. WineExpress carries a large selection.
The Wine Club delivery options give members the opportunity to try rare wines not available at local wine shops. Even if visitors to your blog do not sign up to the Wine Club for themselves, they may do so for someone else as a gift.
9. Murray's Cheese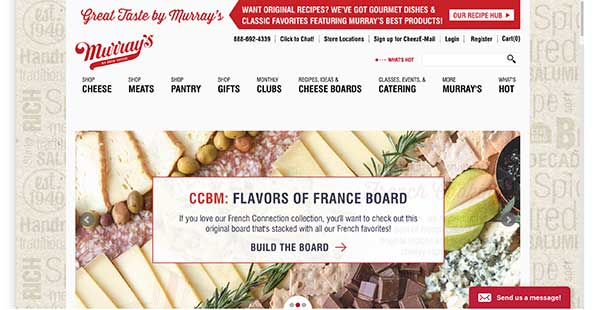 Commission: 6%
Cookie Length: not disclosed
Similar to wine, cheese comes in a large variety and is offered in monthly club delivery. Murray's Cheese offers every cheese you can imagine. They also sell cooked and cured meats, oils, nuts, chocolate, gifts, and more.
They also offer a cheese of the month club and meat and cheese of the month club. The large amount of products offered gives you plenty of opportunities to promote various products on your blog.
10. Gourmet Food Store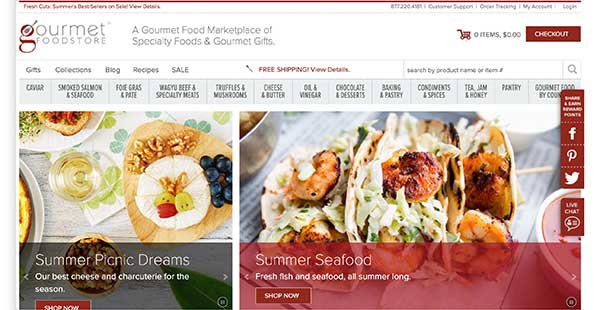 Commission: 10%
Cookie Length: 60 days
The Gourmet Food Store is an awesome online store that offers specialty food such as truffels, wagyu beef, foie gras, top-shelf olive oil, caviar, specialty condiments, and more.
Foodies can appreciate the types of food offered in this online shop. You can focus on specific items or promote the store as a whole. They also offer a free membership to their Gourmet Club for special offers and discounts.
You can also use the customer rewards program as an upsell. For every 200 points, customers receive a $5 rewards certificate.
11. Vitamix
Commission: 3%
Cookie Length: not disclosed
Vitamix sells commercial-grade blenders. They are top-of-the-line blenders that average anywhere from $400 to $800 or more. They last for years and they do so much more than make smoothies.
You can use the blenders to make food such as soup, baby food, flours & dough, nut butters, frozen dessert, batters, dressings & sauces, non-dairy milks, smoothies & juices, dips & spreads, and food prepping.
Vitamix is a well-known brand. I'm not a fan of the 3% commission. However, conversions could be high depending on how you promote this product.
12. NatureBox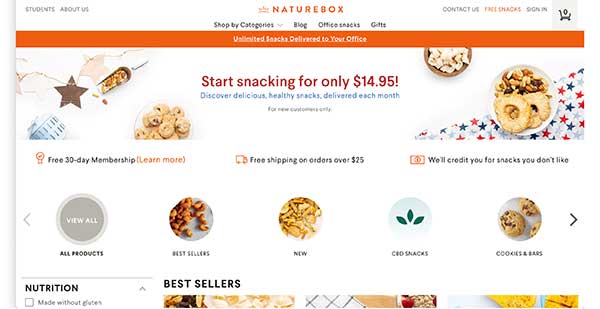 Commission: up to $15 on new members
Cookie Length: 60 days
NatureBox is a wholesome snack delivery service. Their snacks do not contain artificial sweeteners, colors, or flavors.
They offer a wide selection of snacks to include cookies & bars, chips & crackers, popcorn & pretzels, dried fruit, nuts & clusters, snack mixes, jerky, CBD snacks, and more.
Almost everyone loves snacks and healthy snacking options are even better. Add in auto-delivery and it's a win-win.
Food Blogging Tips
I have never run a food blog myself but my sister is a home chef who also runs a food blog of her own.
Due to her food blog, she has gained recognition and has been invited on podcasts, vlogs, and was even interviewed on NPR.
One of her most notable achievements was being a guest on NBC's food show, Food Fighters. She won prize money and has gone on to write cookbooks and grow a large following on social media.
A food blog can lead to many opportunities besides earning income with affiliate programs. As a full-time blogger myself, here are some tips for establishing a successful food blog:
Use a self-hosted WordPress website
Add plenty of photos (foodies love food pics)
Create content on a regular basis
Share your content on your social media accounts
Create a YouTube channel and create product reviews (link back to your blog and affiliate links)
Create how-to lists and product reviews on your blog
Interview other food bloggers you follow
Stay consistent and don't give up!
Food is an evergreen niche and one in which you can do well in a sub-niche. For example, you could focus on home cooking, baking, healthy cooking, cooking for kids, specialize in a cuisine, and so much more.
You will have an audience for whatever type of food blog you choose to create. The key is to post content often.
My Closing Thoughts On Affiliate Programs for Food Bloggers
These twelve affiliate programs for bloggers are only the tip of the iceberg. There are so many more to choose from. I tried to cover a little bit of everything with these twelve.
Earning income with a food blog is one of the best ways to create a passive income stream online. You can literally earn income while you sleep or are out trying a new restaurant.
However, the key to making these sales is to be able to drive consistent traffic to your blog and writing for conversions. I am able to do just that after putting into practice what I learned from this affiliate marketing training course.
Thanks to what I learned using this course, I was able to create a consistent monthly online income through my niche blog and the promotion of affiliate products.