Have you been searching for a way to boost your CTR (click-thru rate) on your Amazon Associates affiliate links? In this AmaLinks Pro review, I'm going to share my thoughts about how this Amazon WordPress plugin works.
I've only recently started using AmaLinks Pro and so far I am impressed by its functionality and ease of use. I've already noticed an increase in clicks on my Amazon affiliate dashboard.
If you are not familiar with the AmaLinks Pro plugin, it is a WordPress plugin that helps you to create showcases, CTA links, text links, and image links that connect to your Amazon Associates affiliate links.
The purpose of the plugin is to help increase your overall click-thru rate and conversions as an Amazon affiliate.
I'll share some important points about using this plugin.
Product Website: https://amalinkspro.com
Product Name: AmaLinks Pro
Product Price: $67, $127, $197, $597 (all yearly)
Product Niche: Amazon affiliate program
AmaLinks Pro Review for Amazon Affiliates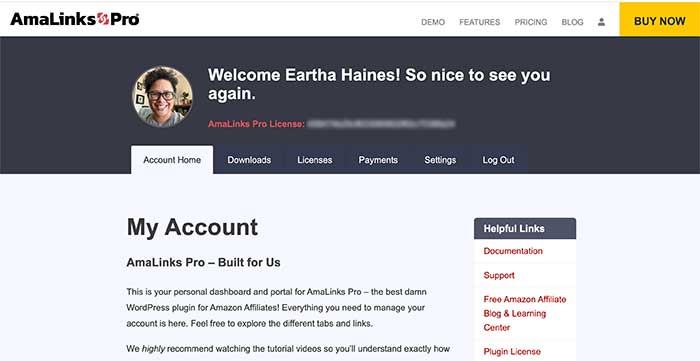 When you buy a copy of the AmaLinks Pro plugin, you'll get access to your dashboard (as pictured above.) Here, you can download the plugin as well as copy your license number.
The first thing you'll need to do is upload the plugin to your WordPress website. If you've uploaded plugins before, you'll be fine. Otherwise, AmaLinks Pro has tutorial videos that will explain how to set up the plugin
Before you can begin using the plugin, you will need to insert your license number. It is available within your user dashboard.
Paste that license number into your AmaLinks Pro global settings within your WordPress dashboard and you'll be ready to use it.
Ease of Use
I thought using the plugin was easy. I didn't need to watch any of the tutorials that are available for setup and use.
It is extremely easy to use within the WordPress block editor. When you're ready to place it into a post, you simply choose AmaLinks and click on the red button on the right of your WordPress admin.

After you've clicked on the "big red button", you'll be able to begin creating your Amazon affiliate links.
You can choose from a text link, image link, CTA (call-to-action) link, and showcase. Creating a showcase is my favorite option.
Here is what a showcase looks like after selecting a product on Amazon to promote: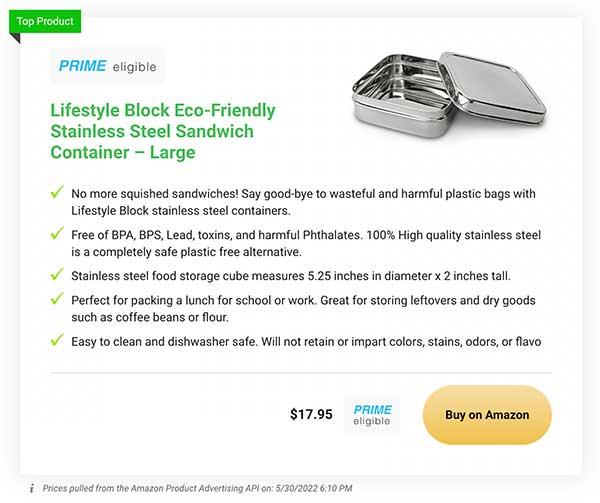 What I like about the showcase layout is how it is designed to make the user want to click. The title is clickable, the product image, and of course the buy button.
I also like the Prime Eligible icons which increase the chances of someone clicking over to learn more.
Click-Thru Rate Increase
The purpose of the plugin is to help boost the click-thru rate on your Amazon Associates affiliate links.
This is easily accomplished by using the showcases and table layout that the plugin helps you create.
Without the plugin, you are limited to text links or creating tables yourself as well as copying and pasting the product images into your post.
The problem with doing that is that technically, you're not supposed to copy and paste the product images from Amazon's website.
AmaLinks Pro abides by all of Amazon Associate's requirements for using product images and affiliate links.
In fact, the plugin is kept up to date when it comes to any changes that happen within the Amazon Associates program so you'll never need to worry about staying compliant.
How Much is AmaLinks Pro?
There are four different prices for the plugin. All of the prices are yearly and have a set limit of how many WordPress installs you can have.
The pricing is as follows and is current as of this writing:
| | |
| --- | --- |
| Price | WordPress Installs |
| $67 / yearly | 1 |
| $127 / yearly | 3 |
| $197 / yearly | 25 |
| $597 / yearly | Unlimited |
You always have the option to upgrade so if you only have one website, start with the lowest plan.
Works Without the Amazon API
If you want the plugin to work seamlessly, it is best to use Amazon's API. There are instructions on how to get your access keys from the Amazon Associates program.
Don't worry if you cannot obtain your access keys. The plugin can work without making use of the API.
There are a few more steps if you want to use the showcase feature but it is doable.
Customer Support
This plugin is well supported. There is a documentation section that has information that can likely help answer any question that you have. You can access it by clicking on "documentation" in your AmaLinks Pro dashboard.
If you need technical support, you can click on the Support link inside of your AmaLinks Pro dashboard and fill out a short form.
Is There a Refund Policy?
You'll be glad to know that AmaLinks Pro does have a refund policy. According to the policy, it is a 30-day, no questions asked, money-back guarantee.
They state that the 30-day refund policy is in place because they do not offer a free trial. You can only get a refund on the first copy of the plugin.
Meaning, that you cannot expect to receive a refund if you buy it again after your first refund. You also cannot get a refund on renewal payments (yearly renewals.)
Likes and Dislikes About The AmaLinks Pro Plugin
There is nothing that comes to mind in terms of dislikes. I do have many things that I like about the plugin.
Ease of use is definitely one of them. I also like that you do not need to use the Amazon API. Do keep in mind that using the API makes the plugin much easier to use.
I like how nicely designed the showcase and tables are. It is also great that it works well in the WordPress block editor.
The plugin has great support and is kept up to date. I also recommend reading all of the articles on the AmaLinks Pro blog.
Final Thoughts On The AmaLinks Pro Amazon Affiliate Plugin
I highly recommend using this plugin if you desire to earn income as an Amazon affiliate. It will make posting your Amazon affiliate links easier and will help your links stand out more.
I've only recently began using it on one of my affiliate niche websites and have noticed the click-thru rate go up.
I'm sure with more web traffic, my conversions will go up as well.
Learning how to create a niche website is also essential to your success as an affilate. I got my start as an affiliate marketer by creating a niche website.
It is still how I run my online business. Here is a screen capture of one affiliate commission I've made as part of one affiliate program: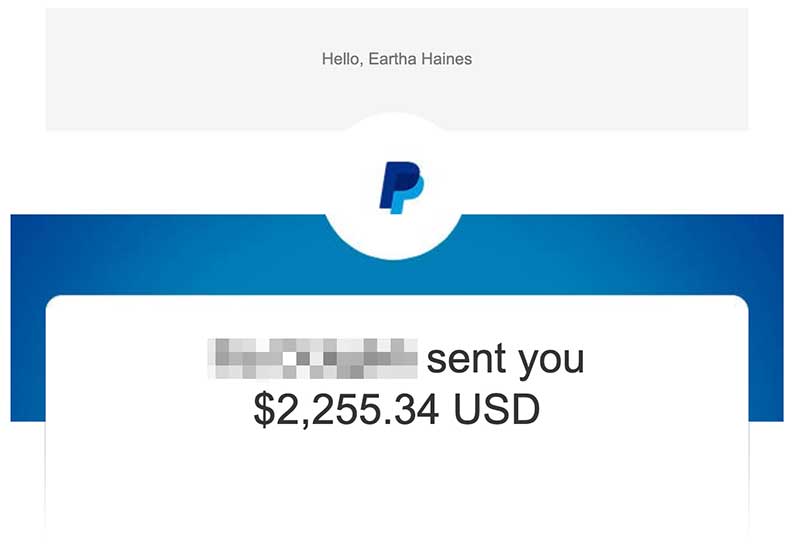 Starting your own niche website isn't a difficult task. Learn the same way I did by following the same affiliate marketing course I used.
I hope my AmaLinks Pro review was helpful. It is an awesome plugin!