Most people wouldn't turn down a way to make side money online if they understood how to go about doing so. When I discovered that you can make money online, I was immediately hooked.
It took one online training course and some trial and error for me to make side income online. It isn't difficult to learn but it does take time and consistent effort to make it work.
Who am I? Hi! I'm Eartha, the author of this blog and an affiliate marketer. I've been doing affiliate marketing for a few years now and have created a steady stream of income online.
I'll share exactly what I did to create a steady income online. There are many ways to make money online. The route I chose is affiliate marketing.
Affiliate marketing is the promotion of another company's products in exchange for a commission when a sale is made.
The method I use to earn income with affiliate marketing involves creating a simple website called a niche website.
How to Make Side Money Online with a Niche Website
First, let's define what a niche website is. Essentially, it is a blog that focuses on one specific topic (your niche.)
Choosing a niche is often a challenging part of getting started for beginners. The reason is that there are so many niches to choose from.
I recommend watching my video below that consists of beginner niche website tips. I share some helpful tips on choosing a niche.
Click here to learn how I took a simple website from zero to earning a steady income online!
In order to give you some ideas on niches, here are some common ones that many niche bloggers get into:
Parenting
Cooking
Finance
Relationships
Health & wellness
MMO (make money online)
One way to choose a niche is to base it on something that you genuinely have an interest in. Possibly something that you can talk about all of the time without getting tired.
Another option is to choose an affiliate product first and then create a niche website based on who the product helps.
Once you have your niche, you are on your way to creating your website. Don't overthink choosing a niche.
If you decide that you want to choose a different niche later, you can. You'll likely have to create a new website. Many people, including myself, have started out in one niche only to change to another later on.
What You'll Need for Your Website
The technical part of getting your website up isn't as daunting a task as you may think. Most web hosting companies can set you up with what you need.
There are three things you'll need to include:
Registering a domain name
Getting web hosting
Installing WordPress
Almost all web hosting providers that you come across can take care of all three for you at the same time.
For example, Bluehost will let you register your domain name and auto-install WordPress when you choose one of their WordPress hosting plans.
Then it is a matter of choosing a WordPress theme (design) for your website. I recommend using GeneratePress. It is the theme I use for a majority of my niche websites.
The Process of Making Money with Your Website
In order to make side income online with your website, you'll want to begin promoting various affiliate products related to your niche.
This will involve joining an affiliate program for the product that you want to promote. For example, let's say I drink the coffee brand, Bulletproof Coffee and want to promote that coffee on my coffee niche website.
I could join the Bulletproof Coffee affiliate program. Once they approve me, I'll have access to my affiliate links that I can then use on my website.
Simply throwing your affiliate links up on your website is not the best strategy for making commissions.
The purpose of a niche website is to provide valuable content for your target audience. Your content is what attracts them to your website.
When they land on your website, they can read about your recommendation and may likely click on your affiliate link.
Amazon Associates Affiliate Program
One of the most popular affiliate programs is the Amazon affiliate program which is called Amazon Associates.
Amazon carries just about any product that you can think of so in any niche that you choose, you'll likely find a product that you can promote.
My favorite way to post my Amazon affiliate links on my website is to use a WordPress plugin called AmaLinks Pro.
When using this plugin, you can create awesome showcases like this that highlight the product you are promoting using your affiliate link: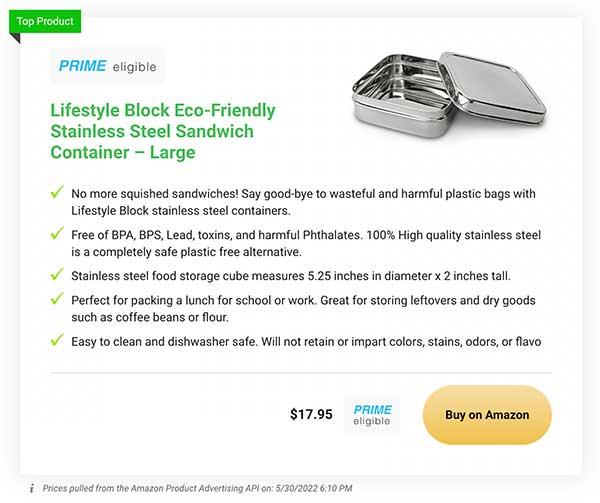 You can also create comparison tables with a few clicks. It really is one of the best Amazon affiliate WordPress plugins I have ever used.
Content Creation for Organic Traffic
Finally, your website can't make money if there is no one visiting it. This is where your content comes into play.
Content is the articles that you write (your blog posts.) A big part of creating content is doing some keyword research first.
You don't want to guess what your niche audience is searching for. My suggestion is to do some basic keyword research using a free tool like Google Keyword Planner.
Let's say that my website is in the coffee niche. One of the affiliate products I plan on promoting is a coffee maker.
The keyword phrase "coffee maker" can serve as a seed keyword. I plug that keyword phrase into Google Keyword Planner.
Now I have a long list of keywords that I can write articles for. You can utilize any keyword tool that you want, whether free or paid.
Some keyword tools will provide you with more data in terms of competition and if the keyword you want is worth going after.
How Often to Write Content
For a new website, I recommend writing content on a regular basis. The bare minimum is one new post per week.
As for myself, I try to write 2 to 3 posts per week. It isn't a requirement but I've found that traffic does begin to trickle in faster with aggressive content creation.
If you find that you can't write often or don't want to, you have the option of outsourcing the writing to a freelance writer.
This can get expensive. You don't want to use content mills or hire someone who is inexpensive. That may often result in low quality content.
Remember that the job of the search engines is to return the most relevant search results. Low quality content won't rank will when competing with other websites that have higher quality content.
Summing Up
I hope this post has offered you an option for making side money online. I've only offered a broad overview.
There is much more to learn in order to achieve success online using a simple website.
Below is a screenshot of one of my affiliate commissions from one affilate program that I'm a part of. The result of content creation.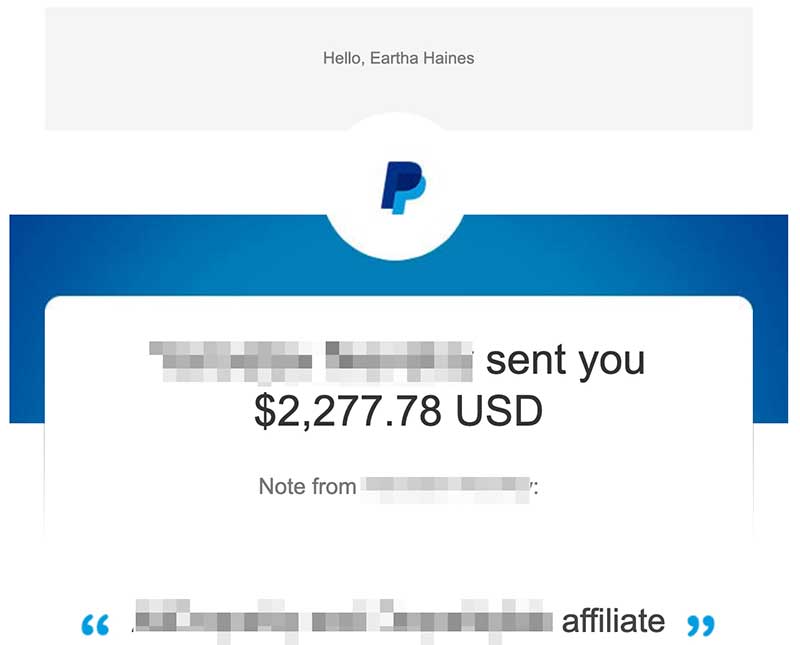 Get started with creating a new stream of income online by following the same step-by-step training I did. Click on the button below to start today:
I hope to see you there!
Eartha 🙂
Learn how I took a simple website from zero to earning a steady income online. Click here to learn how.