Video marketing plays a key role in any online or offline business. If you are not using video, you may be losing out on more potential sales.
Many people don't know where to start with video marketing or they are struggling to get views. The Video Formula created by Kevin Anson teaches users how to create videos that get watched.
As an affiliate, you have the ability to earn up to $350 per sale. The Video Formula is located on Clickbank.
Website: https://thevideoformula.com
Product Name: The Video Formula
Creator: Kevin Anson
Price: $67
Commission: 50%
Max Commission: up to $350
Tired of not making sales? Learn how I went from zero to consistent affiliate commissions every month. Click here to learn how I did it.
What is The Video Formula?
This product was created by video marketing expert, Kevin Anson. Kevin has helped create marketing videos for marketing experts such as Russell Brunson, Tony Robbins & Dean Graziozi, Frank Kern, Brendan Bruchard, and others.
Kevin shares all of the strategies he has used to create videos that capture people's attention which generates the views and new leads needed to increase sales.
This training is helpful in almost any niche. If you're selling affiliate products or your own products, video marketing can help with new leads and boost overall sales.
The price of The Video Formula is reasonable at $67 as of this writing. You can access the sales page here.
Who is Kevin Anson?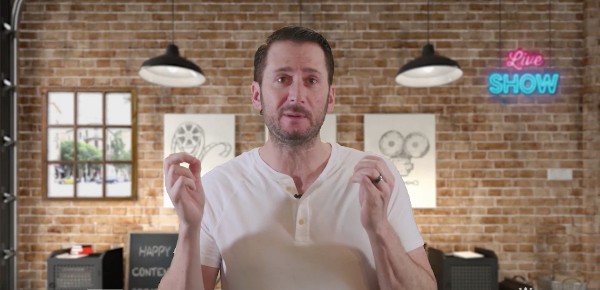 There are many successful marketers that have been utilizing the strategies of Kevin Anson to help with their own video marketing.
Kevin has over 15 years of experience as a professional video creator for Fortune 500 companies, industry-leading marketers, and influencers.
He has spent time studying and mastering what makes videos work and applied what he learned to get the best results.
Before long, his strategies began producing amazing results for his clients. Thus, what he uses is what is offered in his video marketing training.
How The Video Formula Affiliate Program Works
The affiliate program is quite good offering a 50% commission. The max cart value is $708. Meaning, there are various upsells and possible downsells within its sales funnel.
Affiliates can earn a maximum of $350 from one sale which is a great commission for an in-demand product.
The Video Formula is managed by Clickbank so you will need to be registered with Clickbank in order to receive your affiliate links.
Once you register as an affiliate on the actual The Video Formula affiliate page, you will gain access to affiliate assets such as email swipes, banners, branding & graphics, as well as a compliant sales page for PPC advertising.
How to Make Money as a Video Formula Affiliate
Now, the big question for affiliates is how exactly can you generate steady sales promoting The Video Formula?
There are a number of marketing strategies you can implement such as creating your own YouTube videos, email marketing, and paid ads.
However, my recommended strategy is to create a niche website. Why a niche website?
It wasn't until I created my own niche website that I was able to finally begin earning a steady income online with affiliate marketing.
Initially, I had no knowledge of how to earn income with a website. Rather than waste a lot of time trying to learn it all on my own, I searched for an online training program and found this one.
Putting into action what I learned is what helped me to transition out of a full-time retail job to working on my niche website full-time.
Choosing a Niche
What I recommend doing is to start off by choosing a niche. The great thing about this product is that almost everyone can benefit from video marketing.
Therefore, think about niche audiences that would need a video marketing training program. Here are some that come to mind:
internet marketers / affiliate marketers
small business owners
YouTubers that need more views
anyone needing more leads
You can easily create content that appeals to these niche audiences in terms of growing their businesses using video.
Creating Content for Your Niche
The key to owning and operating a niche website is the content that you create for it. Content can also be referred to as your blog posts.
Your content is what will bring targeted visitors to your website. You want these visitors as they will be the ones most likely to buy the products you're recommending.
I always begin my content creation by doing a bit of keyword research. One of the best ways to find the questions and concerns of your target audience is to open up Google Search.
Use the autosuggest feature of Google Search to come up with blog topic ideas. Here are some that I did a quick search of:
video marketing for realtors
how to use video marketing to grow your business
get more views on youtube
That is barely scraping the tip of the iceberg of the number of queries related to the video marketing niche.
I recommend writing at least 1 – 2 new posts per week for your niche blog. Being consistent with content creation is what will help generate the free targeted traffic that you'll need.
My Own Experience with Video Marketing
I've been steadily creating YouTube videos for years now and it has been one of the better things I've done for my online business.
I've been able to recommend products and make sales from my affiliate links in my YouTube descriptions.
I would definitely like to generate more views so a product like this would be beneficial to me as well.
Don't underestimate the power of video. YouTube is another search engine and you are missing out on potential leads by not utilizing the platform.
One of the things I like to use video marketing for is to build my email lists. I have email marketing funnels that I push lead to using video marketing.
Closing Thoughts
The Video Formula affiliate program is worth considering applying to if you want to make great commissions in the video marketing niche.
My recommended method of earning income with this product is to create a niche website.
If you are ready to level up your affiliate earnings, consider following the same step-by-step training program I followed when I got started.
Ready to make money with a blog? Learn how I went from zero to consistent affiliate commissions every month. Click here to learn how I did it.