The wedding market is big business and you can make money in this niche by starting a wedding blog of your own. If you have a genuine interest in the wedding niche, you are well on your way to creating a successful blog.
A wedding blog can serve as a resource for those seeking information on wedding-related topics. You could cover topics such as wedding planning, decor, jewelry, honeymoon destinations, and so much more.
I am quite familiar with creating niche blogs and making money with them. I'll share with you some key factors for creating a successful blog and, of course, how to make money as well.
Learn how I went from zero to making a consistent monthly income online with a blog. Click here to learn how I did it
Starting a Wedding Blog – Choosing a Direction
When starting your wedding blog, you can keep it general and cover a multitude of topics or you can sub-niche even further.
What I mean by this is that you can cover a sub-topic within the larger wedding niche. Maybe you want to focus on planning the perfect honeymoon.
You could create content about popular honeymoon destinations. This would be a great way to get very targeted traffic to your blog posts.
General wedding blogs must compete with other authoritative wedding websites. However, if you sub-niche, many general wedding websites may not focus on your topic nearly as much as you do.
Besides that, over time, your blog will be the go-to resource for your sub-niche. Other sub-niche ideas can include:
bridal shower planning
weddings on a budget
choosing wedding venues [in your city or elsewhere]
getting fit for a wedding
diy wedding ideas
How Do I Write a Wedding Blog?
While you don't need to have wedding planning experience to create a wedding blog, it will help tremendously if you have a genuine interest in the topic.
Your blog will be successful if you put your readers first and aim to provide them with the most useful information that you can.
The following are blog writing tips that I implement on my own blogs:
Tip 1: Find What Searchers are Looking For
Sounds obvious, right? This step is important if you want to receive free web traffic. You can utilize keyword research tools but you'll also be just fine using Google's search and autocomplete feature.
Begin typing in keyword phrases of topics you want to write about and you'll see what people are actually searching for.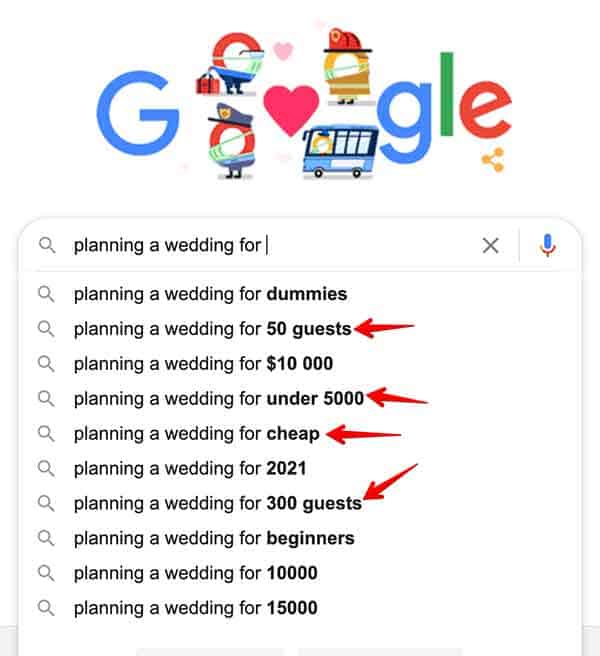 Tip 2: Add Your Keyword Phrase in Your Blog Post Title
This is basic SEO (search engine optimization). Place your keyword phrase in your blog post title. For example, if we used one of the keyword phrases in the Google search example in the image above, your title could be:
10 Tips for Planning a Wedding for 300 Guests
You'll also want to add your keyword phrase "planning a wedding for 300 guests" in your first paragraph and then naturally throughout the rest of your post.
Tip 3: Write New Posts Often
I've seen many people start off excited about their blog, write content for about a month or two, and then give up on it altogether.
Blogging is a marathon and not sprint. Successful blogs get that way partly by consistency in creating new content. I recommend writing at least 1 to 2 new blog posts per week.
That is the bare minimum and is easy to do even with the most hectic schedule.
Tip 4: Add Variety to Your Blog Posts
One way to keep blogging fun for you and your readers is to change up the types of blog posts that you create. You can write your standard blog posts but also consider adding:
how-to posts
lists [top 10, top 5, etc.]
best-of posts
product reviews
interview posts
Where to Start Your Blog
It is all too easy to want to start your blog on a free blogging service like Tumblr, Wix, or other services. I highly recommend against it.
Free blogging services are limiting and they have the authority to close accounts at any time for any reason. Some of them will place ads on your blog and even limit you on how you can make money with your blog.
It is extremely easy to get your own self-hosted WordPress blog.
A self-hosted WordPress website simply means that you will register your own domain name, get a web hosting account, and installing WordPress on your domain.
Don't worry, even the most non-technical person can do this. Any commercial web hosting provider can hook you up with everything that you need.
My web hosting provider (WPX Hosting) can register your domain, set up your hosting, and you can install WordPress on your domain in one click:

Step-by-Step Help and Training
If all of the above still seems overwhelming, you can get step-by-step training for creating a successful niche blog by following the same step-by-step training I used when I started.
You can follow the video above as an introduction and click here to get started.
How Wedding Blogs Make Money
Wedding blogs are niche blogs and a niche blog is one of the best ways to make money online. There are several ways in which a niche blog can make money.
Some of these methods include affiliate marketing, display ads, CPA offers, sponsored posts, and more. Affiliate marketing is definitely one of the ideal ways to make money with a blog.
It is how I am able to make a consistent income online with a blog.
Affiliate marketing is the promotion of another company's products in exchange for a commission when a sale is made.
There tons of wedding affiliate programs that you can join and become an affiliate of. They have various commission rates. Here are some examples:
My Wedding Favors – 7% to 12%
Wed & Wish – $50 for every referral
For Your Party – 10% to 15%
Sandals Resorts – 4%
When you sign up to an affiliate program, you will receive your affiliate links. Affiliate links are special tracking links that credit you for any sales that you send to the merchant.
You can place these links within your blog posts when you recommend products. As your blog receives web visitors, a percentage of those visitors will click on your affiliate links.
A percentage of those clicks will buy products which leads to commissions for you.
How Much Can a Wedding Blog Make?
With consistent effort, anyone can grow a wedding blog to making $500 per month to tens of thousands of dollars per month.
The key is putting in the work needed for a blog to get web traffic. Without traffic, your blog cannot make money.
If you are seeking a specific timeframe, I can tell you from my own experience that a brand new blog can begin receiving traffic within 3 to 6 months.
When you make your first commission will also depend on many factors but most new bloggers make their first sales within this timeframe as well.
My Closing Thoughts On Starting a Wedding Blog
Starting a wedding blog is a great way to begin making money with a blog. It is an evergreen niche and there are so many sub-niche topics that you can go into.
Niche websites are how I make a consistent income online with affiliate marketing. They are one of the best ways to generate income online.
With a niche blog, you can make commissions literally while you sleep. It doesn't happen overnight but by following step-by-step training, you can be well on your way.
That training program made all of the difference for me and I use it today to help others one-on-one with creating and growing their own niche websites.