It is overwhelming to think about the many ways that you can make money online. When you are new to making money online, you may be tempted to jump from one strategy to the next.
After a few years of internet marketing, I have dabbled in a little bit of everything. I finally found success by keeping it simple and choosing to focus on one method.
I'll share with you the method I use to generate a consistent income online. It is a simple way to build an online business. If you can dedicate yourself to the process, you can make money online.
Different Ways You Can Make Money Online
Before I explain the one simple way to make money online, I want to talk about some of the more popular methods that are out there.
There are so many ways to start making money online. You likely have already explored some of these methods.
I will highlight some of the most common ways and point out some of the pros and cons of each.
Affiliate Marketing
This is by far my favorite way to make money online. You can approach affiliate marketing in a variety of ways. However, the two most common approaches are paid advertising and SEO.
Affiliate marketing is the promotion of another company's products and/or services in exchange for a commission when a sale is made.
Pros of Affiliate Marketing
No product of your own needed
You don't deal with customer service issues
Nothing to ship
Unlimited earning potential
Work from anywhere with a WiFi connection
Cons of Affiliate Marketing
Can be slow to start earning
Many affiliate programs pay monthly
CPA Offers
CPA stands for cost per acquisition. You make money from these offers by generating leads and these leads taking some sort of action.
For example, a CPA offer may pay out $1 for each lead that calls a phone number (pay-per-call) or applies for a credit card online, etc.
Pros of CPA Offers
Easy conversions (filling out a form, calling a number, etc.)
If you know how to drive traffic to an offer, commissions add up fast
Cons of CPA Offers
It can get expensive to drive traffic since you typically have to pay for advertising
Getting accepted to promote CPA offers is difficult as they want quality traffic
Amazon FBA
Fulfillment by Amazon is the process in which you send your products to an Amazon warehouse. Amazon then stores, packs, and ships your products when a customer orders it from the Amazon.com website.
Your products can be items that you've had manufactured, bought wholesale, or even bought at a steep discount at department stores.
Pros of Amazon FBA
Take advantage of Amazon's platform (millions of customers)
No shipping & handling to deal with
You don't deal with returns or customer service
Cons of Amazon FBA
Amazon's fees can be expensive and they are always changing
Start-up costs (typically a few thousand dollars to get started)
Dropshipping
The dropshipping model is quite popular. It enables anyone to open their own eCommerce store without investing a ton of money in buying inventory.
There is no need to buy inventory up front as you deal with dropshipping suppliers. These suppliers will ship products to your customers for you when a customer orders an item from your store.
Pros of Dropshipping
No need to buy any inventory up front
Sell a wider selection of products in your store
You don't have to pack or ship anything
Low start-up costs
Cons of Dropshipping
Advertising costs (you may spend a lot before finding a winning campaign)
You must rely on dropshipping suppliers to ship your items
You have to manage all customer service issues
Print On Demand
A print on demand business is the process of designing graphics for t-shirts, mugs, hats, and more. You upload these designs to a print on demand service like TeeSpring for example.
You then market your designs on social media or using paid ads. You can also sell your designs in your own store such as a Shopify store.
When a customer orders an item, you pass the order to the print on demand service. They then create the item and send it to your customer. It is like another form of dropshipping.
Pros of Print On Demand
No shipping and handling
You don't need to print your own products
A large variety of items to sell
Cons of Print On Demand
Coming up with unique and trendy designs
Marketing costs (paid ads)
Get the training, tools, and support that you need to create an online business that generates income on a consistent basis. Click here and get started for FREE!
Niche Affiliate Websites – The Simple Way to Make Money Online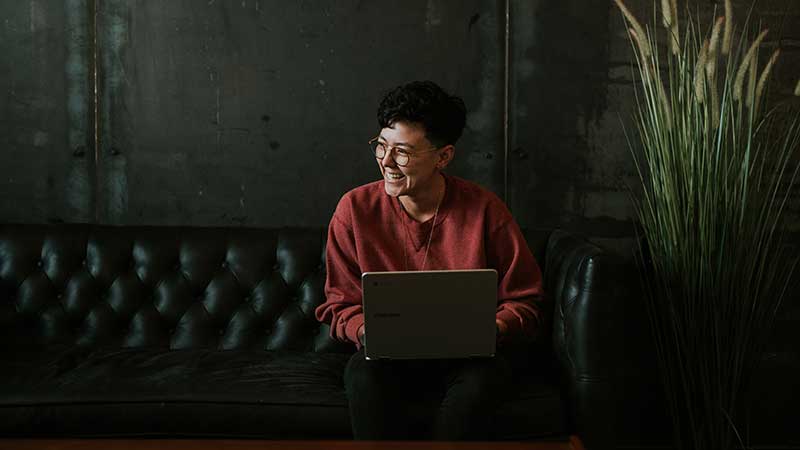 Now that we've covered some of the ways that you can make money online, I want to go into detail with a very simple way to make money online.
The method I am referring to is creating niche affiliate websites or niche blogs and monetizing them through affiliate marketing.
I mentioned affiliate marketing above and if you are not super familiar with it, it is simply promoting another company's products in exchange for a commission when a sale is made.
There are millions of products that you can promote as an affiliate marketer. There are hundreds of thousands of affiliate programs that you can sign up with for free.
These affiliate programs provide you with special tracking links called "affiliate links". These links credit you when someone clicks on them and buys something from a merchant's website.
You can earn anywhere from 1% to 75%+ commissions depending on the affiliate program. Most of the affiliate products that I promote are between 40% and 50% commission!
What is a Niche Website?
A niche website is a type of website that focuses on one topic. You can choose any niche that you want. Think about any hobbies that interest you, things that you are passionate about, or things that you want to learn.
Whatever niche that you choose, there will be affiliate products that you can promote related to your niche.
Below is an example of a niche blog. It is called Nerd Fitness and it is extremely popular. The owner combined his love of fitness plus being a nerd.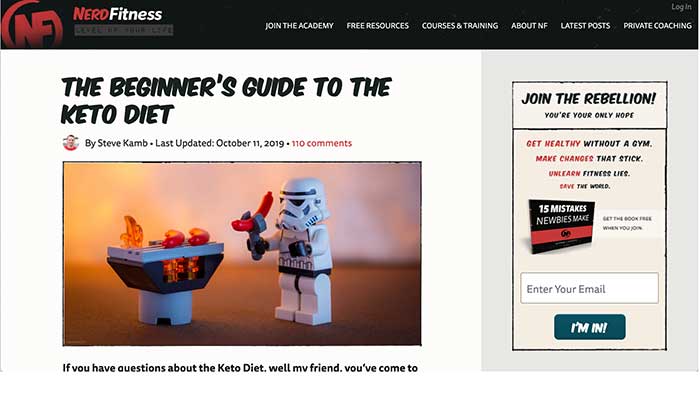 He posts a lot of helpful content in a fun way. This blog has been around for years and the owner has created a million-dollar business.
You could create something similar on any topic that you want. Let's say you really enjoy tea and you want to create a blog about loose leaf tea.
You could review different teaware, teapots, etc. You could create great content about brewing different types of tea and link to various affiliate products such as tea brewers and such.
Amazon.com has an affiliate program called Amazon Associates. You could join it and promote any of the millions of products that Amazon carries such as the tea brewer below: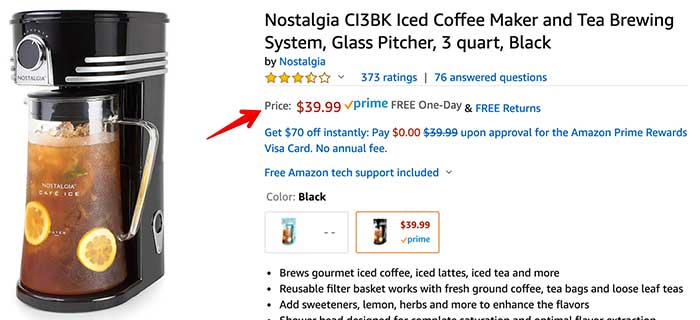 You could link to that tea brewer using your affiliate link on one of your blog posts. When a visitor clicks on that link and buys that item, you earn a commission (percentage of the sale.)
Why Niche Blogs Work So Well
When I started out, I chose to create a niche blog for several reasons. The primary reason was that I didn't have to spend a lot of money to get started.
All that you need is your niche, a domain name ($13/year), web hosting ($2.95/month), and a self-hosted WordPress website (Free!).
It is low-risk (almost no risk) because you are creating content to help your niche. If you write an article that doesn't rank well in the search engines, you haven't lost any money doing so.
Here are some other awesome benefits of niche blogging:
Convenient (create a schedule that works for you)
Creativity – write on topics that you like
Free targeted web traffic
A long-term business that lasts for years
Multiple ways to generate income (affiliate marketing, display ads)
How to Get Your Own Niche Blog
It doesn't take much to get your own niche website. You can get started for under $20 in most cases. All that you need is your niche, a domain name, web hosting, and a self-hosted WordPress website.
You can get everything that you need from most commercial web hosting providers. I buy most of my domain names from NameCheap.com.
However, you can order a domain and even have WordPress installed for you when you choose a WordPress hosting plan from a web hosting company like A2Hosting.
You next step after having your blog up and running is to create helpful content for your niche.
Doing a bit of research will let you know exactly what your niche audience is looking for. Here is a quick Google instant search for ideas related to our tea blog example: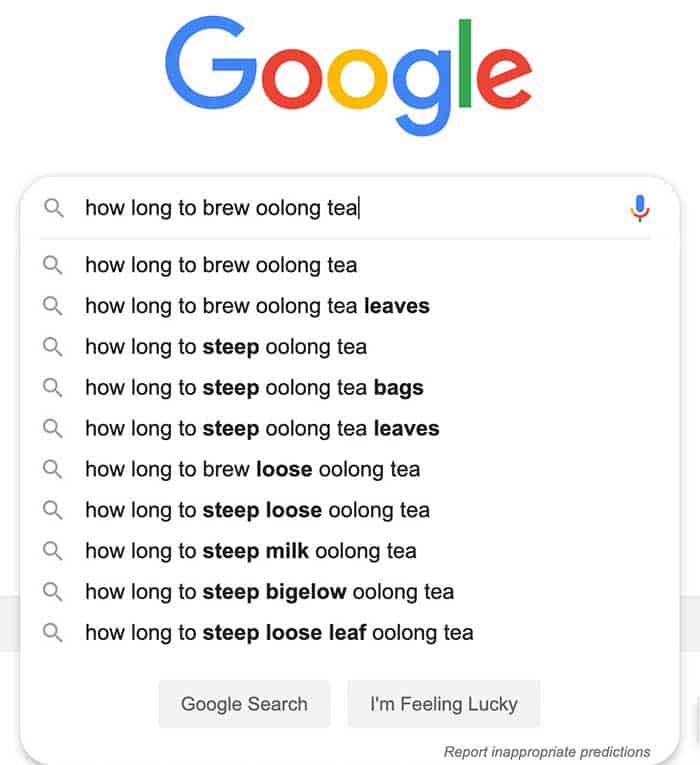 Now you could create a really helpful blog post about brewing and steeping oolong tea. Share the tools that you use to make that perfect cup of tea – and don't forget to link to affiliate products! 🙂
My Closing Thoughts On a Simple Way to Make Money Online
Creating a niche blog really is a simple way to start an online business. It is low-cost and low-risk (no risk, really).
With hard work and dedication, you can generate traffic and traffic means you can make money.
Niche websites can earn money 24 hours a day. You could make commissions while you are sleeping, shopping, or spending quality time with your family.
There are some essentials that you can (and should) learn to help grow your business faster. You can get step-by-step help with an affiliate marketing training course like this.