Selling digital products is an excellent way to earn income online. I've given away many of my own eBooks for free. However, when it came time to sell one of my eBooks, I searched around for software to sell digital products with PayPal and Stripe.
Thanks to my research and testing out the various software, I have come across three outstanding options for selling digital products online. All three of these options offer both PayPal and Stripe for payment processing.
These three services include SamCart, Sellfy, and EJunkie. I'll share my experience and opinion on all three services in order to provide you with more options for selling your digital products.
How to Sell Digital Products with PayPal and Stripe
In order to sell your digital products with PayPal and/or Stripe, you will need a shopping cart platform. Particularly one that specializes in selling digital goods.
There are several of these services to choose from. The ones I've come across and tried are excellent and get the job done.
First, I'll explain what I decided to sell. I wrote an eBook which outlined the steps I took to create a new stream of income from one niche blog.
Initially, I wanted to sell my eBook with a "pay what you want" price. That's what led me to the first service below (SamCart). Now I sell the eBook for a fixed price.
SamCart for Selling Digital Products
First up is SamCart. I was introduced to SamCart thanks to their advertising. This was my first choice for selling my eBook as I like the one-page sales page concept as well as having the checkout form on the same page.
It is a great and inexpensive option in comparison to other services such as ClickFunnels. I didn't need a multi-step sales funnel and I also wanted a "pay-what-you-want" feature.
SamCart met those requirements so I signed up with them. SamCart is really easy to use and they offer a nice variety of pre-made templates that you can customize to fit your needs.
It does integrate with both PayPal and Stripe. With a few clicks and confirmations, your payment processors are set up quickly and easily.
I also like their testing feature. You can test your sales page before you activate it to go live. They provide a testing credit card number and you can test the customer checkout process.
My tutorial video below demonstrates how to upload a product and how to use their "pay-what-you-want" feature:
With some marketing, my sales page converted well. I'm also a SamCart affiliate and recommending this service earned me some nice commissions.
I'm a fan of the one-page sales page and highly recommend SamCart if you do not need multi-step sales funnel. Another plus with SamCart is their upsell feature which is an additional easy add-on located above the checkout form.
Having the upsell feature requires upgrading your monthly plan to at least the "Grow" plan.
Why I Left SamCart
The only reason I left SamCart is that my eBook is priced below $10 and SamCart's basic plan is $49 per month. If I were heavily marketing my eBook and making enough sales, I would have stayed.
Also, if I had any plans to create more digital products, it would have been well worth it. However, since I only market my eBook using my blog and YouTube, I needed a less expensive option.
Besides that, SamCart is one of my highest recommendations if you are wanting to actively market your product and want some great conversions.
You can test out SamCart with a free-trial.
Use Sellfy to Sell Your Digital Goods
Sellfy is another great option for selling digital products. It's a great alternative to SamCart and costs a little less per month ($29 monthly).
I only used the free-trial on this service. However, my sister uses Sellfy to sell her cookbook on Instagram. It works extremely well and she has had no complaints.
Sellfy is user-friendly and you can sell your products anywhere by adding a buy now button or linking to your Sellfy storefront. PayPal and Stripe are both easy to set-up inside of your account.
What is great about this service is that they also offer the "pay-what-you-want" feature as well as an upsell feature.
I wish I could share more about Sellfy in terms of user experience. However, it is a really good service and a good alternative to SamCart.
Using EJunkie for Selling Your Digital Product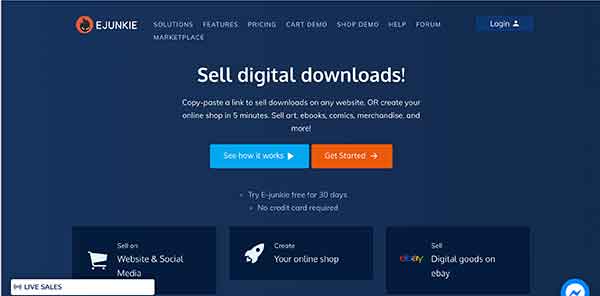 I have used EJunkie in the past many years ago and it has always been a go-to choice for me. After using SamCart and realizing that I didn't need to pay $49 per month for its basic features, I opted to try out EJunkie again.
My background is in web developing so I was able to create my own one-page sales funnel. I do miss having the checkout form on the same page. However, I have had no issues with sales by using a "buy now" button in its place.
The beauty of EJunkie is how simple it is. You can sell your products using PayPal and Stripe. You get an install code for your buy now button and it pops open a checkout window.
Out of most services that specialize in selling digital products, EJunkie has to be the most affordable. For my one eBook, I am paying $5 month for this service!
I can sell up to 10 products on the $5/month plan. There is definitely room to grow and I'm not coming out of pocket for selling an eBook that I'm not heavily marketing at this time.
If you're wondering if my page converts with just the "buy-now" button, it does!
How to Market Your Digital Products and Make Sales
Now that you have some good options to test out for selling your products, it's time to talk about how to promote them in order to make your first sales.
The methods I am recommending are all free and they work well if you are consistent. My top recommendation is YouTube. If you are not camera-shy, you can start a YouTube channel creating videos related to your niche.
You can then recommend your digital product in the video description. I made my very first eBook sales using this method.
The second method is to create a niche blog. Niche blogs are not only great for selling your digital goods but you can earn a consistent income online by recommending other affiliate products.
I promote my eBook within some of my blog posts as well as in my header and footer navigation.
Social media platforms are also great for free promotion. I am not an active user of any social media besides YouTube but if you have a following on other social media, definitely promote your product there.
Closing Thoughts On How to Sell Digital Products with PayPal and Stripe
The three services listed in this post make it easy to sell digital products with PayPal and Stripe. Keep in mind these are only three options. There are plenty of other options to explore as well.
For example, Shopify has a "lite" plan that works well for selling a digital product. If you are on the fence about creating and selling your own product, I recommend going for it.
You learn best when you take action. SamCart has a free webinar that explains how to get started selling your own products.