The beauty niche is a great niche to be in as an affiliate marketer. There are several makeup affiliate programs to choose from. Many of these companies carry makeup as well as skincare. These products go hand-in-hand which means more for you to promote as an affiliate.
Below are some of the makeup affiliate programs that I came across that you can apply to. Many of these have a good selection of products and offer decent commissions rates.
Besides sharing these affiliate programs, I will also provide some input into how I generate a consistent income online promoting affiliate products.
What is a Beauty Affiliate?
A beauty affiliate is anyone that signs up for an affiliate program and is approved to promote the products of that particular company. As an affiliate, you will have access to special tracking links called affiliate links. When anyone clicks on your affiliate link and makes a purchase from the merchant's website, you earn a commission.
Makeup Affiliate Programs
BH Cosmetics
Sephora
Juice Beauty
Mica Beauty Cosmetics
100% Pure
OFRA Cosmetics
Myo Makeup
Tired of not making sales? Learn how I went from zero to consistent affiliate commissions every month. Click here to learn how I did it.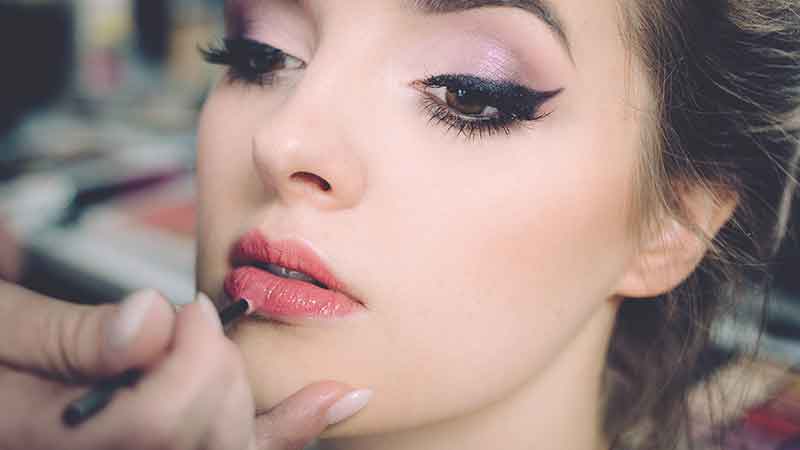 1. BH Cosmetics
The BH Cosmetics company is based out of Los Angeles, CA and specializes in cruelty-free cosmetics. They carry a variety of makeup for the eyes, face, and lips as well as brushes & tools.
Their affiliate program is managed by Rakuten Linkshare with an 8% commission rate and a 90-day cookie length.
Commission: 8%
Cookie Length: 90 days
2. Sephora
Chances are you are already familiar with Sephora as they are one of the bigger beauty companies both online and with physical locations. They have been in business since 1998.
Many people often ask, "Does Sephora have an affiliate program?" Fortunately, they do! They carry a large selection of beauty items which gives you plenty of products to promote.
The affiliate program is managed by Rakuten Linkshare with a 3% base commission and an 8% commission when customer status is on the list.
Commission: 3% base, 8% when customer status is on the list
Cookie Length: not disclosed
3. Juice Beauty
The Juice Beauty brand was founded in 2005 by Karen Behnke, a serial wellness entrepreneur. They specialize in luxurious organic skin care and makeup products.
You can find a large number of products for the skin as well as makeup for the eyes, cheeks, and lips. The affiliate program is managed by Linkshare and offers a 6% commission.
Commission: 6%
Cookie Length: not disclosed
4. Mica Beauty Cosmetics
The Mica Beauty Cosmetics company was founded in 2011 and specializes in makeup made form 100% pure Mica and minerals. They carry a great selection of makeup and skin care products.
They also have a subscription program and customers can also order gift cards. The affiliate program is managed by iDevAffiliates and offers between a 5% and 8% commission with a lifetime cookie length.
Commission: 5% – 8%
Cookie Length: lifetime
5. 100% Pure
The 100% Pure company specializes in formulations that adhere to strict purity standards and will never contain harsh or toxic ingredients.
Their products are naturally pigmented, cruelty-free, and they ensure that each ingredient is never animal sourced.
You can find a variety of makeup, skin care, and hair & body products. The affiliate program is managed by ShareASale and offers an 8% commission.
Commission: 8%
Cookie Length: not disclosed
6. OFRA Cosmetics
The OFRA Cosmetics company was founded by therapist and makeup artist, Ofra Gaito in 1994. Today, OFRA is the leading manufacturer of professional skin care and makeup.
OFRA is currently the top supplier of beauty kits to over 950 United States cosmetology schools and salons. The affiliate program is managed through Refersion and offers a 10% commission with a 30-day cookie length.
Commission: 10%
Cookie Length: 30 days
7. Myo Makeup
The Myo Makeup line of products are formulated WITHOUT petro-chemicals, parabens, synthetic fragrances, dyes, oils, bismuth, talc or sulfates.
Their goal is to provide a fantasy makeup experience. They carry eye make up, lip products, lashes, glitter, and more. The affiliate program is managed through Refersion and offers a 20% commission with a 30-day cookie length.
Commission: 20%
Cookie Length: 30 days
How to Make Consistent Affiliate Commissions Online Promoting Makeup Products
I've tried promoting affiliate products a number of ways in the past with very little success. It wasn't until I create a niche website that I finally started making a consistent income online.
Niche websites are a tried-and-true method of making money online. They are low-cost to start, easy to maintain, and they generate free web traffic which leads to more affiliate sales.
A niche website is simply a website that focuses on one specific topic. In this case, you could create a website that focuses on beauty, makeup guidance, skincare, and more.
Essentially, a niche website is a blog as you will be creating content in the form of blog posts on a regular basis.
Niche Selection
You may think joining a makeup affiliate program means creating a niche blog focusing solely on makeup. You can definitely stay general but you can also niche down as much as you want.
For example, maybe you are new to makeup so you can create a niche blog that documents your experience applying and using various makeup brands.
How about makeup for special events or applying makeup women over a certain age bracket.
You could even create a makeup products review blog for the different brands as well as tools like brushes, sponges, and more.
Selecting a niche is key as you will be creating content on a regular basis. It is important that you have a genuine interest in the niche that you choose.
Otherwise, you will quickly burn out on writing and abandon your website. Giving up is often the thing that keeps someone from creating a successful niche website.
Creating Your Niche Website
Getting your niche website up and running is really simple. Any web hosting provider can provide you with everything that you need.
All that you need is your own domain name, a web hosting account, and a self-hosted WordPress website.
I use WPX Hosting for hosting most of my niche blogs. I like their web hosting speed and their awesome customer service. You can register your domain, get web hosting, and install WordPress using one-click software installation.

If the technical stuff overwhelms you, I recommend following the same step-by-step training I followed when I got started. They will teach you how to create a successful niche website of your own.
Write Helpful Content for Targeted Traffic
The content that you create is the bread and butter of your website. Without content, you will not attract visitors from the search results.
The blog posts that you write are what eventually get indexed and ranked in the search engines like Google and Bing.
What is more important than anything is to write helpful content for your readers. Remember that actual people are reading your posts.
Half-ass content writing isn't going to cut it. You don't need to be an expert writer but you should put forth the effort to do a bit of research and try to answer the questions that your niche audience has.
You can find out what your audience is searching for by pulling up Google and type in keyword phrases related to your niche. Google's autosuggest feature will show you what people are searching for.
Putting in the effort to help your audience will pay off in the long term with better ranking for your posts and more visits to your website.
Closing Thoughts On Makeup Affiliate Programs
Makeup is a really popular niche. You can search for it on YouTube to give you an idea of the popularity as many makeup channels have hundreds of thousands of followers.
Niche blogs are a great way to make consistent affiliate commissions online. It is how I got my start and what I continue to do today.
You can literally make money while you are sleeping, shopping, or relaxing with your family. It does take consistent effort but it isn't hard to learn.
If you are ready to level up your affiliate earnings, consider following the same step-by-step training program I followed that helped me to get where I am today.
I now use that same training platform to help others one-on-one with creating their own niche websites.