The keto diet or ketogenic diet is a popular diet for many people. There are various products revolving around this diet and the following keto affiliate programs are some of them that you can make commissions with.
I've known people that have followed the keto diet and those that do are dedicated to it. There are products for food, cookbooks, and keto programs for beginners that all have affiliate programs.
As an affiliate, you can apply to these programs and begin promoting them to earn commissions. Check out the following affiliate programs below.
Keto Affiliate Programs:
Guy Gone Keto
Perfect Keto
Healthful Pursuit
Keto and Company
Ketogenic Girl
Kickstart Keto Diet
Keto Balance
Custom Keto Diet
Tired of not making sales? Learn how I went from zero to consistent affiliate commissions every month. Click here to learn how I did it.
1. Guy Gone Keto
The Guy Gone Keto brand was founded by Thom King. Thom struggled with his weight until he adopted the ketogenic lifestyle. He also wrote a book by the same title and created a line of keto condiments.
These condiments were created out of Thom's own desire to have condiments such as ketchup, steak sauce, BBQ sauce, and Thai chili sauce that were keto-friendly.
The affiliate program appears to be run in-house and ran on iDevAffiliate software. The commission is 10% for each sale that you refer. They also deposit $10 into your account just for signing up.
Payments are made once per month for the previous month and there is a $50 minimum requirement before a payout is made.
2. Perfect Keto
Dr. Anthony Gustin is the founder of Perfect Keto. Perfect Keto provides a variety of keto-friendly products to support the keto lifestyle. They carry products such as bars, whey protein, MCT oil, coffee, bars, snacks, and more.
I'm not sure if their affiliate program is managed in-house or by another affiliate network. However, they do have some standards for their affiliates to meet before applying such as over 10k Social Followers, OR a minimum 5K social followers, email subscribers, or monthly website views.
So if you do not meet either of those, unfortunately, this may not be the affiliate program for you.
3. Healthful Pursuit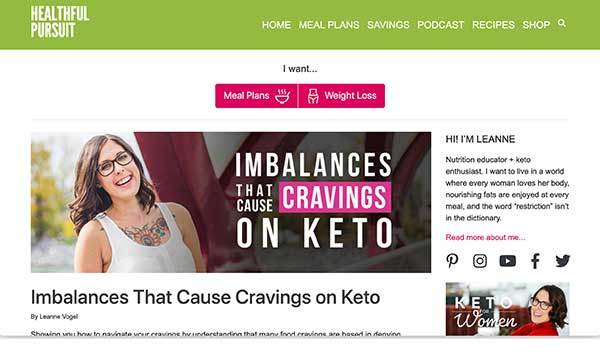 Healthful Pursuit was founded by Leanne Vogel who is a nutrition educator and host of The Keto Diet podcast. Her website offers books as well as a 12-week video training program.
The affiliate program appears to be managed in-house and offers a 50% commission on products as well as a 35% commission on the video training program.
The Healthful Pursuit website is a great starting point for anyone that is ready to get started with the keto lifestyle. This is a great company to recommend to your target audience.
4. Keto and Company
Ted Tieken is the founder of Keto and Co. He started the company after practicing the keto lifestyle for himself to manage chronic pain. Keto and Co offer keto-friendly food products to help make following the ketogenic diet simple.
The affiliate program is powered by Refersion software. It offers a 10% commission with a 15-day cookie length. I browsed this website and I really like the products.
The prices seem reasonable for the products and they have food that covers breakfast, lunch, dinner, and snacks. This is a great company to recommend for both beginner keto dieters as well as those that have been living the keto lifestyle for quite some time.
5. Ketogenic Girl
Vanessa Spina, a Sports Nutrition Specialist, is the founder of Ketogenic Girl. Her website sells various keto meal plans and challenges. She also sells VIP and private coaching packages.
The affiliate program is powered by Refersion software. It offers a 25% commission with a 30-day cookie length. This seems to be a good line of products to promote for keto beginners.
Figuring out what meals to prepare on a daily basis is a stumbling block for many beginners and Vanessa's meal plans and challenges help to solve this issue.
6. Kickstart Keto Diet
The Kickstart Keto Diet is a membership platform that provides all of the information, training, and support needed to start and maintain a keto lifestyle. It was founded by Anni Sirvio who serves as a coach along with a certified personal trainer (Freddie).
The affiliate program is managed by ClickFunnels and offers a 50% commission. Cookie length was not disclosed. This seems to be a popular keto membership website with plenty of testimonials from happy members.
This may be a great company to promote for those seeking not only the information, meal plans, etc., but also a support system.
7. Keto Balance
Keto Balance is a dietary supplement that is part of the PuraThrive line of products. This supplement helps with achieving ketosis fast, avoiding the KETO FLU, conquering the KETO WALL & enjoying ketosis sustainably.
Unfortunately, there were no details on the affiliate program page about the commission or cookie length. The affiliate program is managed by Clickbank.
8. Custom Keto Diet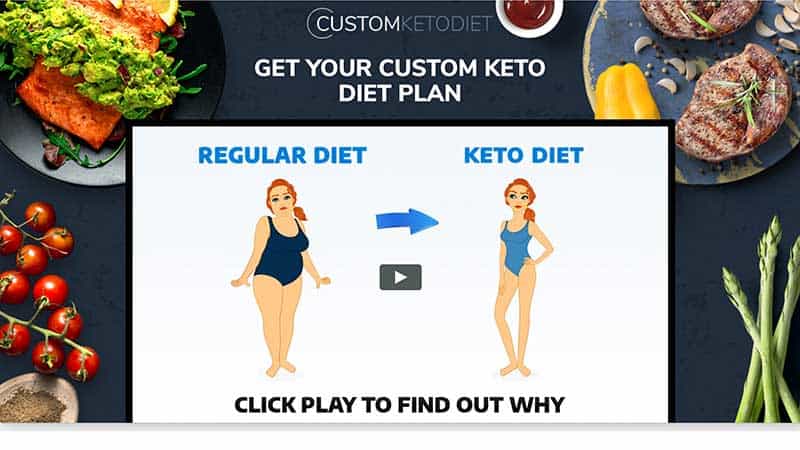 The Custom Keto Diet is an online software that enables people to create their very own keto diet plan based on their food preferences, daily activity levels, height, weight and target weight goals. Users receive meal plans, downloadable shopping lists, recipes, macronutrient information, and more.
The affiliate program is managed by Clickbank. It offers a 75% commission with a 60-day cookie length. This is a great product to promote as users can get meal plans based on their own specific needs.
Since the affiliate program is managed by Clickbank, payments are sent via check or direct deposit. You can also choose to have payments sent weekly or bi-weekly.
Tired of not making sales? Learn how I went from zero to consistent affiliate commissions every month. Click here to learn how I did it.
My Closing Thoughts On Keto Affiliate Programs
I hope these keto affiliate programs have provided you with some options for promoting on your niche website or social media.
Many of these affiliate programs have great products and good commissions. I think by targeting the right audience, many of these products will make easy conversions.
I do recommend promoting these and any affiliate products by creating a niche website. It is how I got started in affiliate marketing and what I continue to do today to make consistent income online.
That being said, I suggest following the same step-by-step training program that I used to help me get to where I am today.
I am still a part of that training platform and use it to help others one-on-one with creating their own niche websites.