Publishing books for the Kindle continues to be a popular option for earning extra income online. In this K Money Mastery affiliate review, I will cover what the product offers, how the affiliate program works, and how you can start making commissions.
K Money Mastery is a step-by-step training system created by Stefan Pylarinos. The course has 21 lessons that take students from finding a profitable niche to maintaining a profitable long-term business publishing Kindle books.
This product has been on the Clickbank platform for quite a while (since 2013). That proves to me that it definitely has longevity. The Kindle publishing niche is still growing and will likely continue in the coming years.
Product Details:
Product Creator: Stefan Pylarinos
Product Price: $97
Commission: 50% front-end & upsells, and 25% recurring
Tired of not making sales? Learn how I went from zero to earning a consistent income with affiliate marketing. Click here to learn how I did it.
What is K Money Mastery?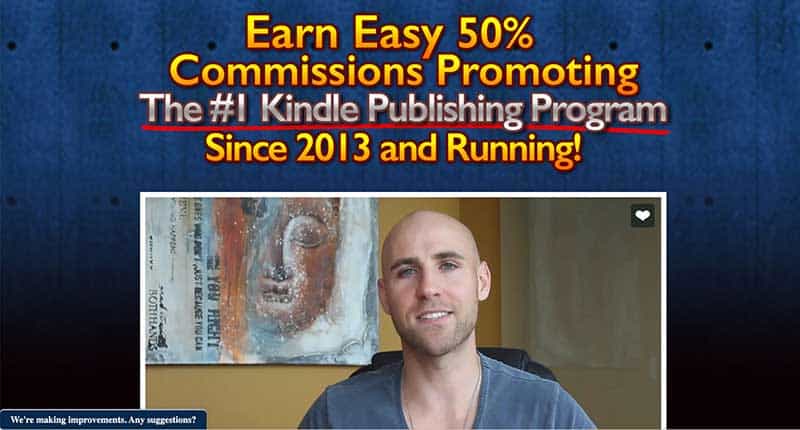 The K Money Mastery system is a Kindle publishing program created by Stefan Pylarinos. Stefan is also the founder of Project Life Mastery and is well-known for creating successful online businesses.
He has a number of online training programs to include Affiliate Marketing Mastery, Online Business Mastery Accelerator, Life Mastery Accelerator, Morning Ritual Mastery, and How to Write a Book in Less Than 24 Hours.
Stefan has published several books for the Kindle and earns passive income from them in the range of $8K per month.
What makes this training program different from others that are similar is that Stefan outsourced the writing of 100+ of his Kindle books to other writers.
In essence, writers create the content and he adds his marketing strategies to create a passive income stream from the sales of the books.
This training system offers a step-by-step guide for learning how to replicate his success.
There are 21 lessons that include 30 videos and downloadable PDFs files. There are also bonus lessons included. The sales page can be found here and the price of the system is $97 (one-time fee) with a 30-day money-back guarantee.
As of this writing, K Money Mastery has been updated to version 2.0. It is great that Stefan keeps the program up to date as things change over the years with Kindle publishing.
K Money Mastery Affiliate Review
The affiliate program is managed by Clickbank. Therefore, if you are not already signed up for Clickbank, you will need to create an account.
You can get your affiliate link within Clickbank by searching for "kindle money mastery".
The commission structure is as follows:
Front-end: 50% of $97
Full Disclosure: 25% recurring of $47
Kindle VA Training: 50% of $197
24 Hour Book: 50% of $17
The average sale is $135.87. There are 3 upsells which can generate up to $184 per sale. There is also a monthly continuity upsell for recurring monthly commissions.
Since the product is on Clickbank, you will be paid via check or direct deposit.
Possible Earning Potential
The earning potential of this product is great as the niche is still a popular trend.
If you make at least 5 sales per month with an average sale of $135, you can easily earn $600+ per month.
This is completely doable by targeting the right niche audience. By targeting the right audience, you can also make more even if the only sale is the initial product without any of the upsells.
Is K Money Mastery Worth Promoting?
This is a definite yes. Kindle publishing is an evergreen niche that explains why this product has been on Clickbank since 2013.
Another reason is that it is created by Stefan Pylarinos. Stefan has a large YouTube and social media following. Many people may have already come across his channel or his Project Life Mastery website.
Also, the refund rate is low at less than 6% which always helps. I think the big plus about K Money Mastery is that it teaches how to simplify the publishing process.
You don't even need to write the books yourself. It is a matter of learning how to outsource the writing and marketing the books which are what the training program teaches.
How To Best Promote K Money Mastery
My preferred method of promoting any affiliate product is by using content marketing. This is best accomplished by creating a niche website.
A niche website is a website that focuses on one topic. In this case, you would want to create your website on the topic of publishing Kindle books.
You could also target the passive income niche as well. People are always seeking ways to add a new income stream, particularly one in which they do not have to do a lot of the work.
K Money Mastery teaches how to find quality writers for great prices that can do a bulk of the work which is writing your actual books for you.
Creating Your Niche Website
A niche website begins with a self-hosted WordPress website. Meaning, you will have a WordPress blog. A self-hosted WordPress website simply means you will have your own web hosting account.
You will need your own domain name as well. You can get everything you need from any commercial web hosting company like WPX Hosting.
Many web hosting providers will set up your WordPress website for you. If you are not familiar with how to do it yourself, simply contact customer support.
Content Creation
The bread and butter of your niche website will be the content that you create. There is a lot of content that you can create around the topic of Kindle publishing.
You can use free keyword tools to give you some ideas. I use Google's autocomplete feature to find the questions my target niche wants answers to.
It can seem overwhelming at first. It was when I started but thankfully I found an online affiliate marketing training course that helped me progress faster than if I had learned on my own.
My Closing Thoughts On My K Money Mastery Affiliate Review
The Kindle publishing niche is still trending and I'm sure will continue to trend upward for years to come.
The K Money Mastery training program solves a large problem for this niche which is how to create passive income by creating Kindle books. Be sure to take a look at the Stefan James book publishing course as well.
One of the best ways to promote this affiliate product is by creating a niche website. That is how I generate a consistent income with affiliate marketing.
It is one of the best ways to earn affiliate commissions. I make commissions while I am sleeping, out grocery shopping, or relaxing with my loved ones.
Beginners may find it a bit challenging to get started. I did as well so I followed a step-by-step training program.
That training program made all of the difference for me and I use it today to help others one-on-one with creating and growing their own niche websites.