As affiliate marketers, we are always seeking out ways to drive traffic to our affiliate campaigns. When you're a beginner, it may seem impossible to earn a commission because you don't know how to generate traffic.
There are a lot of ways to get traffic to your affiliate campaigns. For the most part, you either use free or paid traffic. I do recommend learning free traffic strategies first, especially if you do not have a budget for paid advertising.
The good news is that once you learn the skills to drive traffic, you are able to promote any affiliate products that you want and earn commissions.
I started with free traffic and it remains a big part of my online business model. I'll share what strategies I use to drive free targeted traffic to my online assets.
Ready to make money with a blog? Learn how I went from zero to consistent affiliate commissions every month. Click here to learn how I did it.
How to Drive Web Traffic for Beginners
One of my biggest frustrations as a beginner affiliate marketer was generating web traffic. Back when I first learned of affiliate marketing, most affiliates were using paid advertising.
I didn't know any better and tried to mimic what other affiliates were doing. I'd set up some pay-per-click ads and quickly pause them due to a limited budget.
That left me feeling hopeless and I figured there was no way to earn consistent income online without using paid ads.
Fast forward several years after a job layoff and I return to my pursuit of becoming a full-time affiliate marketer.
This time, I had no choice but to rely on free traffic so I launched a niche blog with no idea how to make money with it.
Thankfully, I searched for an online training course and found this one that specialized in niche blog creation.
The training helped me to progress much faster than if I tried to learn everything on my own. Best of all, I learned how to drive free traffic!
Content is key to generating free targeted traffic and the two strategies I use include niche blogging and YouTube.
Using a Niche Blog to Drive Traffic
One of the best things I've done is to create a niche blog. Niche blogs are one of the best ways to promote affiliate products.
A niche blog focuses on one specific topic. You can choose any niche that you want. I create niche blogs based on things that interest me.
For example, this blog that you're reading is in the make money online niche but I focus on affiliate marketing topics.
Some popular niches include:
Personal finance
Health & wellness
Parenting
Home decor
Make money online
Cooking
Lifestyle
You may be surprised at the types of niches that can earn good income. I once read of a successful niche website owner who is in the succulents niche.
Believe it or not, the succulents website earns the owner six-figures per year.
How Niche Blogs Generate Free Traffic
When you create a blog, you will be relying on SEO (search engine optimization) for traffic. It is a slower process versus paid advertising. However, once the traffic starts, your blog can make money.
The content that you create for your blog (your blog posts) is what eventually gets indexed and ranked in the search engine results like Google and Bing.
Over time, your blog posts will rank for the various keywords that you target. When people search for those keywords, some of them will click on to your blog posts.
A percentage of your visitors will click on your affiliate links and some will buy from the merchant's website. That is how you earn affiliate commissions from free traffic.
The key to making this work is being consistent with creating your content. That means posting at least 1 to 2 new posts per week.
If you remain consistent, a new blog should begin receiving web traffic between the 3 and 6-month mark. Once that happens, your blog has the ability to earn income!
Using YouTube for Free Traffic
My second strategy for generating free traffic is YouTube. It took me some time to become active on YouTube. I was hesitant to be on video.
At first, I would create screen capture videos without being in them. Over time, I began to slowly incorporate myself into the videos and now I'm in almost every video that I create.
It takes some getting used to but the more videos that you create, the easier it becomes. YouTube works amazingly well for free traffic.
I link back to my blogs and landing pages as well as directly to my affiliate links within my YouTube descriptions.
Similar to a blog, your YouTube channel will thrive from posting regular content. The niche thing about YouTube versus a blog is that you can post more infrequently.
On my YouTube channel, I post almost every day. However, I can post once per week and it is completely fine.
Many successful YouTubers do recommend keeping a schedule. Let's say you post a video every Wednesday and Friday. That is what your followers will come to expect so it is important to stick to that schedule as best you can.
I don't stress too much about it. I make it clear that I post videos on an "almost" daily basis. Meaning, if I don't post for several days, it is ok.
Don't let a fear of creating YouTube videos hold you back. This platform is an excellent source of free traffic.
How to Come Up With Content Ideas for Your Blog and YouTube Channel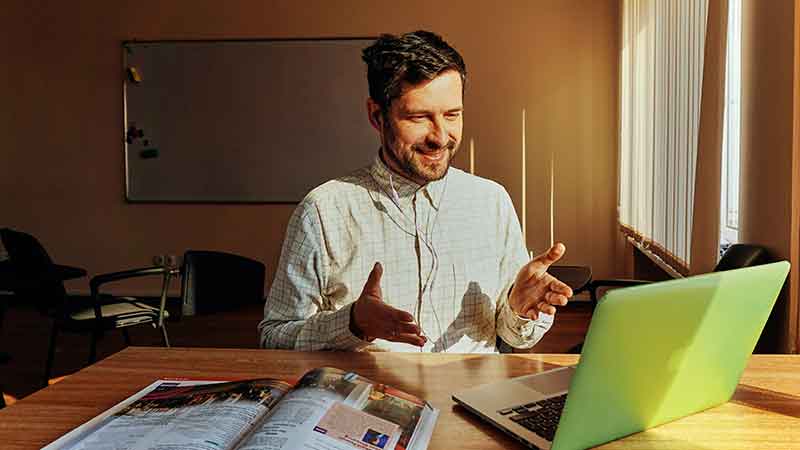 No matter what niche that you choose for your blog and YouTube channel, you can brainstorm a ton of content ideas by doing a bit of keyword phrase research.
There are some great free tools to help you do this. I personally utilize the following tools:
KeywordTool returns Google's autosuggest results based on the keyword phrase that you type in. That is the tool I use most often than the others.
By typing in various keyword phrases related to your niche, you can make a list of new blog post and video ideas.
It helps to create a spreadsheet of at least 30-days worth of ideas. That way, when it comes time for you to sit down and create content, you won't have to spend time doing keyword research.
SEO Tips for Content
Remember that free traffic means relying on search engine optimization. That means you'll need to do some basic SEO on your content.
Always include your keyword phrase in your blog post and video titles. Add your keyword phrase naturally within your blog posts and at least once within your YouTube descriptions.
Keep in mind that the point of doing keyword phrase research is to create content based on what your niche audience is searching for.
By doing this, you will not only receive free traffic, but targeted traffic which means more conversions for you.
Closing Thoughts On How to Drive Traffic
I've only presented two strategies for how to drive traffic to your affiliate projects. You can also utilize other social media platforms such as Instagram, Pinterest, and Facebook.
Once you learn how to generate free traffic, you will have more confidence and more success when promoting affiliate products.
Niche blogs have been my number one method for free traffic and earning a consistent income online. If you are ready to level up your affiliate earnings, I recommend following the same step-by-step training program I followed when starting out.
I am still a member of that training program and use it to offer one-on-one help to others that want to start their own successful niche blogs.