My online business consists of niche blogs.
I think blogs are excellent for promoting affiliate products and affiliate marketers should definitely include them in their affiliate campaigns.
However, I also know that there are a lot of affiliates that don't want to maintain a blog or do not want to start off with blogging to earn affiliate commissions.
The good news is that there are plenty of ways to promote affiliate products and one alternative that I will share below is the sales funnel.
A sales funnel is a marketing strategy that takes potential customers through an online journey towards buying a product or service.
Typically, this online journey is conducted using email marketing.
A basic sales funnel is an effective way to boost affiliate sales. Let's dive in and learn how you can start your own sales funnel.
Tired of not making sales? Learn how I went from zero to consistent affiliate commissions every month. Click here to learn how I did it.
Why Sell Affiliate Products Without Blogging?
Even though I am a full-time blogger, there are some affiliate campaigns that I manage that do not have a blog component.
Why is that?
Frankly, I do not have the time to maintain that many blogs!
Even if I were to outsource the content to another writer, it would be an extra expense that I do not want to incur at this time.
Therefore, having a sales funnel works for promoting affiliate products that I don't necessarily want to build a blog for.
I have to admit, I was hesitant about creating sales funnels in the past.
I would dabble with email marketing and give up as I didn't understand the point of emailing my subscribers when I already had a blog.
Needless to say, my tune has changed. Now I don't create a new affiliate campaign without implementing a sales funnel and that includes if I create a niche blog first.
In fact, a blog works hand-in-hand with a sales funnel and both methods work quite well on their own as well.
A sales funnel requires a lot less work than a blog.
You can add messages to your autoresponder (email marketing service) and have them scheduled to send out at specific times.
That means your funnel will run on autopilot once you have set everything up. Then your job will be to drive traffic to your funnel and your autoresponder messages will take care of the rest.
Choose a Bomb-A** Affiliate Product!
Before you start creating your sales funnel, you'll need to have an affiliate product that you want to promote.
The way I go about it is by seeking out an affiliate product that I want to earn income from.
Meaning, it needs to be a great product with awesome commissions!
I look for an affiliate product that is useful, has longevity, and offers a good commission rate (preferably recurring commission).
Once I settle on the affiliate product, I apply to its affiliate program. After I am approved, I work on a plan to market the product.
Since I am going to use a sales funnel, that means I will need to work on my email messages that I want to send out to my list.
My messages will need to be helpful and it will be a balance between sending helpful emails and promotional emails.
I then add my messages to my autoresponder and schedule each message to send out at certain times.
In most cases, I have my messages send out every two days. You can choose the frequency that you want to use.
The Software You Will Need To Get Started
A basic sales funnel doesn't require much to get going. Essentially, you will need email marketing software and landing page software.
First, let's talk about choosing an email marketing software. There are dozens of them to choose from and for the most part, they accomplish the same thing.
Some services offer more features than others so you'll have to do a bit of comparison shopping. My email marketing service of choice (currently) is AWeber.
I've used AWeber for years. You should take them for a test-drive using their free trial so you can get a feel for how email marketing works.
It is easy to set up and they have the key features you will need such as an autoresponder, sign-up forms, email automation, and landing pages.
The purpose of using email marketing software is to collect and store the contact information of your subscribers.
Below is an example of one of my own landing pages with an AWeber sign-up form: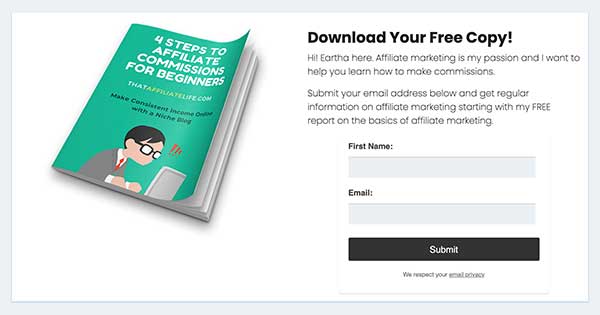 Why You Need a Landing Page
In order to collect email subscriber information, you will need a landing page. This type of landing page is also referred to as an opt-in page or squeeze page.
As an affiliate marketer, you will only need to collect, at most, a first name and email address. Sometimes I collect only an email address.
Collecting a first name is helpful if you want to personalize your messages by including a subscriber's name in your email messages.
Your landing page should offer some type of incentive to entice visitors to subscriber to your mailing list. This incentive is called a lead magnet.
A lead magnet can be any number of things. Some common lead magnets include:
a free ebook (pdf file)
email course
short video training
checklist
discount code
In order to create your landing page, you will need landing page software. Some email marketing services offer landing pages of their own, if so, you can save money by using them.
Otherwise, other landing page software to consider include Leadpages, ClickFunnels, and others. If you want to use WordPress, you can use a landing page plugin such as Thrive Architect.
All of these landing page software will have a learning curve but they all have plenty of documentation and video training.
Most of them will integrate with all of the major email marketing software as well.
A Basic Sales Funnel Flow Chart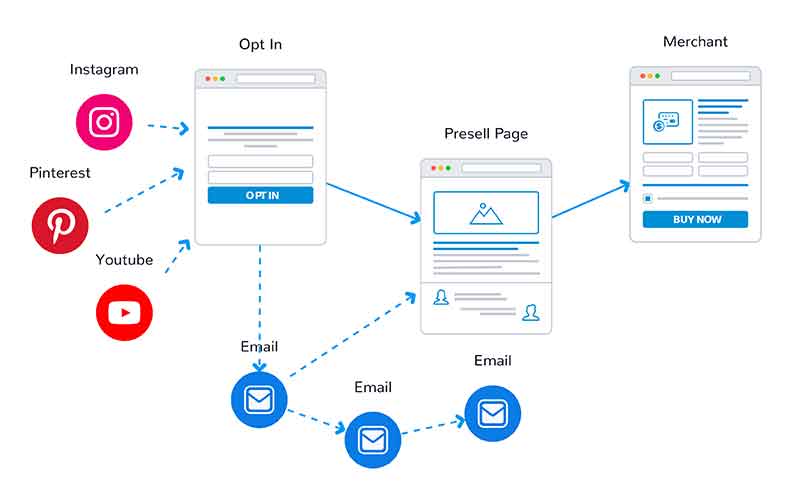 Driving Traffic To Your Sales Funnel
No one will sign up to your mailing list if they don't know where to find your landing page. Therefore, you'll need to do some marketing.
You can use either paid or free traffic or a combination of both. I rely primarily on free traffic and dabble with paid advertising.
Free traffic sources that work well for me include my blogs and YouTube. I link to my landing page from both. Free traffic means creating content on a regular basis and linking to your opt-in page each time.
Paid traffic is often faster as you can target your niche by bidding on the keywords and demographic that you want.
However, paid ads can be expensive so it is important to set aside a budget and to learn how to use the paid platform that you decide to use.
Autopilot Sales Funnels
After you have set up a sales funnel, it literally works 24/7 to do all of the marketing for you. All that you'll need to do is to continue sending traffic to your landing page.
You can always add more email messages to your autoresponder so that your subscribers remained engaged.
Otherwise, you can send random emails whenever you want as a way to engage your subscribers as well.
This is called nurturing your list. If you want some ideas on how to do so, subscriber to the mailing lists of other internet marketers.
You'll get an idea of the types of emails they send and how often. You don't need to copy them exactly.
For example, I've tried sending daily messages and found that most people didn't like the frequency.
I've settled on sending emails every couple of days and it is working out better for my list. It is all about trial and error.
Closing Thoughts On Selling Affiliate Products Without a Blog
I hope that this brief how-to post has shown you an alternative to sell affiliate products without blogging.
Although this is a good alternative, as an affiliate marketer, I do recommend creating a niche blog in the near future.
Why? It's free traffic!
You can't beat free targeted traffic. And blogs are great for any affiliate campaign.
Are you ready to level up your affiliate earnings? Consider following the same step-by-step training I followed so you can create your own successful income-producing niche blog.
I am still a part of this training program and use the platform to help others one-on-one with creating their niche blogs.