People that are wanting to lose weight and get into shape understand the importance that food plays in accomplishing their goals. That is why there is money to be made from clean eating affiliate programs.
The clean eating lifestyle is an evergreen niche. The weight loss and diet control market is a billion-dollar industry:
The U.S. weight loss market is now worth a record $72 billion—BusinessWire.com
If you are a health & fitness enthusiast or want to dive into this niche, these clean eating affiliate programs can get you on your way to earning some healthy commissions.
Clean Eating Affiliate Programs
Trifecta Nutrition
Meal Plan Magic
bistroMD
PaleoPlan
Food Revolution Network
Eat This Much
Good To-Go
Vega
Real Food Bar
Eat Clean Bro
How I Make $1,000 Commissions Using a Simple 2-Page Website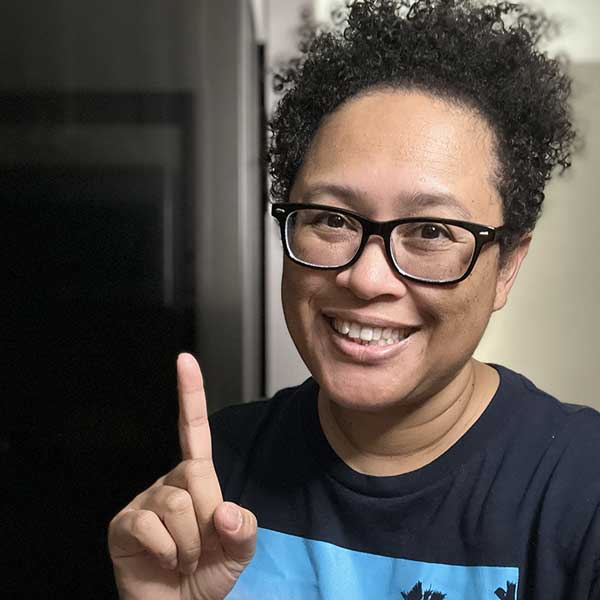 Hi! My name is Eartha. I'm an affiliate marketer and the author of this blog. I enjoy seeking out and sharing affiliate programs as well as ways to help increase affiliate income.
One of the ways I helped to increase my affiliate commissions was by doing high-ticket affiliate marketing.
High-ticket affiliate marketing is one of the best ways to scale up your online business. Imagine earning a $1,000 commission for one affiliate sale.
It's possible and it's exactly what I do. If you want to learn how I do high-ticket affiliate marketing, click the button below:
1. Trifecta Nutrition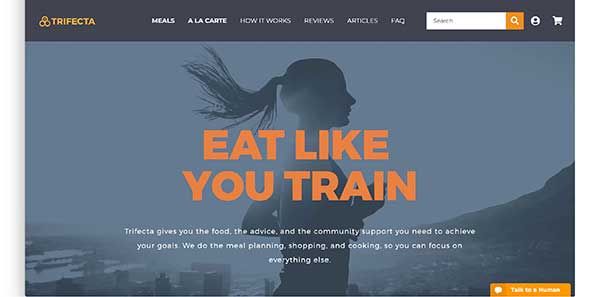 Commission: 50/50 profit split based on SKU's
Cookie Length: 30 days
Trifecta Nutrition is an organic meal delivery plan that focuses on science-backed meal plans to help people lose weight and add muscle. They offer six different types of meal plans to include keto, clean, paleo, vegan, classic, and vegetarian.
Pricing starts from $108 per week depending on the package. All meal packages include free shipping. The affiliate program does specify some requirements as followed:
Active promotion (100 clicke per month) or
One 1,000 word article per week or
3 new customers per month
All affiliates are given a 4-week on-ramp period.
2. Meal Plan Magic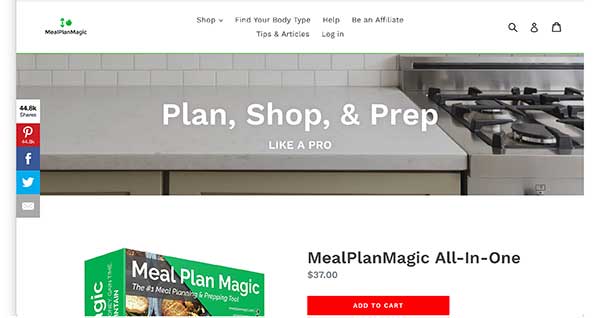 Commission: 50%
Cookie Length: not disclosed
The Meal Plan Magic system teaches people how to meal prep healthy meals for weight loss and muscle building. Users can learn how to create custom meal plans, define their nutrition goals, discover ideal macros, and more.
The system can also generate automated grocery lists. The product is a digital download and Excel 2007+ for Windows or 2011+ for Apple computers is required.
The affiliate program requires your PayPal address and commissions must be at least $25 before payout.
3. bistroMD
Commission: $45 on first sales
Cookie Length: 45 days
bistroMD is a healthy weight loss food delivery service. They offer five different meal programs to include standard, gluten-free, heart-healthy, diabetic, and menopause.
Users can choose between 7-day and 5-day meal delivery programs. There are over 150 entrees to choose from. The affiliate program managed by CJ Affiliate.
4. PaleoPlan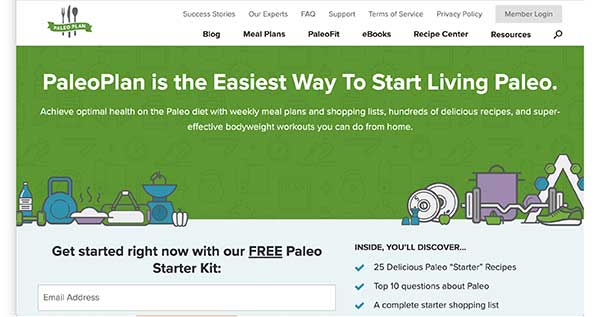 Commission: 75% front-end commissions on all sales
Cookie Length: 60 days
A paleo lifestyle is a popular option for people seeking to lose weight and get fit. PaleoPlan is made up of different products to include:
Paleo Meal Plans which are weekly meal plans (including recipes and shopping lists) delivered via email
PaleoFit At-Home which are weekly bodyweight workouts
Paleo Quick Start Guide
The affiliate program is managed by Clickbank. They offer a healthy commission and the products should make for easy conversions when targeting the right audience. All affiliates will be manually approved.
5. Food Revolution Network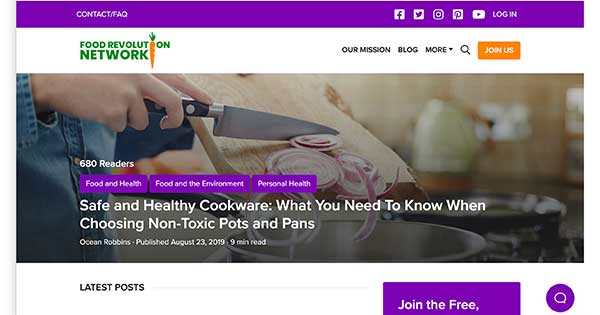 Commission: 40% of net revenues, super-affiliates earn 50% net revenues plus 10% second tier commissions.
Cookie Length: not disclosed
Food Revolution Network is committed to healthy, ethical, and sustainable food for all. The network was founded and is run by father and son team, John and Ocean Robbins.
John was set to be the heir of the Baskin-Robbins ice cream empire. However, he walked away from it all as he couldn't devote himself to selling ice cream knowing that it made people unhealthy.
The Food Revolution Network affiliate program is made up of the following main products and programs:
Food Revolution Summit Empowerment Package: $67 / $97 / $197*
Digital Upsells: $10-$67
WHOLE Life Club: $107 / $127 / $247*
The affiliate program pays out via PayPal.
6. Eat This Much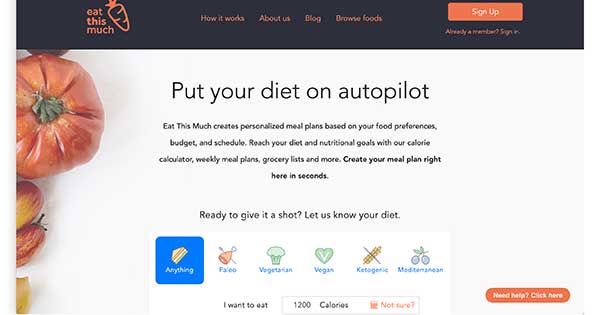 Commission: 20% to start
Cookie Length: not disclosed
Eat This Much creates personalized meal plans based on your food preferences, budget, and schedule. It is a cool automated meal planner that provides a calorie calculator, weekly meal plan, grocery lists, and more.
To apply for the affiliate program, you must provide the following information via email:
Who you are
A link to your website
A description of how you plan to share the product
An estimate of how much traffic you expect to send
Overall, I think Eat This Much is a cool tool that can help people stay on track with eating clean.
7. Good To-Go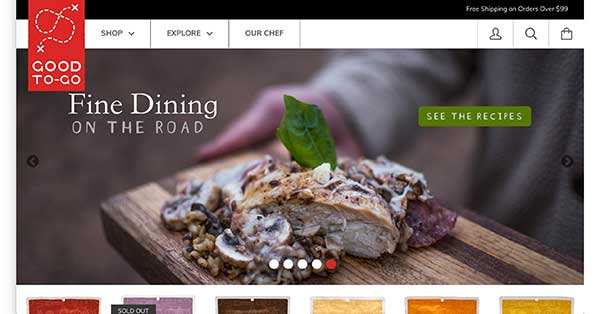 Commission: 5%-7%
Cookie Length: 30 days
Good To-Go products are portable clean meals that can be prepared just by adding water. The company was founded by chef Jennifer Scism.
She and her husband love outdoor adventures. Dissatisfied with the packaged meals already on the market, chef Scism created her own line of delicious packaged meals.
This is a great product to promote to clean eaters, backpackers, hikers, office workers, and more.
8. Vega
Vega is a company with plant-based nutrition products such as protein powders, shakes, bars, snacks, and supplements. These products fit in well with a clean eating lifestyle.
The company was founded by triathlete, Brendan Brazier. He found that plant-based foods helped him to recover between training sessions better than any supplements he tried before.
The affiliate program is managed by CJ Affiliate.
9. Real Food Bar
Commission: 10%
Cookie Length: 60 days
The Real Food Bar was created as an alternative to the unhealthy granola bars on the market. Real Food Bars contain all essential food groups.
They make a great snack for clean eaters. Snacks are key for any type of eater and a convenient clean food snack can make for great conversions.
These can be marketed to anyone as many people shop for protein bars whether they are eating clean or not.
10. Eat Clean Bro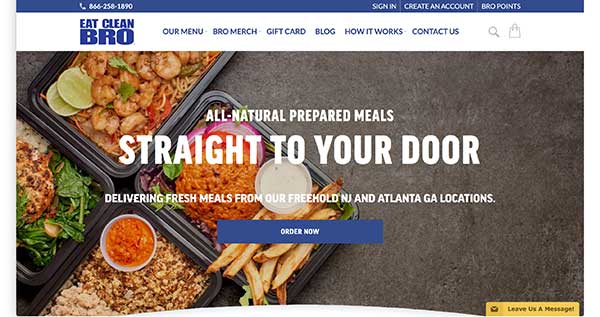 Commission: 10% for first orders, 5% for next orders
Cookie Length: not disclosed
Eat Clean Bros is a clean eating meal delivery service. They offer six meal options to include mean, under 400, vegetarian, keto, clean, and low-carb.
Keep in mind that as of this writing, Eat Clean Bros only delivers to New York, New Jersey, and Pennsylvania.
Ready to start making affiliate commissions? Learn how I went from zero to making consistent affiliate commissions every month. Click here to learn how I did it.
Getting Traffic To Your Clean Eating Affiliate Programs
It is great to have such a wide variety of clean eating affiliate programs to choose from. However, it is another to get traffic to these programs.
When I started out with affiliate marketing, I knew that I wanted to create a website that generates organic traffic as I didn't have money for paid advertising.
One of the best ways to generate traffic is to create a niche blog. That is exactly what I did with the help of this affiliate training program.
It didn't happen overnight but now my niche blogs earn a consistent monthly income online.
Your Content Matters
The content that you write will make the difference of whether your blog posts will rank well in the search results.
One thing that hasn't changed over the years is writing content for your readers. Search engines (particularly Google) want to offer the best and most relevant results for their users.
When you write a blog post, be sure that your content is laser-focused and relevant to the title of your blog post.
It is also helpful to write long-form content. What this means is to write blog posts at least 1,000 words in length. It isn't as intimidating as it sounds.
You will find that 1,000 word posts are easy and they will actually feel short. As long as you focus on wanting to inform your readers, you can easily surpass the thousand-word mark.
My Closing Thoughts On Clean Eating Affiliate Programs
The clean eating niche is a great evergreen niche to pursue. People choose to eat clean for various reasons and need various products to help them on their journey.
There are all types of clean eating products to promote from cookbooks, meal delivery services, meal planners, protein bars, and supplements like Clickbank Ikaria juice.
One of the best ways to promote these affiliate programs is by creating an affiliate marketing website.
You can literally earn income while you sleep. It will require your hard work and dedication but the payoff is well worth it.
Make the process easier by following the same affiliate training course I used.