The Balenciaga brand is a popular designer brand that many people shop for. As an affiliate, you can earn commissions promoting this brand. However, as of writing this post, a Balenciaga affiliate program doesn't exist. The good news is that there are other options for making commissions.
There are many online retailers that specialize in selling pre-owned luxury brands such as Balenciaga handbags, Louis Vuitton, Hermes, Prada, and more. These retailers also have affiliate programs of their own so if you are interested in the fashion niche, you have the opportunity to promote these designer brands.
Below are some of the alternative options to the Balenciaga affiliate program.
How I Make $1,000 Affiliate Commissions Using a Simple Process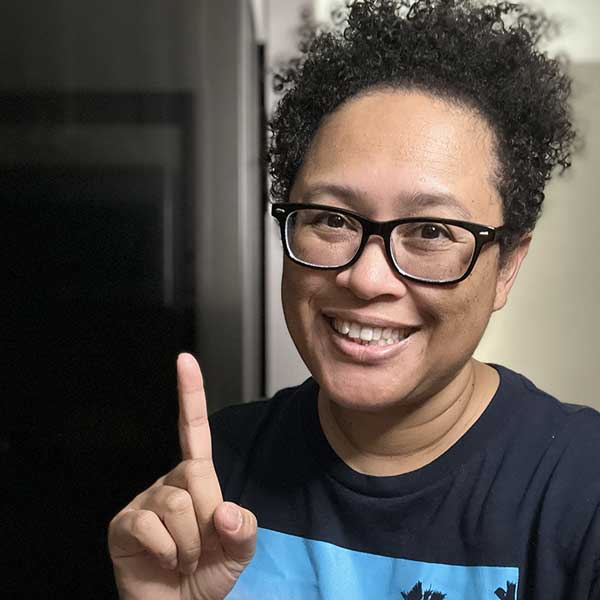 Hi! I'm Eartha, the author of this blog and an affiliate marketer. I enjoy seeking out and sharing various affiliate programs that I find in various niches.
I also like to share how to increase affiliate income. One of the ways I'm able to do this is by doing high-ticket affiliate marketing.
High-ticket affiliate marketing is one of the best ways to scale up your affiliate income. Click below to learn how I am able to make $1,000 commissions.
Click here to learn how to make $1K to $2K commissions on a steady basis
Alternative Balenciaga Affiliate Program Options
The following affiliate programs are great alternatives to the Balenciaga affiliate program (which does not currently exist.) All four of these online retailers carry a wide variety of luxury designer brands.
Luxe Collective
The RealReal
Dallas Designer Handbags
ModeSens
Luxe Collective
You'll find accessories, bags, footwear, and clothing by designer brands for both men and women on the Luxe Collective website. Balenciaga is just one of the brands you'll find on this website as well as brands such as Alexander McQueen, Burberry, Christian Louboutin, and others. The affiliate program is managed through Impact and the Balenciaga affiliate commission is 4%.
Commission: 4%
Cookie Length: 30 days
The RealReal
This website carries a wide selection of luxury brands. Shoppers can buy bags, jewelry, and watches from brands like Balenciaga, Gucci, Chanel, Rolex, and more. The RealReal affiliate program is managed through Impact and the commission rate is 5% or 7% if a customer is new to the store.
Commission: 5% commission, or 7% if they are new to The RealReal
Cookie Length: not disclosed
Dallas Designer Handbags
This online retailer sells a wide variety of designer handbags. Visitors can shop such designer brands like Balenciaga, Louis Vuitton, Yves Saint Laurent, Miu Miu, and more. The affiliate program is managed by ShareASale and the commission rate is 5%.
Commission: 5%
Cookie Length: not disclosed
ModeSens
This website isn't necessarily an online store but more of a fashion shopping assistant. You can compare pricing and availability across hundreds of stores and thousands of brands. The affiliate application is a Google Docs form and the commission rate is 5% to 25%.
Commission: 5% to 25%
Cookie Length: 30 days
How to Make Money with These Affiliate Programs
Whether or not you want to focus solely on promoting Balenciaga, making money from the affiliate programs above is a matter of sending the right traffic to these websites.
You can do this in any number of ways such as utilizing social media traffic, blogging, running paid ads, email marketing, or a combination of them all.
The fashion niche tends to do really well on social media. If you enjoy talking about fashion, taking photos, and creating videos, it is possible to build a following and a steady flow of traffic.
If you prefer writing content, a niche website in the fashion niche is a great option as well. What I like about niche websites is that the content that you create for them can rank for years and bring a steady stream of traffic for years.
Be sure to check out info on other designer affiliate programs like the Hermes affiliate program, Gucci affiliate program, and the Luxury Garage Sale affiliate program.
Frequently Asked Questions
Below are some FAQs related to the Balencia affiliate program.
Is There a Balencia Affiliate Program?
As of this writing, there doesn't appear to be an affiliate program in existence. It could change in the future but for now, some of the affiliate programs listed above can serve as a good alternative.
Are These Affiliate Programs Available in My Country?
This will vary from one affiliate program to the next. The best thing to do is to reach out to each affiliate program that you want to apply to and ask.
Do I Need a Website to Apply?
From my experience, almost all affiliate programs will ask for your website. In some cases, you can submit your social media account link. The reason why a website is asked for is that if you have one in a related niche, it can serve as proof that you understand how to generate traffic and send leads.
Will I Need a PayPal Account?
Many affiliate programs will pay their affiliates using PayPal. There are some affiliate programs that will pay commissions by direct deposit. In most cases, it will be beneficial to have a PayPal account.
How I Make High-Ticket Affiliate Commissions of $1K and Up
I've been doing affiliate marketing for quite some time and a majority of that time was spent promoting low-ticket products. Making low-ticket commissions is still a great way to make a steady income online but it is very difficult to scale up.
For example, I used to promote a piece of software that was quite popular. For each software I sold, I made a $47 commission. Some months were great and I'd be able to make between 21 – 25 new sales on average.
After a while, I simply couldn't get my affiliate income to reach beyond a certain point. That is until I discovered high-ticket affiliate marketing.
To demonstrate what I mean, here are some screen grabs of some high-ticket affiliate commissions I have earned: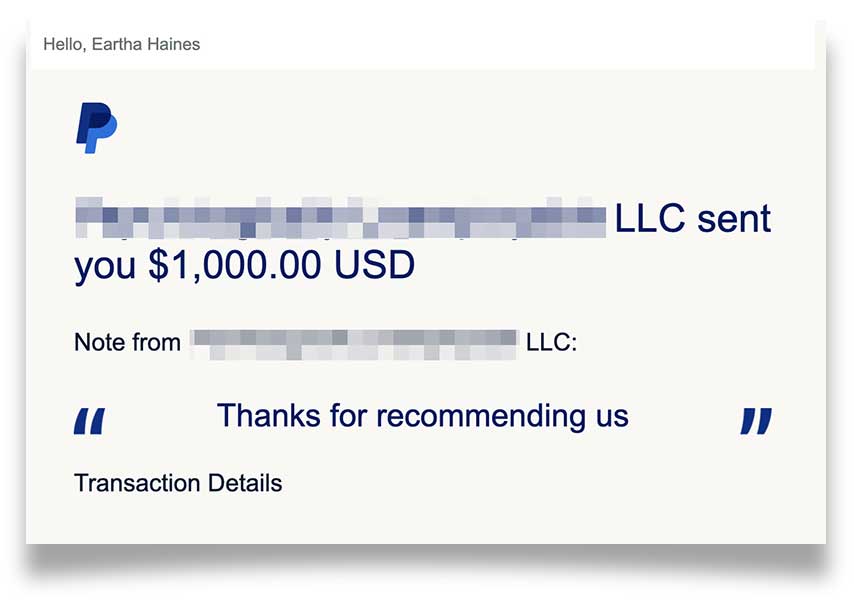 My Online Business Model
What is great about making these commissions is that 90% of it is automated. That is due to my affiliate sales funnel. My sales funnel is a simple 2-page website that does all of the selling and converting for me.
It looks like the flow chart below: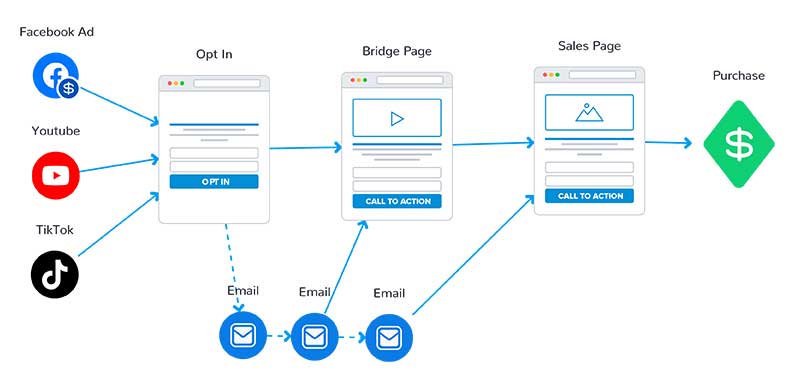 Don't let the diagram above overwhelm you. It is actually very simple and easy to implement thanks to sales funnel software.
I had to learn how to put it all together as well as how to find high-ticket affiliate offers. Thanks to this online training, I have been able to make a steady income online with high-ticket affiliate marketing.
Rather than promoting low-ticket offers similar to the $47 commissions I used to earn, I am now able to earn $1,000 per sale.
Let's say my monthly goal is to make $5K per month in affiliate commissions. If I were to promote a low-ticket offer of $47 per sale, I'd need to make 107 sales every month.
However, with a high-ticket offer and a minimum commission of $1,000, I'd only need to make 5 sales per month. It's a big difference!
It is much easier to gain 5 new sales versus 107!
Conclusion
I hope that these Balenciaga affiliate program alternatives offer you a good starting point for being able to earn by promoting that brand.
However, if you are ready to level up your affiliate income, consider doing high-ticket affiliate marketing.
Make more commissions and level up your monthly income.