The Aversity affiliate program is a high-ticket affiliate program based on the Aversity line of products. In this Aversity affiliate program review, I'll cover what Aversity offers and how the affiliate program works.
Aversity is an online business education company founded by Sean Bagheri. The courses teach students how to create online businesses of their own following Sean's proven business model. There are a variety of courses offered from affiliate marketing to online and offline trading and investing.
I'm always excited to learn about high-ticket affiliate programs. It takes no more effort to promote a high-ticket product as you do a low-ticket one.
Let's dive into what makes Aversity a great company and affiliate program.
Aversity Affiliate Program:
URL: https://aversity.com
Founder: Sean Bagheri
Product Price: $297 to $3,497.00+
Commission: 50% on all product sales unless otherwise stated
How I Make $1,000 Commissions Using a Simple 2-Step Process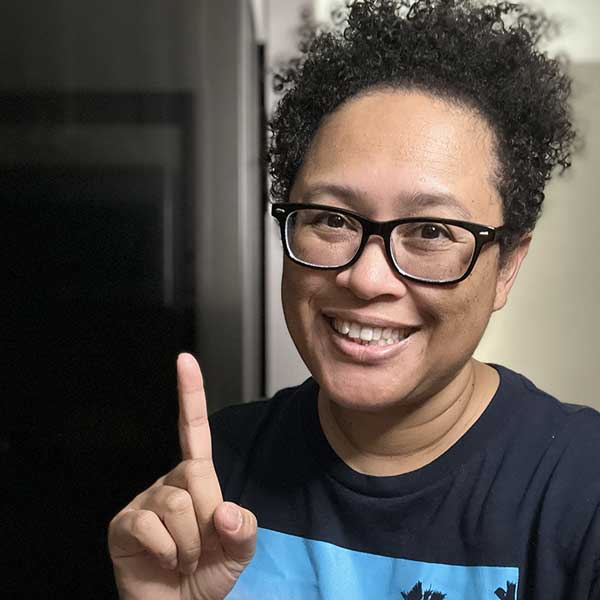 Hi there! I'm Eartha, the author of this blog and an affiliate marketer. I seek out various affiliate programs and courses to share here on the blog.
I also share ways to help boost affiliate income. One of the ways I've been able to do that is by shifting my focus from promoting low-ticket affiliate products to high-ticket affiliate products.
Making higher commissions is one of the fastest ways to scale up your affiliate income. Click below to learn how I am able to make $1,000 – $2,000 commissions:
What is Aversity?
The Aversity platform is an online business training program founded by Sean Bagheri.
The training platform offers a variety of courses that teach students how to make money online through affiliate marketing, creating your own products, as well as online and offline trading and investing.
Sean Bagheri is a successful internet marketer and online business owner. He has years of experience as an affiliate marketer and is rated as one of the top affiliates on Clickbank and JVZoo.
In 2017, he started his own affiliate marketing company Aversity, Inc. The purpose of his company is to help others to create online businesses of their own following his own million-dollar business model.
Sean has a YouTube channel and I came across one of his videos years ago. I consider him to be a good teacher and he puts out great content.
His style of teaching on his YouTube videos is easy to follow so I can imagine that his courses inside of Aversity are just as good and more thorough.
The courses that you'll find inside of Aversity include:
Gold Masterclass
Done For You Online Business
Inner Circle Masterclass
Platinum Masterclass
Aversity One (invite only)
Affiliate Marketing Courses
Advertising & Traffic Courses
Online Business Development Courses
Trading and Investing Courses
From what is offered, I think most people will gravitate toward the Gold Masterclass and Done For You Online Business.
Aversity Affiliate Program Review
If you are seeking a high-ticket affiliate program to promote you will likely like what Aversity's affiliate program has to offer.
They offer a 50% commission on all product sales unless stated otherwise. Commissions are paid out twice a month on the 15th and 29th or 30th.
You must reach a minimum payout of $300. If you do not reach that minimum in one month, it will be held by the system until you reach it.
There is also a 30-day holding period for each commission that you earn.
The big draw for affiliates is the potential to make up to $4,000 per sale. One of the benefits of this affiliate program is that the owner of the company is an experienced affiliate marketer himself.
Therefore, he understands what makes a great affiliate program. Aversity's affiliate program offers:
High-ticket sales
Lifetime commissions
High converting funnels
Exclusive training
Dedicated affiliate manager
In-house promotion resources & tools
Reminiscent of Other Training Platforms
They also state a 35% upgrade rate. This means that 35% of referrals that buy a front-end product will convert into a high-ticket commission.
Aversity does have a sales team that helps close customers on the higher ticket products. It is very reminiscent of the Legendary Marketer training platform.
I think what sets these two companies apart is that Legendary Marketer has very high product offerings (one reaching $30k in price) as well as the reputation of the owners.
David Sharpe of Legendary Marketer doesn't have a stellar reputation as he was a co-founder of the now defunct Empower Network.
As far as I can tell, Sean Bagheri's reputation is intact. There are articles online questioning if he is a scam. People have varying opinions about it.
Overall, he is an experienced internet marketer who offers in-depth training courses. His marketing strategies aren't much different than most other well-known internet marketers.
One thing to take note of is that Aversity's affiliate program does cost $9 per month in order to have access to everything.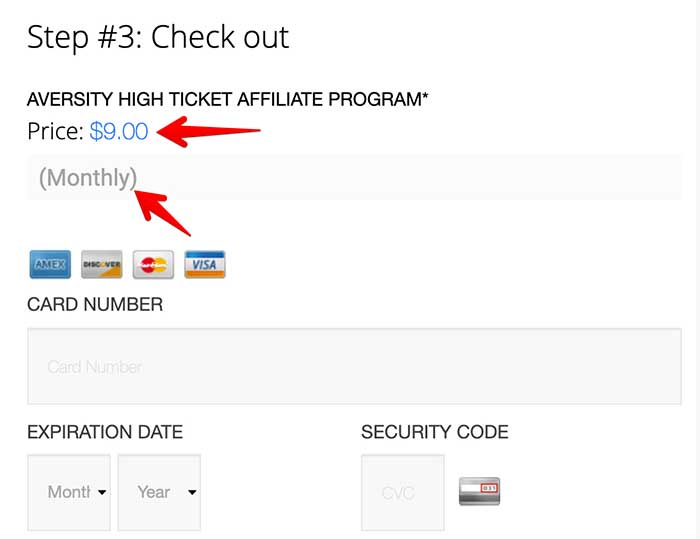 Most affiliate programs are free to join so what the fee is for, I am not sure. However, I'm sure with effective promotion of the products, an affiliate of this company can make more than enough in commissions to cover the cost.
There is also no option to pay via PayPal. What is nice is that there is a customer support email address and phone number on the page.
Being able to reach someone by phone is a rare thing in most affiliate programs.
The affiliate program does have a dedicated affiliate manager and done-for-you templates and funnels.
Should You Buy an Aversity Course Before Becoming an Affiliate?
Whether or not to buy one of the courses is up to you. I always have the best results when promoting an affiliate product when I have personal experience with it.
It isn't a requirement to buy what it is that you want to promote or to be an affiliate of the compay. If you understand how the product or service can help resolve an issue for others, there is no reason not to recommend it.
I've recommended products and services to others solely based on word-of-mouth from a friend or family member. Almost everyone has done that.
It is not much different from recommending products online. Sean's YouTube videos are a great example of what he is offering.
My Closing Thoughts On This Aversity Affiliate Program Review
I hope you've gained some clarification with this Aversity affiliate program review. Overall, I think it is worth promoting as an affiliate.
Sean Bagheri is on the up-and-up and has a good teaching style. I think the training is a good mix of free and paid strategies for affiliate marketing.
In terms of high-ticket affiliate programs, this one seems to be one worth looking into.
Niche websites are what I use to earn a consistent income online through affiliate marketing.
It is one of the best ways to earn affiliate commissions. I make commissions while I am sleeping, out grocery shopping, or relaxing with my loved ones.
Here is a screen capture of an affiliate commission payment I received from one company: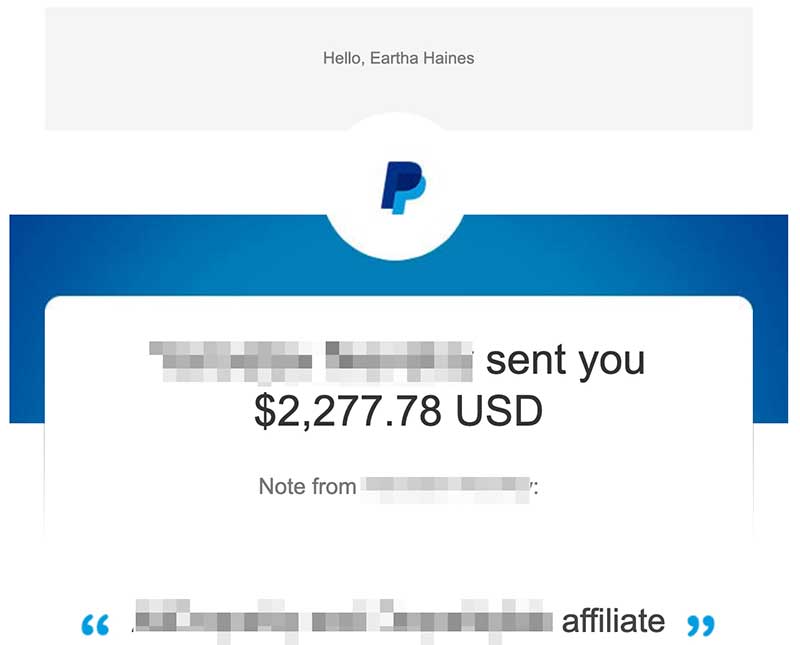 Beginners may find it a bit challenging to get started. I did as well so I followed a step-by-step training program.
That training program made all of the difference for me. Be sure to check it out!