Many beginners want to know when can I apply for an affiliate program? This is a very common question and one that I feel does have a legitimate answer.
When I started out as an affiliate marketer it wasn't uncommon for me to apply to various different affiliate programs with the intent of earning commissions.
Unfortunately, I did not earn a dime with many of these affiliate programs because I was not focused.
Also, a lot of these affiliate programs didn't even approve my application because I had nothing to demonstrate that I would be a good affiliate for their product.
Tired of not making affiliate sales? Learn how I went from zero to consistent affiliate commissions every month. Click here to learn how I did it.
How Do You Plan On Earning Commissions?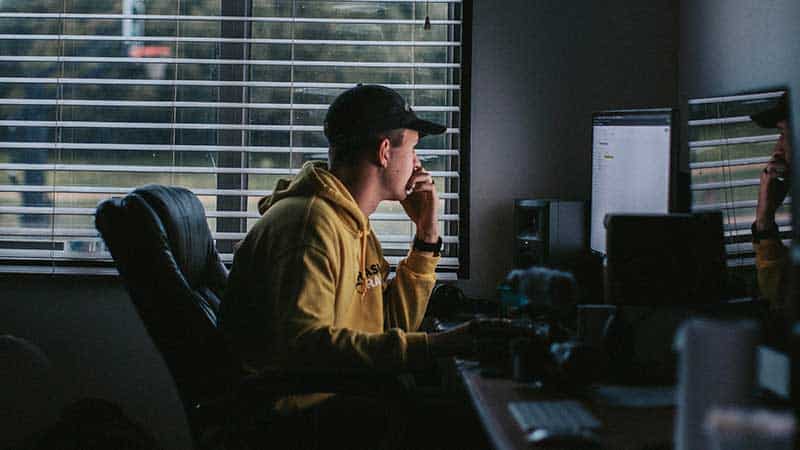 The first thing you need to figure out is how do you plan on earning affiliate commissions?
Sometimes new affiliate marketers are so excited about making money online that they don't have a plan on how to do so.
They often jump from one idea to the next and one strategy to the next based upon the success they see other affiliate marketers having.
Therefore, it is my recommendation to choose a method that you want to earn affiliate marketing commissions with and stick to that method until you get it working.
The easiest and most beginner-friendly method of learning commissions is by creating a niche blog.
It wasn't until I created a niche blog of my own that I actually started earning consistent commissions online.
Niche blogs are simply websites that focus on one specific topic. They are easy to set up and easy to maintain.
The most challenging part of a niche blog is staying consistent with creating content.
If you can stay focused on creating a new blog post on a regular basis there is no reason why your niche blog cannot earn income.
Initially I had no idea how to make money with a blog. I didn't want to waste a lot of time trying to learn everything on my own.
Instead, I searched for an online training program so that I could speed up my learning curve.
Fortunately, I found this training program online and put into action what I learned there. With consistent effort, I was able to create a successful niche blog.
After about a year-and-a-half, I was able to transition out of a full-time retail job into working full-time on my website.
Niche blogs are an excellent way to generate affiliate commissions. The content you create is what drives targeted web traffic to your website.
Not every blog post you write will generate web traffic. However, the more targeted content you create, the higher the chances you will generate free traffic.
Have Your Website Up Before Applying
Not only does a niche blog offer an excellent opportunity for earning affiliate commissions, but it significantly improves your chances of being approved by affiliate programs.
Most affiliate programs will ask for your domain name on their application.
When affiliate managers view your affiliate application they will be more likely to approve you if they see that you have a website related to the niche their product is in.
It is rare that I am not approved for affiliate programs when I have added my niche blog to my applications.
If you do not have a niche blog or just started one, have at least 5 to 10 blog posts before you submit an application to any affiliate program.
Ready to make money with a blog? Learn how I went from zero to consistent affiliate commissions every month. Click here to learn how I did it.
Joining Multiple Affiliate Programs
You are free to join as many affiliate programs as you want. There is no limitation on the number of affiliate products that you can promote.
Keep in mind that applying to multiple affiliate programs will not guarantee that you will earn more money.
I have had great success promoting one specific affiliate product without having to join other affiliate programs in the same niche.
It really depends upon what you want to focus on within the niche that you choose. I would recommend promoting no more than two to three specific products on one niche blog.
Focusing on one to three specific products can build trust with your audience as you are not simply recommended anything and everything just to earn a commission.
When I start off with a new niche blog I always take into consideration what affiliate products I want to promote on that particular blog.
My Criteria for Choosing an Affiliate Program
I have certain criteria that I use for choosing an affiliate product that I want to promote.
The first thing I consider is how useful the affiliate product will be for my niche audience.
Next, I check for longevity of the affiliate program. I like to choose a affiliate programs that have been around for at least a few years.
Many affiliate programs come and go, so longevity is very important to me since I will be putting a lot of time and effort into creating content for my website.
There are many affiliate products that have longevity such as web hosting companies, online courses, and even tangible products that people buy repeatedly.
Another thing that I take into consideration is the commission rate.
I am not deterred by small commission rates if I know the product is something that people buy on a regular basis.
However, I do like commission rates that are at least 10% or more. I also prefer affiliate programs that pay on a monthly basis.
A majority of affiliate programs do pay via PayPal and sometimes by direct deposit. It is important that the affiliate program pays on time every time.
When affiliate programs are good to their affiliates, the longer you will stick with them and promote their products and earn commissions.
Focusing On One Affiliate Product at a Time
Another thing that I find helpful is to focus on one affiliate product at a time per niche blog.
By doing so, it enables you to become an expert about that product and the more you know and use the product yourself, the more that you can write and help the people in your niche.
When readers come across your niche blog, they can read how much you know about that particular product and how it can benefit them.
Writing Product Reviews
Another plus of focusing on one affiliate product or related affiliate products in the same niche is that you can write product reviews and comparisons.
Product reviews are an excellent way to drive traffic to your blog. A product review page acts as a pre-sell page for the product that you are promoting.
People that are in the buying phase of their search, want to know more about a specific product and how it can benefit them.
When someone comes across one of your product reviews, it is highly likely that they may click on one of your affiliate links and buy the product you are recommending.
What Happens if the Affiliate Program I Applied for Rejects My Application?
If you were not approved by an affiliate program that you apply for, you should be able to reapply after a month or so.
The biggest reason why most affiliate programs may reject your application is because you do not have a website related to the product they are selling.
Most affiliate programs will allow you to reapply after 30 days or longer. This is why I recommend not applying to any affiliate programs until you have your method of earning commissions up and running.
This is especially true if you choose to create a niche blog. Your blog will not receive traffic for at least a few months so there is no rush to join affiliate programs.
There are many affiliate programs that will let you apply and have immediate approval without a need for having a website.
If you come across an affiliate program with immediate approval, you can absolutely apply and get your affiliate link so that you can add them to your blog posts.
That can save you the time of having to go back and add affiliate links once your blog starts receiving traffic.
Closing Thoughts
There are no hard-and-fast rules when it comes to applying to affiliate programs. You also are not limited to the number of affiliate programs that you can apply to.
I do recommend waiting to apply to most affiliate programs until you have your method of making commissions up and running.
My number one recommended method for earning consistent affiliate commissions is to create a niche blog.
If you are ready to level up your affiliate earnings, consider following the same step-by-step training program that I followed when I got started.
Ready to make money with a blog? Learn how I went from zero to consistent affiliate commissions every month. Click here to learn how I did it.