The Amazon affiliate program remains one of the most popular and easiest affiliate programs for beginners. As a beginner, you likely wonder how to do affiliate marketing for Amazon products.
While there are multiple ways to share your affiliate links, the ideal method that I recommend is to create a niche website. It is how I got started in affiliate marketing and what I continue to do today.
Who am I? Hi, I'm Eartha, the author of this website and an affiliate marketer. I've promoted products on Amazon off and on throughout the years but have finally begun making steady commissions.
I accomplished this by having niche websites and using a handy Amazon WordPress plugin. I'll explain how it works below.
The Ideal Way to Do Affiliate Marketing for Amazon Products
I admit. I wasn't big into promoting Amazon products. I would make a commission now and then over the years. However, I've always known that one of the best ways to promote Amazon products is with a niche website.
Why a Niche Website?
First, let's quickly define what a niche website is and what it does. A niche website is essentially a type of blog that focuses on one specific topic.
The reason why a niche website works so well is due to the content that you create for it. The content is in the form of blog posts (articles that you write or outsource to a writer.)
Your content should be based on the questions and concerns of your niche target audience. By creating content that is helpful and informative, you'll begin attracting the right visitors to your website.
Over time, some of your content will rank well in the search results such as Google and Bing. When this happens, your website will receive steady traffic that can lead to steady affiliate commissions.
What You Need to Create Your Own Amazon Affiliate Website
There isn't much that you need to get your own niche website going. There are three things you'll need:
Domain name
Web hosting
WordPress installed on your hosting account
You can get everything in one place with almost any web hosting provider. Dreamhost and Bluehost are both good options.
When you choose WordPress hosting for either company, they will auto-install WordPress on your account for you.
Another option is to get web hosting and training on how to create a successful niche website. That is the way I got started. If that is of interest to you, you can follow the same exact training I used by clicking the button below.
How to Choose a Product for Amazon Affiliate Marketing
Choosing the product or types of products to promote is a matter of selecting a niche. You can get some great niche ideas by browsing Amazon's best sellers list.
This page shows you the products that are selling well on Amazon. By browsing the different categories, you may get ideas for a website in a specific niche.
For example, one of the best sellers I found was an air mattress. This led me to consider the sleeping niche.
I could create content that addresses issues around getting a good night's sleep. In the process, I can recommend products such as pillows, mattresses, linens, and more.
Think about how you can help the audience that is likely going to get the most benefit from the products that you want to promote.
That is really what it comes down to. Helping people who can benefit from the products you are recommending.
The nice thing about Amazon is that there are tons of products that you can recommend that are related to any one particular niche.
Boost Your Amazon Commissions with AmaLinks Pro Plugin
When you create your niche website, I recommend creating it with a self-hosted WordPress website as mentioned above.
One of the reasons why is that you can use a plugin called AmaLinks Pro. It is a WordPress plugin that lets you create awesome-looking showcases like the one below: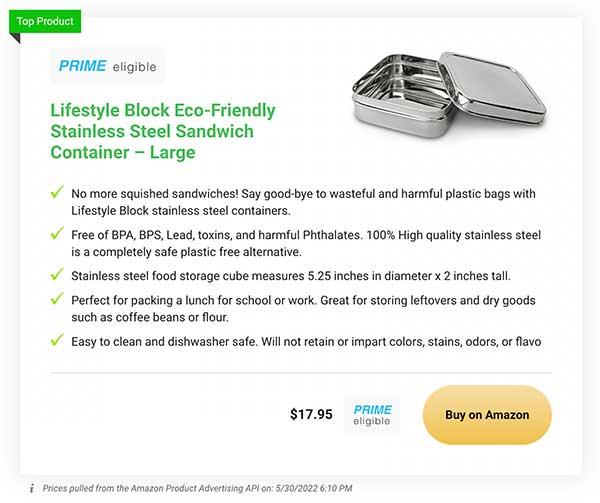 You can also create product comparison tables with just a few clicks. Even since I began using the plugin, I've already noticed an increase in clicks and conversions.
It is well worth the price if you want to increase your overall click-thru rate and boost your affiliate commissions.
Types of Content Creation for Your Website
Your content is what will power your website in terms of generating free organic web traffic. You don't want just any free traffic. The best traffic will be visitors who are interested in what you are promoting.
Let's say you are in the sleeping niche and you want to promote a side sleeper pillow that Amazon carries.
I would do some keyword research and find out the types of questions that side sleepers ask in order to get new content ideas.
Here are some of the results from using the Google keyword tool:
best pillow for side sleepers
knee pillow for side sleepers
side sleeper shoulder pain
best pillow for neck pain side sleeper
best pillow for back pain side sleeper
From the short list above, you can tell that people have issues with shoulder pain, neck pain, and back pain.
You can create content addressing these types of pain during sleep. Another good keyword tool is Answer The Public.
I typed in "side sleeper" and here are some questions that people ask:
can side sleeping cause shoulder pain
can side sleeping cause chest pain
can side sleeping cause facial asymmetry
can side sleeping cause hip pain
can side sleeping cause back pain
can side sleeping cause rib pain
can side sleeping cause breast pain
do side sleeper pillows work
Now you can take this list and generate content that helps to answer these questions. By doing so, you provide your website with the opportunity of ranking well in the search engine results.
When this happens, you'll get the right visitors who are going to be interested in the side sleeper pillows that you link to using your affiliate links.
Product Reviews
You can write product reviews and that will help generate traffic and boost conversions. Most people that click on your product reviews are already in the buying phase of their shopping journey.
You don't have to buy every product that you are recommending. Simply gather as much information about the product as you can and compile it so that it is informative and helpful to your readers.
Top Ten Lists
Another option is to create a top-ten list of products and do a short write-up about each product. A list like this gives people options and they are able to compare the products.
Place an affiliate link to each product and that will help to boost clicks and conversions.
Issue Specific Content
Write articles that help to answer the questions of specific issues that you come across when doing keyword research.
Always put your readers first. Help them as much as you can through your writing. Eventually, it will pay off.
Closing Thoughts
Niche websites remain one of the best ways to promote affiliate products. They take time to get going but it is worth it in the long run.
The key is to stay consistent with your content creation and not quit on your website before it has a chance to grow.
When I got started in affiliate marketing, I didn't know how to make money with a website.
Thankfully, I found an online training program that made all of the difference for me.
Getting started is easy. If you want to follow a step-by-step blueprint and get one-on-one help in the process click the button below to learn more: