Dropshipping is one of the easiest online businesses to start but it is not one of the easiest to make a steady income with.
It often takes a lot of trial and error. Choosing the product in a good niche, creating attention-grabbing ads, paying for ads, and testing until you have a winning combination.
Why go through learning everything on your own when you can learn from someone that has tried all of the strategies and testing?
That is what Adrian Morrison of eCom Success Academy has done. Maybe you've heard of Adrian and the course and are now searching for reviews.
I watched his entire webinar and it was long! However, he did share a lot of great information and his approach to eCommerce and dropshipping.
READ NEXT: How I earn a steady income online without running an eCommerce store.
Adrian Morrison's Background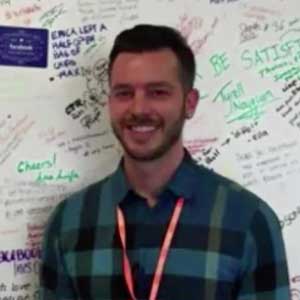 Adrian shared a bit of his background in the webinar. Like many online entrepreneurs, he got his start with affiliate marketing.
He would run ads for a product and become so good at it, he was earning hundreds of thousands per month.
The problem? The offers he ran dried up. He wasn't building an actual business. He would drive traffic to the offers, make commissions, but that was it.
He wasn't building an email list or building his own brand. You can probably see the flaw in this. Nothing he was doing was his own.
Therefore, when the affiliate offers disappeared, so did his income. Next, he started a print-on-demand eCommerce business.
However, he was making the same mistake. Not building a customer base because he wasn't building a list.
That is when he turned to eCommerce. His success with selling products online did not happen overnight.
Like many beginners, he went through a lot of trial and error until he finally developed a strategy that worked.
The eCom Dropshipping Strategy
The strategy that was outlined in the webinar isn't exactly new anymore. It involves dropshipping low-cost items and using a free plus shipping model.
You've probably come across these ads yourself on Facebook or Instagram. They usually consist of a video ad or photo of a nifty product.
In the ad description, you read that the item is free and all you have to do is pay for shipping.
No Bloated eCommerce Store
One big difference that stood out is that Adrian didn't build the typical dropshipping store that carries hundreds of products.
Rather, he focused on three simple products. The nice thing about dropshipping is that if the products you choose don't sell well, you can swap them out.
You don't need to worry about wasting inventory because, with dropshipping, you never have to buy inventory.
Focus On People's Passions – Not Yours
This part makes sense. If you're not running a general type of dropshipping store, you would do better by focusing on passion products for specific niches.
For example, if you wanted to target cat lovers, you could find a cool low-cost cat product to dropship using the free + shipping method.
Create an attention-grabbing video of the product and highlight that it is free and the only fee is shipping costs.
However, Adrian knows how to find products that you can target to even broader niches. In fact, that is how he runs his Facebook ads.
He doesn't do any specific targeting. His ads do not use any keyword targeting which enables him to get more traffic to his ads and make more sales.
What You Get with the eCom Success Academy
After watching Adrian's webinar and getting a good understanding of the overall business model, I don't feel what he's offering is a scam by any means.
I've actually seen this strategy in effect on my own Facebook and Instagram feeds. I don't doubt that it still works.
Although you may have a basic understanding of how the method works, it doesn't mean that it is easy to implement without training.
I wouldn't know what the best products are to sell and marketing is a whole other complex learning curve.
How do you create the ads? Which ads work best? How do you set everything up?
Fortunately, the eCom Success Academy offers answers to these questions and then some. Here is what is included:
Get Adrian's top converting Facebook Ad copy
Duplicate his exact viral ad strategy
Over the shoulder training
Pick the right products to dropship
How to build massive email lists
Training videos
Support
Bonus #1: Weekly training Profit Power Hour videos
Bonus #2: Sizzle Product Sniper Software
Bonus #3: Art licensing for print-on-demand items
Bonus: Adrian's top 4 selling products
Jump-Start Training Bootcamp
Week 1: Shopify quick start
Week 2: Passion sniping and Facebook intensive
Week 3: Email domination
Week 4: Outsource mastery
The course price is $2,495 or three payments of $997.
It is a high-ticket course but it seems to offer what someone would need to replicate his own eCommerce strategy.
What to Understand About Dropshipping
Before you invest in this course or any dropshipping course, it's important to understand how dropshipping works.
Where Will Products Be Sourced From?
For one, I hope that this course doesn't solely focus on dropshipping items from AliExpress.
AliExpress has been a source for dropshippers for a long time but it doesn't have the best track record when it comes to shipping.
Shipping times are extremely long, especially if you are marketing products to the U.S.
You Need a Marketing Budget
Second, remember that you will need to have a budget to spend on Facebook and Instagram ads.
I'm sure the ad training in the course will give you a great place to start so that you're not wasting much money.
However, be prepared to spend money to make money with dropshipping.
Let's Not Forget Customer Service
A dropshipping store is an online business and that will require customer service. You will get refund requests and the occasional complaint.
You may even have to deal with chargebacks. Customer service issues could occupy several hours of your time per day.
It is a reality of eCommerce and you have to be prepared to offer the best customer service to maintain your business.
Closing Thoughts
The eCom Success Academy may be worth the investment if you are serious about dropshipping.
It is not an inexpensive course, therefore, you should want to implement everything that you learn from it and make it work for you.
I never gravitated towards the eCommerce business model. My online business is in affiliate marketing but not by driving paid traffic to offers.
All of my traffic is free as I build niche websites that attract targeted visitors. I then recommend various affiliate products and earn commissions on the sales I generate.
Learn how I went from working a full-time retail job to working on my website full-time. Click here to learn how.