It seems that becoming an inbound closer (or inside closer) has become quite popular lately. More and more training programs are available to learn how to do it. Payton Welch's Inbound Closer is one such example.
I've covered an inside closer program in the past and have done a bit of research on the topic itself.
This way of making money isn't for everyone. Although it does sound enticing with the amount of money some inside closers can make.
First, let's cover what an inside closer does.
READ NEXT: How I went from working a full-time retail job to earning income online promoting other people's products. Click here to learn how.
What is Inside Closing?
I actually learned a lot about inside closing from Mike Barron's webinar. There are a lot of coaches and consultants in all types of niches that have their own training courses.
When these coaches have created a brand for themselves, it is easy for them to market their own products and sell them as high-ticket courses.
These high-ticket coaching programs can sell from $5,000 to $20,000 and up!
Many of these coaches are teaching other people in their industry how to earn more revenue in their businesses.
Their job is to market themselves and market their courses.
The problem is that there is no way that they can also close people on the products and make the sales.
That's where an inside closer comes in.
An inside closer takes phone appointments or meets potential new clients online using Zoom, Skype, etc.
When they meet with a potential client, their job is to sell the product, answer questions, deal with objections, and eventually close the sale.
Most high-ticket product creators offer large commissions (typically between 10% and 20%) when a sale is made.
Therefore, an inside closer could earn $1,000 and up from one sale's call and that's on the low-end.
Pros and Cons of High-Ticket Sales
There are some good reasons to consider becoming an inside closer. For one thing, you can work around your own schedule.
You can book appointments based on your availability. Another plus is that the commissions you earn are likely going to be high.
It is possible to earn well into the five figures per month working far fewer hours than you would with a part-time job.
Now let's talk about the downsides.
First, no matter how you slice it, you'll be in sales. Some people have natural talent when it comes to selling.
Others have to work at it. Either way, you will deal with rejection and you won't close every lead.
If you are not comfortable speaking on the phone or meeting virtually via Zoom or other platforms, inside closing may not be for you.
Also, if you are not closing enough of your leads, the product owner may cut ties with you. You can bet that they keep track of which closers are doing well and which aren't.
Keep in mind that you will need to land your own high-ticket client to close for. I'm sure the program will outline how to do that, but be prepared to do some applying and interviewing.
I've followed Richard Yu who has a high-ticket coaching program and when he puts out notices about hiring inside closers, he makes it a point that he wants people who are serious.
If his closers don't perform, he does not keep them around. I can bet most high-ticket product owners operate the same way.
What Does the Inbound Closer Program Offer?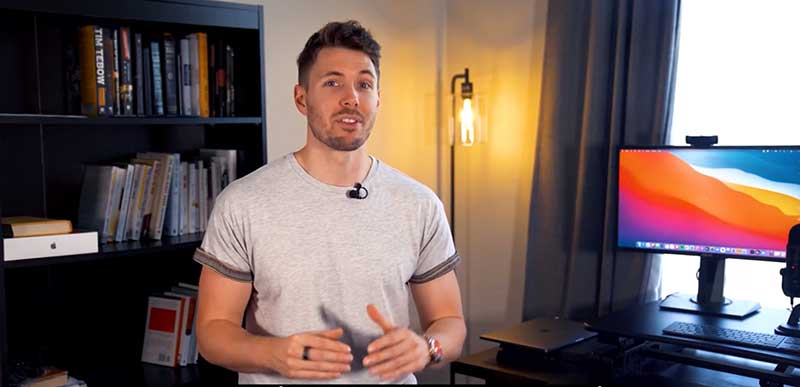 I watched the free Inbound Closer webinar in which Payton Welch talks about being an inside closer and what the Inbound Closer program offers.
Payton starts off talking about his days of working in a clothing store (retail is not an easy job) and how his older brother convinced him to do inside closing.
He does make inside closing sound like the dream job and that it is a lot easier than it probably really is.
I know that any type of sales position is not easy. Several years ago, I worked for a marketing agency that had a large sales team.
The turnover rate was high and only the top salespeople stayed the longest.
There was a giant flatscreen monitor that hung on the wall keeping score of which salespeople were closing the most leads.
Even though you'll be working by yourself, you can bet that the product owner will keep tabs on every inside closer they have contracted.
What You Get with Inbound Closer
I don't feel that the Inbound Closer program is a scam but you should do your own research and think twice before considering any of the upsells the program offers.
The upsells are priced at $7,000 and $10,000, and yes they will have an inside closer (your coach) contacting you in an attempt to sell you on the upsells.
Otherwise, what is offered at the $97 price point seems reasonable:
The Daily Commission Check Blueprint – essentially teaches you how to land your first client with a high-ticket product.
The Inbound Closing Accelerator – a proprietary system by Payton Welch that shares his strategies for closing leads.
Post-Call Recordings and Breakdown – experienced inside closers analyze previous closing calls.
The Inbound Closer Mastermind Group – communicate with other inbound closers in the program and learn from each other.
Taylor Welch's Personal Network of Online Entrepreneurs – you get alerted to any job openings for new closers.
You'll also be glad to know that there is a money-back guarantee so that lessens the risk if you are on the fence about it.
However, do be mindful of the upsells.
They are high-ticket upsells and I'd be wary about spending that much, especially if you are new to inside closing.
My thing is, if you had tens of thousands of dollars to spend on upsells, you wouldn't need to work as an inside closer.
Closing Thoughts
I think inside closing is an awesome way to make high commissions if you are good at sales or are willing to get good at it.
The Inbound Closer program isn't super expensive and they seem to offer everything one needs to get started.
I do advise being aware of the expensive upsells. Also, keep in mind that there are no guarantees of landing your first high-ticket product owner.
Even if inside closers are in high demand, with all of the hype surrounding this work, the competition has likely increased as well.
Want an alternative to inside closing? Affiliate marketing is one of the best online business models. Learn how I was able to quit a full-time retail job to earn income online. Click here to learn how.