People everywhere that have products to sell online are seeking out a shopping cart platform that will meet all of their needs.
Some shipping cart platforms are ideal for selling a wide range of physical goods. Others focus solely on the selling of digital goods.
As an affiliate marketer, if you are in the eCommerce niche or make money online niche, you can easily promote some or all of the shopping cart services on this post.
Shopping Cart Affiliate Programs
3dcart
DirectPay
Shopify
BigCommerce
ThriveCart
Volusion
Kartra
Ready to make affiliate commissions with these programs? Learn how I went from zero to consistent income online. Click here to learn how I did it.
1. 3dcart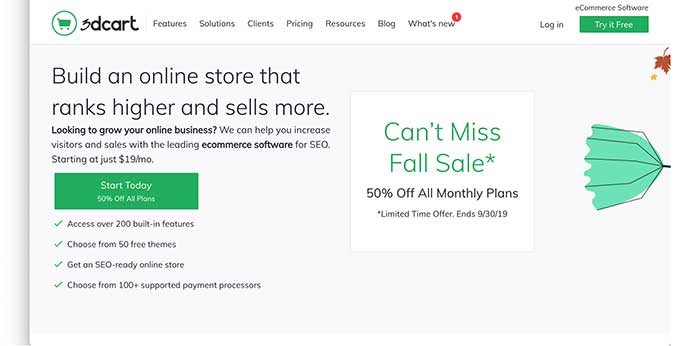 3dcart is one of the leading eCommerce software for SEO. Pricing starts at $19 per month which is extremely reasonable. They support over 200 payment processors.
What is great about their affiliate program is the high commission of 300%. They also offer a lifetime recurring commission. This is a great service to promote as one of its key features is being SEO ready.
As an affiliate, you could promote the SEO aspect as the upsell. The low pricing is also good for conversions.
2. DirectPay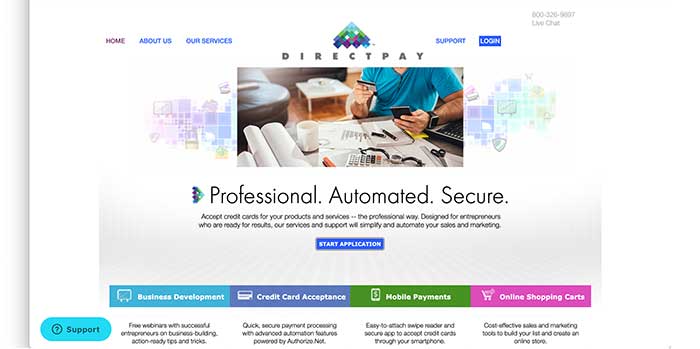 DirectPay is a credit card processing service. They also offer mobile payments, shopping carts, and business development. What is nice about their affiliate program is the high 30% recurring commission.
They also provide marketing material for email, website, and social media.
3. Shopify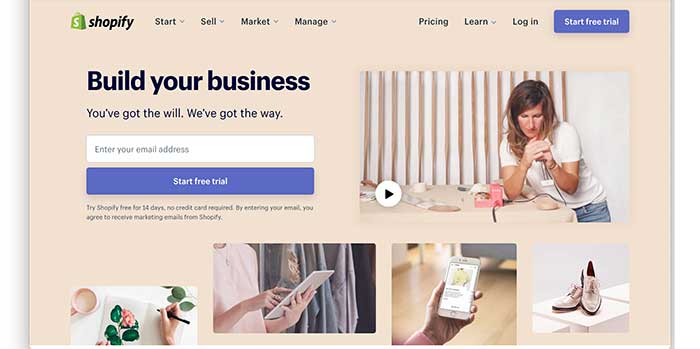 You are likely already familiar with Shopify. It is one of the most popular eCommerce platforms. It is used for running online stores as well as dropshipping businesses.
They offer nice commissions and conversion rates are can be quite high when targeting to those that need a shopping cart software.
It is also a great affiliate program for web designers / developers that build eCommerce stores for clients. It is easy to recommend this platform and generate affiliate commissions.
4. BigCommerce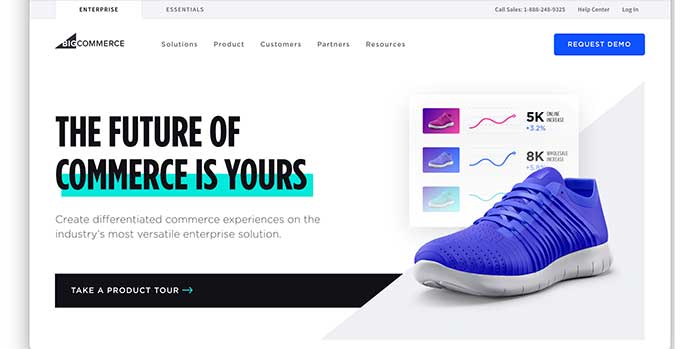 BigCommerce is another really popular shopping cart. What is cool about this software is that you can also build your store on WordPress. There are those that prefer the option of using WordPress for their business.
They also offer cross-channel commerce which enables users to sell on other platforms such as Facebook, Instagram, and Amazon. Commissions are great and they offer a dedicated account manager.
5. ThriveCart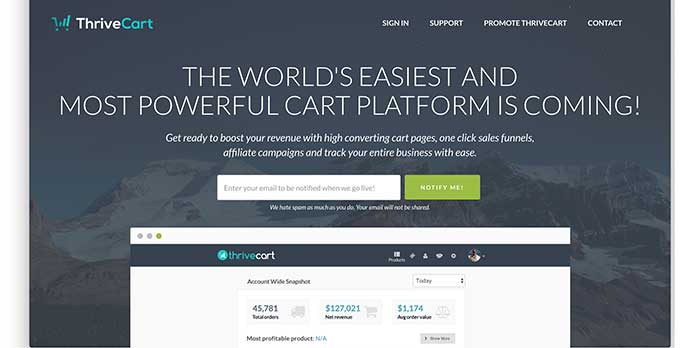 The ThriveCart shopping cart platform is not live as of this blog post. However, there is a lot of buzz generating around this platform. It is a cart platform that seems ideal for both digital marketers and those selling physical goods.
There are tons of features and it integrates with a wide variety of other tools. The commission rate is high at 50% which is awesome. They are currently accepting new affiliate applications so check them out for sure.
6. Volusion
Volusion is another easy to use shopping cart platform that can be used for selling your own products or dropshipping as well. It integrates with other popular tools and platforms.
The commission rate is really high at 200% per sale. I think it is a good affiliate program to promote. Whether you focus on it solely or in combination with other software recommendations.
7. Kartra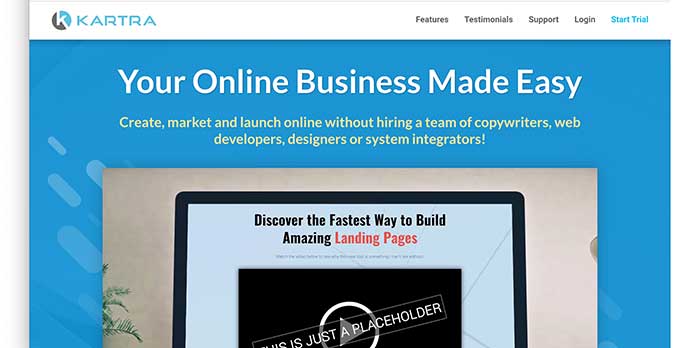 Kartra is a shopping cart platform that enables you to create sales funnels. It has its own built-in email marketing system and integrates with a wide variety of third-party tools.
It includes membership software, video marketing, affiliate management, and more. This platform is great for selling both digital and physical goods.
The affiliate program offers a nice 40% recurring commission so definitely worth checking out.
Get Started Promoting Shopping Cart Affiliate Programs
I'm a big fan of promoting affiliate products that are in the form of software. People are always in need of software for one reason or another.
Many software affiliate programs have recurring commissions. When you decide to promote a software product, you can provide a solution for people and earn income in the process.
If you are a new or intermediate affiliate marketer, you may like the idea of promoting shopping cart affiliate programs but aren't sure how to start.
Content Marketing for Consistent Commissions
I have been an affiliate marketer for a few years now. I have found the most success with content marketing.
In other words, creating niche affiliate blogs. Niche blogs are easy to create and easy to maintain.
Content lasts for years. You create it once and it markets your products year-round. Each piece of content that I produce acts as digital salespeople that work for me 24 hours a day.
Promoting shopping cart affiliate programs is made easier with a niche affiliate website.
The eCommerce Niche
There are many directions that you can go with creating a niche blog to promote shopping cart software.
You could create a niche blog that reviews this type of software. You could focus on the types of stores that can be built with this software.
There are tons of articles to create to help people find eCommerce solutions. People need solutions for selling products they create, buy wholesale, digital products, or even dropshipping.
You can focus on any of these sub-niches. For example, you could create a post outlining how to find wholesale suppliers and then recommend various shopping cart solutions to sell those products.
Focusing on Digital Product Cart Platforms
Another popular subniche is the digital product cart software. Kartra (mentioned above) is ideal for this. So is ClickFunnels and SamCart.
All three have affiliate programs. People are creating their own online courses and eBooks all the time. Many of these digital marketers need sales funnels.
They also often need carts that include or have the capability to integrate with autoresponder services.
My Closing Thoughts On Shopping Cart Affiliate Programs
I think that shopping cart affiliate programs offer some of the highest commission rates out there with the exception of debt relief affiliate programs.
What is nice about these affiliate programs is that many of them also offer recurring commissions. Meaning, you will earn commissions so long as the customer that you've referred continues to use the software.
Another nice thing about eCommerce software is that there is always a need for it. People are opening new online businesses all the time or they have a product or service they wish to sell.
Promoting affiliate products is one of the best ways to earn income online. You can literally earn income while you sleep.
It requires your hard work and consistent effort. However, it is made easier when you follow a step-by-step affiliate marketing training program as I did.
I highly recommend starting your free training by clicking here.