Blogging has been a game-changer for me in terms of making an income online. Below, I outline several reasons why blogging could be best for you if you want to do affiliate marketing.
Like many beginners, I used to struggle trying to earn an affiliate commission. I also jumped from one money-making strategy to another.
It wasn't until I created a niche blog that I finally started earning a steady income online. You may find the reasons below are a good match for you the way they were for me.
Tired of not making affiliate sales? Learn how I went from zero to consistent affiliate commissions every month so you can too. Click here to learn how I did it.
Why Blogging Could Be Best for You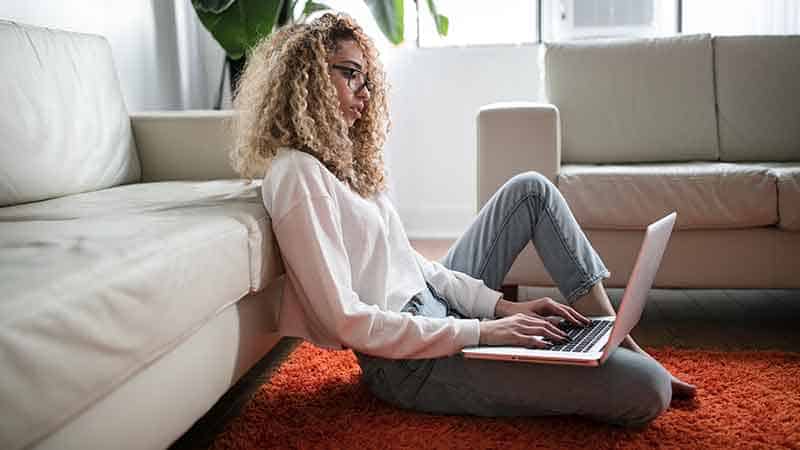 There are many reasons why starting a blog is an ideal option for you. As for myself, I wanted a low-cost, low-risk, and convenient way to make money with affiliate marketing.
I also liked the idea of a business I could run from anywhere and without anyone's help.
The following reasons are some of my favorite for choosing blogging over various affiliate marketing methods.
1. You Are a Complete Beginner
If you are completely new to affiliate marketing, blogging is one of the best ways to get started.
Blogging doesn't require any major technical knowledge, you can start a blog for little to no money, and it is easy to maintain.
Many people reject blogging out of fear of not being a good writer. The good news is that you don't have to be a good writer.
All that you need is to be able to communicate your message to your readers.
In short, if you've ever written a book report or even an email to someone, you have what it takes to blog!
2. A Blog Requires Very Little Start-Up Cash
Compared to many types of online business models, blogging is one of the lowest-cost to start.
All that you need is a domain name, web hosting, and WordPress. A domain name is around $15 per year, web hosting costs vary but typically is around $100 a year, and WordPress is free.
Another plus about this is that if you happen to create a niche blog that you change your mind about, you haven't invested a ton of money into the project.
3. Most Affiliate Programs Ask for Your Website
A majority of affiliate programs that you'll apply to will ask for your website.
Having a blog will increase your chances of being approved for the affiliate programs that you apply to.
The reason is that most affiliate programs want to ensure that you are serious about promoting their products.
When you have a website with great content that is related to their products, most affiliate managers will approve you immediately.
4. It is a Convenient Online Business Model
In comparison to running an eCommerce store or dropshipping, blogging is by far the most convenient online business.
You don't ever worry about inventory as an affiliate marketer, nor do you have to deal with customer service issues.
If you want to take a break for vacation, you don't have to pause your website the way you would an online store.
Since your job is writing blog posts, you can do so anytime you want.
Many full-time bloggers started off part-time with their blogs while holding down a full-time job (myself included.)
Convenience was one of the primary reasons I chose blogging as my online business model of choice.
I knew that I could work on my blog when I wanted and when I had the time.
5. One of the Best Ways to Promote Affiliate Products
Blogs are excellent for promoting affiliate products. That is due to the fact that the content you create is related to a specific niche.
When your targeted web visitors find your blog posts in the search engine results, there is an increased chance that many of them will also click on your affiliate links.
For example, if you created a niche blog about electric bikes and recommended various ebikes of which you were an affiliate, you'll likely receive many conversions (affiliate sales.)
This is another reason why many affiliate programs ask for your website URL or recommend creating a blog to promote their products.
It is one of the most effective online marketing strategies for affiliate marketing.
6. Low-Risk Way to Make Money Online
Starting a niche blog is extremely low-risk. Besides the small investment of buying a domain name and web hosting, your biggest investment will be your time.
If you create a niche blog and it doesn't work out for whatever reason, you've spent very little.
The same is true for creating more than one niche blog. All that you need to spend money on is registering a new domain name.
7. Low Maintenance in Comparison to eCommerce
A niche blog is much more passive than managing an eCommerce business.
You don't have to buy inventory, store inventory, add or remove products, reply to customer emails, etc.
Your blog will be there when you're ready to work on it. The most maintenance you'll have to do is update WordPress and any plugins that you have.
Updating WordPress and plugins can be done in one-click.
Ready to make money with a blog? Learn how I went from zero to consistent affiliate commissions every month so you can too. Click here to learn how I did it.
What To Expect as a Blogger
A blog is a blog because of its content (blog posts.) Therefore, you can expect to write a new blog post on a regular basis.
Also expect to do research depending on the niche that you choose and how much you know about it.
You should also prepare to be patient in terms of your blog earning income. It will not happen quickly.
Many people quit on their blog before they have the chance to grow and make their first commission.
Once your blog starts receiving traffic and making money, you can expect to be motivated to create even more content or possibly start another niche blog.
My Blogging Tips
Give yourself at least a year
Keep learning (my recommendation)
Stay consistent
Write a new post 1 to 2 times per week
Do keyword research before writing a new post
Be as helpful as you can with each blog post that you write
Don't give up!
Closing Thoughts On Blogging for Affiliate Marketing
It is my hope that this post has helped you with why blogging could be best for you.
I will always be grateful for having created a niche blog. It really made a big difference for me as an affiliate marketer.
I've learned a lot over the years and have the confidence to create a new niche blog any time I want to create another stream of income.
Until I created a blog, I was never able to generate a consistent income online with affiliate marketing.
Find out how I was able to go from zero to a steady income online with a blog.