Watches are a popular accessory for men and women. Some people seek out luxury watches, diving watches, workout watches and more. As an affiliate marketer, these watch affiliate programs are a great way to make money.
One of the best benefits of watch affiliate programs (besides making money) is that you don't have to handle any of the shipping, customer service, or anything else eCommerce-wise.
Your job is to recommend these watches and make a commission when one of your referrals buys a product. Market these watches with a niche blog and you can make steady commissions every month.
Watch Affiliate Programs
Watchbox
Luminox
Momentum Watches
Wristology
Invicta
Grayton Automatic Watches
Nove Watches
How I Make $1,000 Commissions Using a Simple 2-Page Website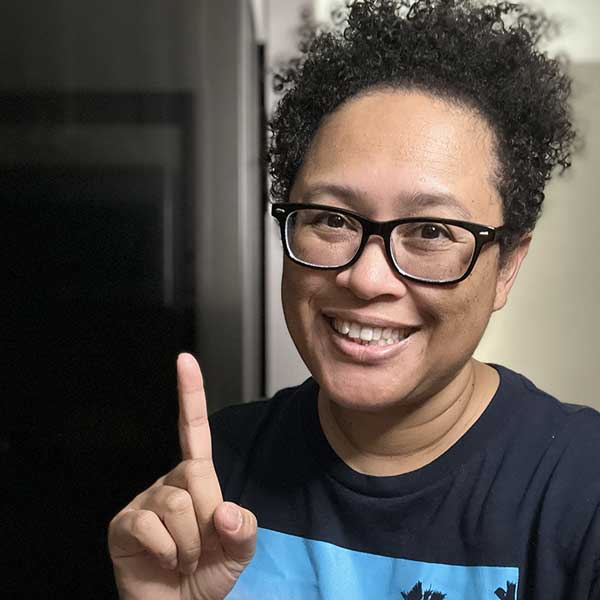 Hi! I'm Eartha, the author of this website and an affiliate marketer. I've been doing affiliate marketing for quite some time.
It is my goal to share what I've learned about making steady affiliate income online. One of the ways I do that is with high-ticket affiliate marketing.
Rather than promote low-ticket products, I focus on promoting high-ticket affiliate products that provide the best solution for my target audience.
Since I've begun doing high-ticket affiliate marketing, I've had some amazing results! If you're ready to level up your affiliate income, then discover what I did below:
1. Watchbox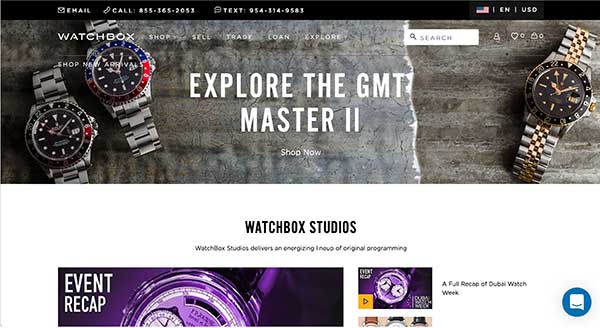 Commission: 3%
Cookie Length: 30 days
Watchbox is a pre-owned luxury watch reseller. You can find brands such as Rolex, Patek Philippe, Omega, Breitling, and many more.
The average order value is $12,000 and with a 3% commission that is already a $360 commission. The affiliate program is managed by Impact with a 3% commission and 30-day cookie length.
Why Watchbox is Worth Promoting
This company carries a large variety of pre-owned luxury watches. Many of the most popular high-end brands do not have affiliate programs, for example, there is no Rolex affiliate program or Patek Philippe affiliate program. Besides that, they also have a trade-your-watch service with immediate payment after an evaluation is complete.
Customers can also secure a collateral loan using their watch or watch collection as collateral. They have a high average order value at $12K so you can make excellent commissions with this affiliate program.
2. Luminox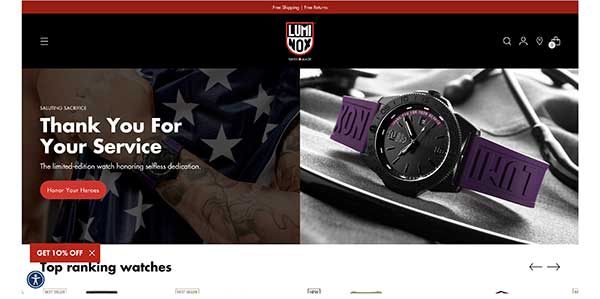 Commission: 8%
Cookie Length: 45 days
You're likely already familiar with the Luminox brand. They are popular for that selection of Navy SEAL watches. Luminox watches are designed for harsh environments and are built to last.
Why Luminox is Worth Promoting
The Navy SEAL category of watches is not only purchased by actual Navy SEALS but also by outdoor enthusiasts. Other people who wear watches may also like the quality and performance of Luminox watches. It is a well-known brand which may make for easy conversions.
3. Momentum Watches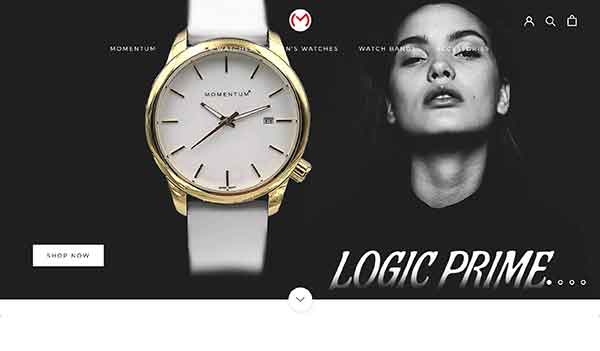 Commission: 10%
Cookie Length: 30 days
Momentum is a watch brand that designs, assembles, and services high-quality sports watches. They are a watch company based in Vancouver, Canada.
Their affiliate program is managed by AvantLink or ShareASale. They offer a 10% commission and a 30-day cookie length.
Why Momentum is Worth Promoting
This company creates high-quality sports watches for men and women. They have great styles and they are a nice alternative for those needing a quality sports watch at affordable prices.
These are great watches to recommend if you want to sub-niche into the sports watch niche.
4. Wristology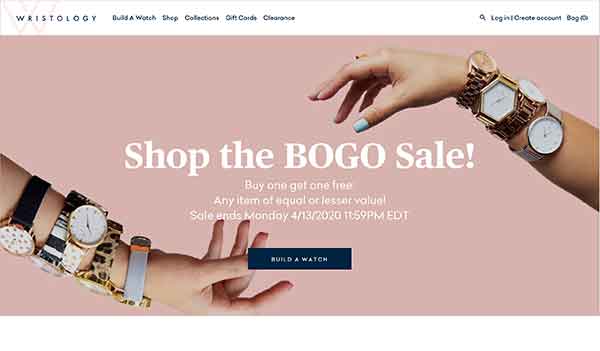 Commission: 8-15%
Cookie Length: 365 days
Wristology is a watch store that specializes in fashionable women's watches at affordable prices. Customers can build a watch by choosing their watch face and watchband color and style.
The affiliate program appears to be managed in-house. They offer a 8-15% commission with a long cookie length of 365 days. They pay commissions every 30 days via PayPal.
Why Wristology is Worth Promoting
I like this brand as they focus on a specific niche which is trendy watches for women. They understand that some women like to change the look of their watch with every outfit.
This is a good niche to consider, especially if you want to focus on a fashion niche blog for women.
5. Invicta
Commission: 5%
Cookie Length: 30 days
Invicta is a well-known watch brand with a huge selection of styles for both men and women. They also have styles for fans of DC Comics characters such as Superman and Spiderman.
The affiliate program is managed by ShareASale with a 5% commission and 30-day cookie length. They have an average order value of $170 and offer auto deposits for commission payments.
Why Invicta is Worth Promoting
This is a great brand of watch so you can expect good conversions when marketing to a specific niche. Their DC Comics line of watches are likely highly converting for comic fans.
Another plus is that their website has a lot of great discounts which you can use as an upsell.
6. Grayton Automatic Watches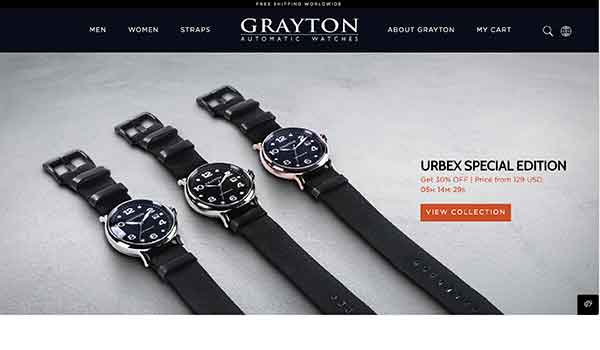 Commission: 20%
Cookie Length: 15 days
Grayton is a watch company that specializes in watches for the urban environment. Their watches are designed with an automatic movement, self-winding mechanism.
Their affiliate program is managed by Refersion and offers a 20% commission with a 15-day cookie length.
Why Grayton Automatic Watches are Worth Promoting
This is a watch brand that has awesome designs and automatic movement. They are a great alternative to more common brands and with the focus on the urban environment, they will appeal to a large audience.
I think this brand will convert well regardless of the niche you are targeting. Prices range from $200 up to $700 so you can make decent commissions.
7. Nove Watches
Commission: 10%
Cookie Length: 14 days
Nove is a boutique watchmaker of Swiss made watches. They specialize in contemporary design and a minimalist watch face. They design watches for both men and women.
The affiliate program is managed in-house and offers a 10% commission with a 14-day cookie length.
Why Nove Watches are Worth Promoting
If you want to promote watches with awesome designs and are also well-made, Nove offers it. Their philosophy is to create watches that are art but also remind people to live in the present, which is why their watches do not have second hands.
This brand is great for promoting to watch enthusiasts and the fashion niche.
How to Best Promote Watches as an Affiliate Marketer
There are many ways that you can approach promoting affiliate products. If you have a large social media following in the fashion or watch niche already, you have a head start.
My favorite method of promoting affiliate products is through niche websites. Niche websites work extremely well when it comes to affiliate marketing.
It is how I am able to make consistent affiliate commissions every month. I had to learn some new skills before I got to this point.
When I got started I purposely sought out an affiliate training program and found this one. Following the training and implementing what I learned helped me to make significant progress.
Why Niche Websites Work Well for Promoting Affiliate Products
For one thing, niche websites (blogs) are great for beginner affiliate marketers. They are low-cost to start and extremely easy to set up.
Niche blogs are also great for long-term income. They take time to grow when starting but once your blog is getting traffic, it can start making money.
A niche website also generates free targeted web traffic. There is no need to pay for advertising.
Another plus is that once you've learned how to create one profitable website, you can repeat the process over and over again!
Getting Started With Your Own Niche Website
You only need three things to get started with your own niche blog. You'll need your own domain name, web hosting, and WordPress.
I always recommend using a self-hosted WordPress website. Meaning, you are not building your blog on free website services like Tumblr, Wix, etc.
Any commercial web hosting provider can set you up with everything that you need. For example, my web host (WPX Hosting) specializes in managed WordPress hosting.
They can register your domain, set up your hosting account, and you can install WordPress using one-click installation.
I also recommend implementing a sales funnel as well. A sales funnel can automate the selling and converting of a product for you.
They work especially well for high-ticket affiliate offers. Learning how it all works is easy and there are a lot of good courses out there including the Zach Crawford affiliate marketing course.
My Closing Thoughts On Watch Affiliate Programs
Watches are still great selling items. As an affiliate, you don't have to bother with setting up an eCommerce store, shipping, or customer service.
Niche websites are an ideal way to make affiliate commissions. It is what I do to make consistent commissions every month.
I followed a step-by-step training program when I got started and by following the training and applying what I learned, I was able to create a consistent income online with niche websites.
Now I use this same training platform to help others one-on-one with creating their own niche websites.