Tea is one of the most popular beverages in the world and fortunately, there are many tea affiliate programs that you can join and earn income with.
We drink tea almost every day in our household. If you enjoy tea and want to make money from it, affiliate marketing is a great way to do so.
You'll find some really good affiliate programs below that you can consider. Besides sharing these with you, I'll also share my most recommended method for generating consistent affiliate sales.
How I Make $1,000 Commissions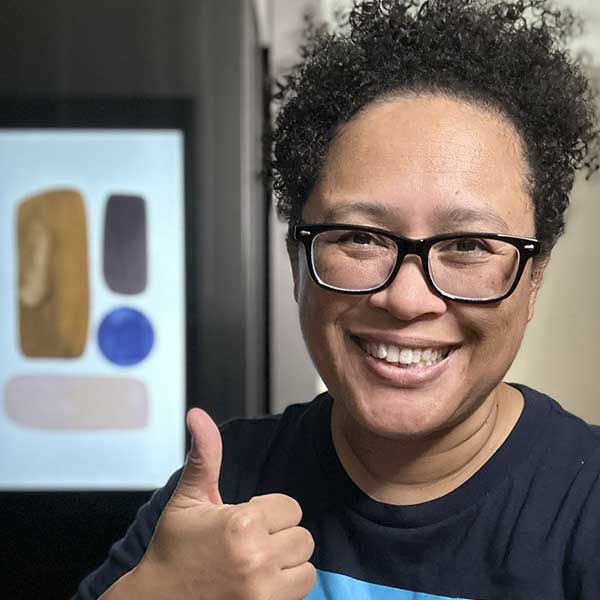 Hey there! I'm Eartha, the author of this website and an affiliate marketer. I share affiliate programs and ways to help boost affiliate income. Thanks to affiliate marketing, I'm able to make $1,000 – $2,000 commissions. Click the link below and I'll share exactly how I do it:
What Are Tea Affiliate Programs?
These affiliate programs are put into place by companies in order to increase sales through the marketing efforts of affiliate marketers.
In most cases, affiliate commissions are paid out on a monthly basis for the previous month's sales. Many companies pay commissions via PayPal or by check.
1. Buddha Teas
This tea company offers 100% unaltered, organic, and wildcrafted teas made from the freshest herbs and tea leaves, packaged in bleach-free bags.
Customers can shop a wide variety of tea selections with flat-rate shipping of $3.99.
The Buddha Teas affiliate program appears to be managed in-house and offers a 20% commission rate. There is an $80 minimum threshold for payout.
Commission: 20%
Cookie Length: not disclosed
---
2. Teatulia
This company is named after the Tetulia region of Northern Bangladesh. The company created a new tea-growing region, nestled between Assam and Darjeeling at the base of the Himalayas.
You can shop a variety of organic teas that are sold in unbleached square compostable teabags.
The Teatulia affiliate program is managed by ShareASale and offers a 12% commission and 30-day cookie length.
Commission: 12%
Cookie Length: 30 days
---
3. Art of Tea
This company is a tea importer and wholesaler based in Los Angeles, California. They hand blend and custom craft the world's finest organic teas and botanicals.
The Art of Tea affiliate program is managed through ShareASale and offers a 10% commission rate and 90-day cookie length. They also offer a free datafeed.
Commission: 10%
Cookie Length: 90 days
---
4. Pique Tea Crystals
Unlike typical loose leaf tea or tea bags, Pique Tea Crystals offer the freshest and rarest plants extracted via Cold Brew Crystallization that gently preserves active compounds at maximum potential.
No prep or brewing is necessary to drink this tea. The affiliate program appears to be managed in-house and offers a 10% commission rate and 30-day cookie length.
Commission: 10%
Cookie Length: 30 days
---
5. TeaVivre
This company was established in 2011 and is dedicated to exploring the finest teas to offer to their customers.
They sell a variety of teas and teaware. The affiliate program is managed through ShareASale and offers a 12% commission and 45-day cookie length.
Commission: 12%
Cookie Length: 45 days
---
6. Tenzo
This tea company's focus is on energy. They specialize in a proprietary blend of ceremonial and organic matcha for daily drinking.
Their matcha tea powder has 1/3 the caffeine of coffee but provides all of the focus and energy that you need with the crash or jitters.
The Tenzo affiliate program is managed through Refersion and offers a 20% commission rate and 30-day cookie length.
Commission: 20%
Cookie Length: 30 days
---
7. Borntea
This company specializes in both instant cold brew tea and hot brew tea. All of their tea is sourced from the tea's historical birthplaces and direct from sustainable, women-led origin farms in Asia.
The Borntea affiliate program is managed through Affiliatly and offers $3 for every sale you generate with a 7-day cookie length.
Commission: $3 for every sale
Cookie Length: 7 days
---
8. Teabloom
You can find a variety of tea and teaware on the Teabloom website. It is easy to shop for tea collections, gifts, best sellers, and more.
What I especially like about this tea company is that they use borosilicate glass – a lead-free and cadmium-free material that does not retain stains, odors, or potential pathogens for teaware you can buy on the website.
The affiliate program offers a 12% commission rate and is managed through ShareASale.
Commission: 12%
Cookie Length: 45 days
How to Make Money with Tea Affiliate Programs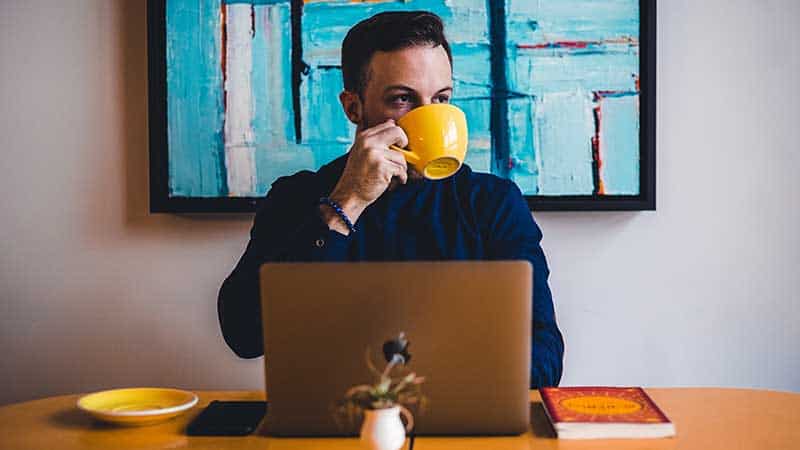 One of the best ways to earn income online with affiliate marketing is to create a niche blog.
When I got started in affiliate marketing, I knew that I wanted to make money using a blog.
I created my blog and I had no idea how to make money with it!
Rather than waste a lot of time trying to learn how on my own, I searched for an online training program and found this one.
Following the training and taking action on it has made all the difference for me. Niche blogs are extremely effective for earning income with affiliate products.
The reason is that the content that you create (your blog posts) are what get indexed and ranked in the search engine results.
It is your blog posts that gets found by targeted visitors searching for your content.
That being said, let's talk about the type of niche blog you can create for promoting tea.
Types of Tea Niche Blogs
Choosing a niche is the first step in creating a niche blog. You can stay general and create a general tea niche blog.
However, I've found great success by focusing on subniches of a broader niche. For example, you could create a niche blog about:
how to brew tea (cold & hot)
tea reviews / teaware reviews
health & wellness through nutrition
lifestyle / spirituality / yoga
Focusing on a subniche like the ones above will mean less competition in the search results and more targeted visitors to your blog.
These targeted visitors are more likely to buy what you are promoting. I have found time and time again that a small amount of targeted visitors converts into sales more than a ton of random web visitors.
Setting Up Your Own Tea Blog
When setting up your own niche blog, I recommend using a self-hosted WordPress website.
All that means is you'll need to register your own domain name, obtain web hosting, and install WordPress on your web hosting account.
Don't worry if it sounds too technical, it really isn't.
Most web hosting companies can provide you with everything that you need. I recommend both SiteGround and WPX.
Writing Great Content for Your Blog
The content that you create is the bread and butter of your blog.
Whichever niche you choose, it is important to write blog posts that your audience is looking for.
Figuring this out is easy. All that you need to do is some keyword research. I use both free and paid keyword tools.
However, a majority of my keyword research involves opening up Google Search and using its autosuggest feature.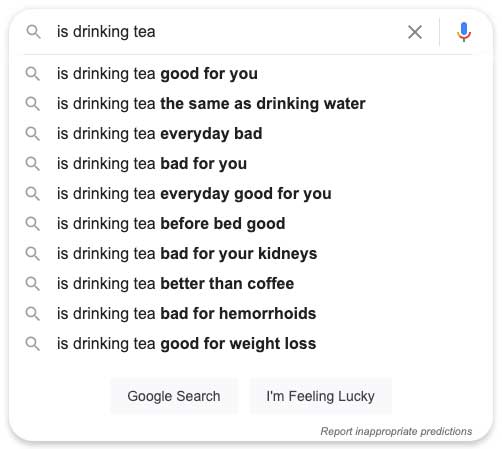 From the search results in the image above, you can generate a lot of good blog posts.
Best of all, you'll be writing posts that people are actually searching for.
Using Google's autosuggest feature has been one of my number one resources for writing content for my target audience.
Closing Thoughts On Promoting Tea Affiliate Products
I think tea is an awesome niche to be in. There are tons of tea affiliate programs that you can apply to.
Many of these programs offer good commissions and by creating a niche blog, you can earn a steady income from many of these affiliate programs.
A niche blog is how I got started in affiliate marketing and it is what I continue to do today to earn a consistent income online.
If you are ready to level up your affiliate earnings, I recommend following the same step-by-step training program I followed.