I wish I knew how to surf. The most I've done is bodyboarding. Surfing is on my to-do list for sure! In the meantime, surfing is an awesome water sport niche and these surfing affiliate programs can get you started with making commissions.
I tried to find the most unique and useful surfing products. These may be a great addition to what you may already be promoting in this niche. If you are just getting started, these are good options to start with.
Surfing Affiliate Programs
| | |
| --- | --- |
| Company | Commission |
| Grass Racks | 8% |
| Waverats | AU$50 |
| GoPro | 5% |
| Degree33 Surfboards | $20 per buyer, 10% merchandise |
| Headhunter | 10% |
| The House | 4%-6% |
| Patagonia | 8% |
Tired of not making sales? Learn how I went from zero to making consistent affiliate commissions every month. Click here to learn how I did it.
1. Grass Racks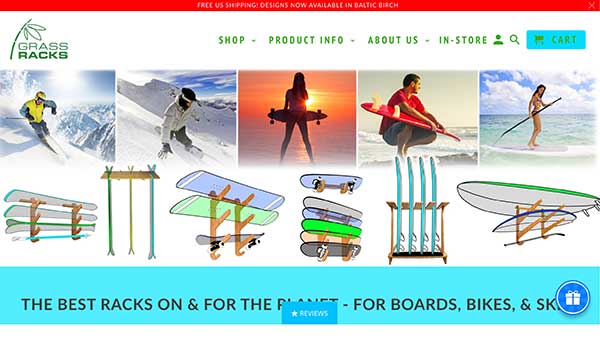 Commission: 8%, more based on performance
Cookie Length: 30 days
Grass Racks is a company that uses sustainable and recyclable materials to create their products. They create racks to hold surfboards, skis, snowboards, kayaks, and more.
These racks are designed for walls, bicycles, and even vertical racks. The affiliate program is managed by AvantLink. The average order value is $210.
2. Waverats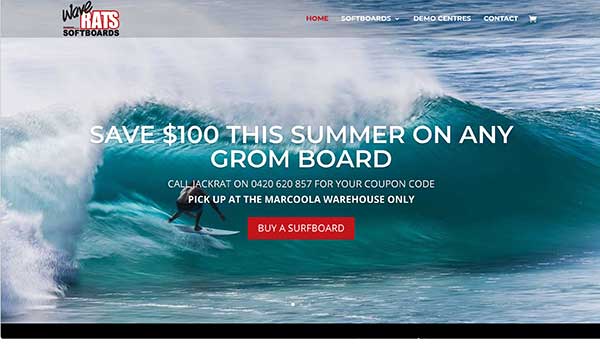 Commissions: AU$50 per board
Cookie Length: not disclosed
Waverats is a surfboard company based out of Australia. They are Australia's original performance softboards. Most of their softboards are sold for around $385.
The affiliate program appears to be managed in-house. They have a flat rate commissions of AU$50 per board. They pay out commissions monthly and direct to your bank account.
3. GoPro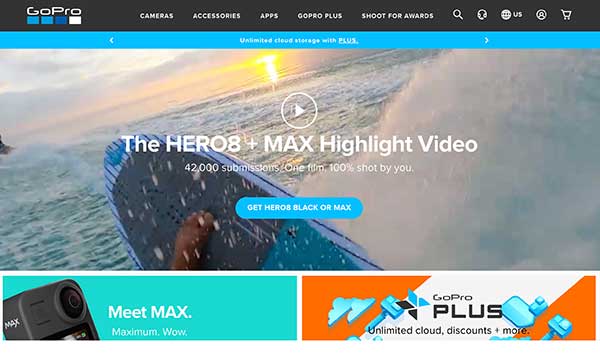 Commission: 5%
Cookie Length: not disclosed
You have likely heard of GoPro or may even own one. If not, it is a sports action video camera. Many sports enthusiasts like using GoPro cameras to capture their experience from a first-person perspective.
They even offer a surfboard attachment so that surfers can add a GoPro camera to the end of their board. The affiliate program is managed by CJ Affiliate. Cookie length was not disclosed but they offer a 5% commission rate.
4. Degree 33 Surfboards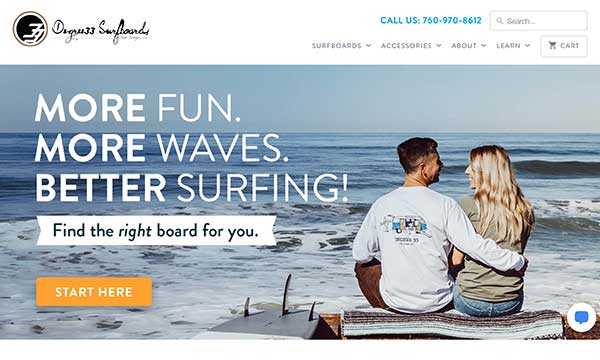 Commission: $20 per buyer plus 10% on all merchandise sold
Cookie Length: not disclosed
Degree 33 was founded in 2006 and is based in San Diego. They offer custom-built surfboards by master shaper Bill Minard.
The company offers a 33-day ride it guarantee. If you don't love it, they will buy your board back from you. The affiliate program appears to be managed in-house.
The commission is $20 per buyer and 10% on all merchandise sales.
5. Headhunter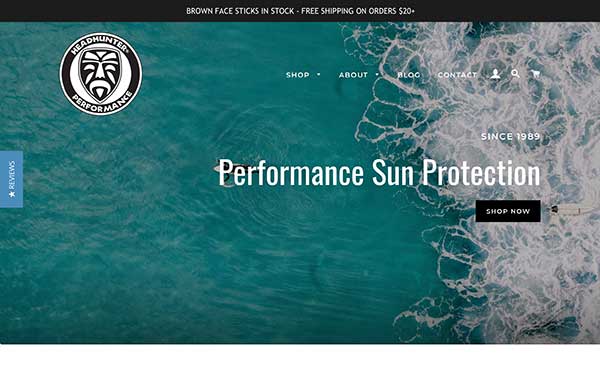 Commission: 10% and $20 on Cloudbreak Cologne
Cookie Length: 30 days
Headhunter is a company that creates sunscreen specifically designed for surfers. The company was founded in 1989, in La Jolla, CA. Their sunscreen stays on until it is washed off.
Therefore, surfers do not need to worry about the sunscreen disappearing after being in the water. The affiliate program is powered by Refersion software.
The base commission is 10% with up to 20% possible. There is also a $20 commission for their Cloudbreak cologne.
6. The House
Commission: 4-6%
Cookie Length: 90 days
The House is a large online retailer of sports gear to include surfboards, snowboards, skis, wakeboards, and much more.
This is a great affiliate program to join if you want to branch out and offer other products on your website besides surf products.
You can join their affiliate program via Impact or AvantLink. The affiliate program offers a data feed, banners, and text links.
7. Patagonia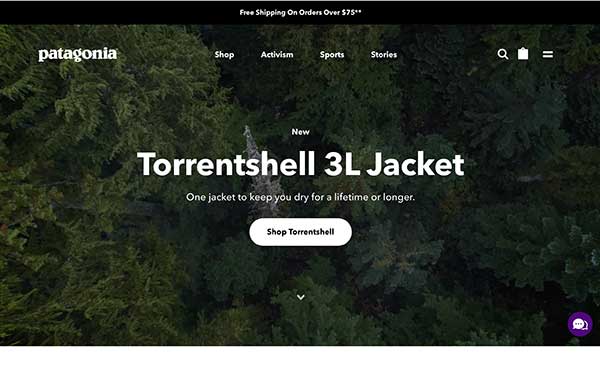 Commission: 8%
Cookie Length: 90 days
Patagonia is a well-known outdoor gear company. They sell clothing, bags, and other outdoor gear whether for sports or other activities.
They cover clothing and gear for men, women, and children. You can find what you need for the snow, surf, mountain biking, trail running, fly fishing, climbing, and kite surfing.
The affiliate program is managed by AvantLink. They have an average order value of over $150.
How to Best Promote Surfing Affiliate Programs
There are a number of ways in which you can promote affiliate products but my favorite method and the one I use in my own business are niche websites.
A niche website is a website that focuses on one topic. In this case, you would create a website related to the surfing niche.
You could create content on various surfing topics or even create a surfing product review site. It could even be a combination of both.
It doesn't take much to get started. All that you need is a domain name, web hosting, and WordPress. WordPress is free and you can get one-click installation with most web hosting providers.
If you are seeking an awesome web hosting company, I use and recommend WPX Hosting. They have fast hosting, amazing customer support, and stellar reviews.
Otherwise, if you are a beginner, you can get free training and start building your first niche website for free using the same training I used when I got started.
You can watch a step-by-step video I created on how to get started below:
Click here and register for free!
Why Niche Websites Work So Well for Affiliate Marketers
Niche websites work extremely well because they are made up of content. In essence, you are running a blog. Your job is to create helpful content for your readers on a regular basis.
It is this content that is eventually indexed and ranked in the search engine results. Soon your website will receive free targeted web traffic. When this happens, your website has the potential to make money!
Some of your website visitors will click on your affiliate links and a percentage of those clicks will convert into sales on the merchant websites.
When this happens on a daily, weekly, and monthly basis, you will have a consistent income from affiliate commissions.
It doesn't happen overnight, but like any business, you will have to put in the work and the payoff will be well worth it.
Finding Topics for Your Blog Posts
Figuring out what to write for your website is not difficult at all. You don't need to use expensive keyword tools to get the job done.
In most cases, I utilize Google's autocompleting feature. You can find unlimited amounts of content ideas with that tool alone. Here are some that I found:
surfboard bike rack for longboard
best sunscreen for surfers
best surf spots in san diego
strength exercises for surfing
You literally cannot run out of things to write and best of all, these are queries that people are actually typing into Google!
Therefore, you are helping your readers and earning commissions for recommending products related to their search.
My Closing Thoughts On Surfing Affiliate Programs
If the surfing niche is one that you want to get into, these affiliate programs are a great opportunity to catch the wave!
There are tons of people passionate about surfing and newcomers to the sport are growing every day.
I highly recommend creating a niche website to make consistent commissions in this niche. It is how I run my online business and it has made a world of difference in how I make commissions.
It is one of the best ways to earn affiliate commissions. I make commissions while I am sleeping, out grocery shopping, or relaxing with my loved ones.
Beginners may find it a bit challenging to get started. I did as well so I followed a step-by-step training program.
That training program made all of the difference for me and I use it today to help others one-on-one with creating and growing their own niche websites.