High-ticket affiliate programs are often sought out by affiliate marketers because of the large commissions that are made. If you want to become a Simple Wifi Profits affiliate, you can expect commissions as high as $600 from one sale.
Simple Wifi Profits is a step-by-step training program that teaches how to create an online business promoting affiliate offers (primarily Clickbank products.) Students get access to the same products, ads, targeting, and more used by the product creators, Chris Eom and Andrew Wright.
In this Simple Wifi Profits affiliate review, I will go over what this product is and how the affiliate program works.
Simple Wifi Profits Affiliate Review
Commission: up to $600 per sale
Cookie Length: 60 days
Tired of not making sales? Learn how I went from zero to consistent affiliate commissions every month. Click here to learn how I did it.
How Simple Wifi Profits Works
I signed up for the free webinar to learn a bit more about this product but I didn't get much out of it. The hour plus long pre-recorded webinar was quite repetitive.
It focused mainly on student success stories, how earning large commissions could change your life, as well as how easy their system is to use.
Towards the end of the webinar, they briefly go over the four steps of their system to include:
Finding a big problem
Finding a product (solution)
Sharing the product (running paid ads)
Making sales & profits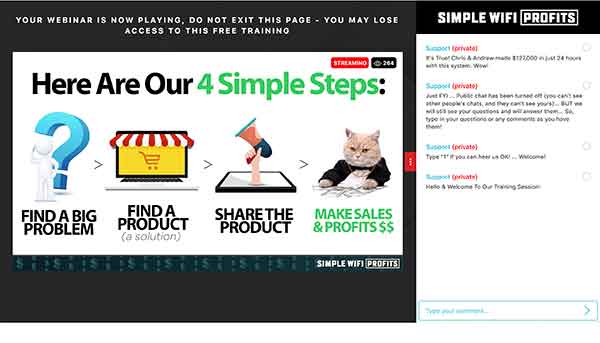 The four steps above are certainly nothing new. However, their system states that they promote high-quality offers in a unique value-driven (& legal) way that has never been done before.
In a nutshell, they teach how to find good Clickbank offers and run ads on Facebook to generate consistent sales. There are some advantages to their training.
Side note: this training program reminds me of Commission Hero (another program that teaches users how to make money promoting Clickbank offers.)
They will share the same exact products that they have promoted as well as the same exact ad text and images they used for their Facebook ad campaigns.
Other program perks include 24/7/365 customer support, monthly coaching calls with Chris and Andrew, a private mentorship group, and 45-day money-back guarantee.
If you want to know the ins-and-outs of Simple WiFi Profits before you begin promoting it as an affiliate, you can invest in the product yourself and offer up your personal experience.
While that is the ideal option, it is not required. I've had the best success promoting affiliate products that I've actually used. However, you can still make commissions recommending relevant products to a target audience.
How The Affiliate Program Works
In order to become a Simple Wifi Profits affiliate, you will need to sign up through Clickbank. If you do not already have a Clickbank account you will need to create one.
This product is not whitelisted so you can get immediate access to your affiliate link. According to Clickbank, the average sale is $514.14. The affiliate program page states that you can make up to $600 in commissions.
They also state that the webinar has a high conversion rate between 20% and 30%.
Although the commissions are high, one thing that isn't often talked about is Clickbank's refunds.
I've had many Clickbank refunds in the past for products that I felt were actually good.
If any of your referrals refund, that means no commission for you. And if you've already been paid commissions before someone refunds, it could place you in a negative balance with Clickbank.
When your Clickbank balance is negative, you run the risk of having your account closed unless you resolve it with customer support.
How You Can Promote This Product
Simple Wifi Profits is in the make money online niche which is one of the most challenging niches to actually make money in as an affiliate marketer.
There is a lot of competition when it comes to the MMO niche. You can type "simple wifi profits review" into Google search and be returned with a large number of competing results.
If you do not have a large social media following, a nice sized email list, or cannot afford to run paid ads to your offer page, then creating a niche website is the next best option.
Niche websites are excellent for creating a consistent income through affiliate marketing. The downside is that it takes time for a niche website (niche blog) to receive web traffic.
When I took affiliate marketing seriously, I knew that I wanted to create a niche website. My problem was that I had no idea how to make affiliate sales with one.
That led me to search for an online training program and I found this one. By following the training, I made progress much faster than if I had tried to learn everything on my own.
Thanks to that training, I am finally able to make a consistent income online with affiliate marketing.
Is This Product Worth Promoting?
Overall, I say yes. Keep in mind that this affiliate program is managed by Clickbank. You can choose to have commissions paid out weekly or bi-weekly.
Clickbank pays commissions via check or direct deposit. I do like the Clickbank network but a majority of the products on their platform are not the best.
I can't say whether or not this product falls into that category. For its high price tag, anyone that buys it will be expecting a ton of value. If they do not deliver, you could be dealing with a lot of refunds.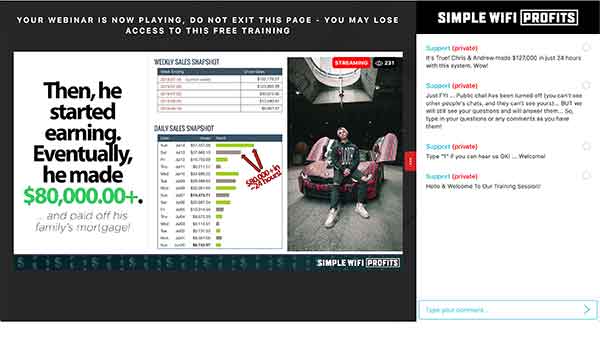 I'm definitely a fan of high-ticket affiliate programs. It is far more exciting to make a $500 commission versus a $50 commission.
I appreciate all commissions, large or small. What is important when it comes to high-ticket affiliate products is that they offer a ton of value in exchange for the price they're being sold for.
Closing Thoughts On This Simple Wifi Profits Affiliate Review
If you feel that this product resonates with you, you may have good success promoting it as an affiliate. I don't get a scam vibe the way I do with a lot of Clickbank products.
I do feel that the webinar spent 80% of the time highlighting success stories and showing tons of Clickbank commissions.
I think the biggest selling point for this product is getting access to the same products, ads, and targeted audiences the creators used to make sales.
Niche websites are what I use to generate a consistent income online. It is how I got my start as an affiliate marketer and what I continue to do today.
If you are ready to level up your affiliate earnings, consider following the same step-by-step training program I followed.
I use the same training platform to help others one-on-one with creating their own niche websites.