It is no secret that the coffee market is a billion-dollar industry. Millions of people start their day with a hot cup of coffee. It makes sense that selling coffee beans is a great way to earn income.
I did a bit of research on some random coffee bean suppliers that I found online. Many of these suppliers make it easy for anyone that has a desire to sell coffee to do so.
However, there are some things that you'll need to be aware of before you get started. I'll also explain an easy way to begin selling coffee beans online.
Tired of not making sales? Learn how I went from zero to a consistent monthly income online with affiliate marketing. Click here to learn how I did it.
Some Requirements To Be Aware of Before You Start Selling Coffee Beans
Coffee bean suppliers all vary in terms of what they require and what they offer to resellers.
One thing to know is that many coffee roasters do not allow you to resell their brand. In most cases, if you want to resell coffee beans you'll have to private label them.
Meaning, you will need to come up with your own company. You will need to have a name, logo design, and overall branding.
Creating Your Own Roast
Some coffee roasters will let you private label their own roasts. However, there are some suppliers that will require you to create your own roast.
If you do not know much about coffee roasting, the supplier should be able to help you. They can create a roast for you. Be sure to sample it before you put your stamp of approval on it.
It is important that you know what the final product will taste like before you put in all of the work of marketing and selling your private label coffee beans.
Supplying Your Own Labels and Bags
Don't be surprised if you have to supply your own labels and bags with some wholesale coffee roasters.
There are some roasters that will print your labels for a fee if you provide your logo. Others will print your labels if you provide both your artwork and the actual labels.
You may even have to supply your bags as well. Don't worry, you can find roasters that will supply both labels and bags. However, they may charge additional fees to do so.
Minimum Order Requirements
Be sure to find out if the coffee roaster you want to work with has any minimum order requirements.
The Software Needed for Selling Coffee Beans
You will need shopping cart software to begin selling coffee beans. There are many options out there that you can use.
One of the easiest eCommerce solutions that I have had some experience with is Shopify.
You can open a store on the Shopify platform in a matter of minutes. It is easy to use and they have their own payment gateway built-in.
Since you will be private labeling your beans, you will need to take photos of your packaging to place on your product pages in your store. You will also need to write your own product descriptions.
Is It Worth It To Sell Coffee Beans?
If selling coffee is your passion, then it may absolutely be worth the time and effort.
Do keep in mind that you will need some start-up cash in order to pay for the beans themselves, packaging, logo design, and shopping cart software.
If you do not have the money to invest in buying coffee beans wholesale, you may want to consider dropshipping.
There are some coffee roasters that do both wholesale sales as well as dropshipping.
Dropshipping means that they will ship your coffee beans to your customers for you. You won't have to buy your beans in bulk and resell them yourself.
You can still private label and place your products into your online store. However, when a customer places an order, you then pass along payment and shipping details to your supplier.
They will then ship the coffee beans to your customer for you using your labels and packaging.
It can save you a lot of time and money. Some coffee roasters will charge dropship fees so be sure to ask if that is the route you want to take with your business.
Promoting Your Coffee Bean Business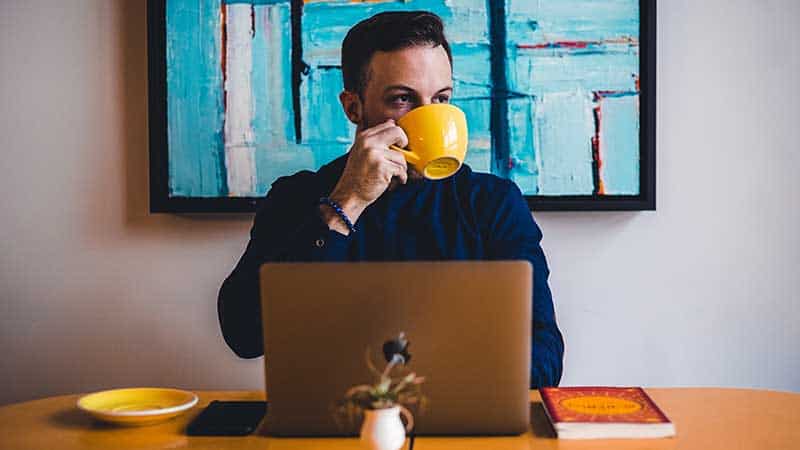 Once you have your products sorted out and your online store is up and running, you will now have to begin marketing your business.
Like any business, if you do not advertise, you will not make any sales. Getting your store in front of potential customers is an ongoing task.
You can utilize both free and paid forms of advertising. You should create social media accounts such as a Facebook page, Instagram account, Pinterest account, and Twitter account.
Instagram is a great platform for promotion. It will take time to build a following but once you do, you will have an audience that you can continue to familiarize with your brand.
Offer specials and discounts to your followers. You can even run a contest every now and then to help with building your followers.
My sister who is a home chef ran a contest to give away a cake. She received a huge response and her overall subscriber count grew.
Paid advertising can speed up your store sales. Many eCommerce store owners use Facebook ads, Instagram ads, Pinterest ads, and Google Shopping ads to promote their businesses.
My Closing Opinion About Selling Coffee Beans
It will require some start-up cash to invest in private labeling coffee beans for resale. It is a billion-dollar industry and the coffee niche is an evergreen niche for sure.
Running an eCommerce store requires a lot of time and money. Not only will you need to manage your store in terms of running sales and marketing, etc., but you will also need to manage customer service issues.
You will have to address customer complaints as well as handle refunds and returns.
Creating and operating an affiliate website that focuses on coffee is much easier in my opinion. You can literally make money while you sleep and not wake up to emails dealing with customer issues.
I create niche affiliate websites as a way to earn income online. It still requires dedication and effort but it is easier than running an eCommerce store. You can learn how I got started by clicking here.