There are more and more eco-friendly companies selling a variety of sustainable products. This gives you the opportunity to sell sustainable products online and create a new stream of income.
Selling sustainable products online without carrying any inventory is completely doable with affiliate marketing. You'll never have to buy stock, ship anything, or deal with customer service. You can promote any number of products that have affiliate programs and earn commissions on every sale that you refer.
I'll explain what kind of products you can promote as an affiliate, the best way to do it and get free targeted traffic, as well as share some awesome eco-friendly affiliate programs.
Learn how I went from zero to a steady income online with one website recommending other people's products. Click here to learn more.
Sell Sustainable Products Online without Buying Inventory
If you're new to online business, you're probably wondering how it is possible to sell sustainable products without buying and storing inventory.
It is not the dropshipping model. It is by using affiliate marketing. I have been an affiliate marketer for several years now.
Other online business models tend to have higher start-up costs and other requirements that you have to handle on a daily basis.
Buying Products Wholesale
For example, if you go the route of buying eco-friendly products wholesale, you have to hunt down wholesalers.
That may require establishing relationships with suppliers, buying hundreds of items in bulk, and spending thousands of dollars before you even know if the products will sell.
Then it is a matter of opening an online store, taking photos of all of your products, and adding them to your store.
Not to mention storing all of the products you've ordered which may be an additional cost if you rent out storage space.
You'll also be responsible for packing and shipping out your items in a timely manner and handling all customer service issues.
Dropshipping Products
If you don't want to buy wholesale or deal with shipping, you have another option which is to dropship.
Dropshipping is a lower-cost option versus buying wholesale. You don't have to invest in any inventory or deal with shipping products.
However, the larger issue usually has to do with finding reputable and reliable dropshipping suppliers.
Many suppliers are located overseas and shipping times can be really long, especially to the U.S.
You'll also have to keep in mind that you're relying on another company to ship your products.
Customer service issues can be a nightmare if you end up with lousy dropshipping suppliers.
Affiliate Marketing Model
This is my preferred method of making money online.
Affiliate marketing doesn't require buying any inventory, there is never anything to ship, and you don't have to handle any customer service.
It is the lowest-cost and lowest-risk online business model in comparison to buying wholesale or dropshipping.
Unlike wholesale and dropshipping, you can start affiliate marketing for under $50 in most cases.
All that you need is a domain name, web hosting, and WordPress installed on your hosting account.
Almost any web hosting company can take care of all three.
Bluehost is a great example as they will register your domain name for free and install WordPress automatically depending on the hosting plan that you choose.
The main benefits of affiliate marketing include:
You never need your own products
Nothing to store, pack, or ship
Work from anywhere with a WiFi connection
Tons of affiliate products that you can promote
Unlimited earning potential
Lifestyle and time freedom
Never any customer service
Easy to learn
Low maintenance
Fun to do as you can choose any niche you want
You also don't need to pay for web traffic (unless you want to) as you can generate 100% free targeted traffic using a niche website.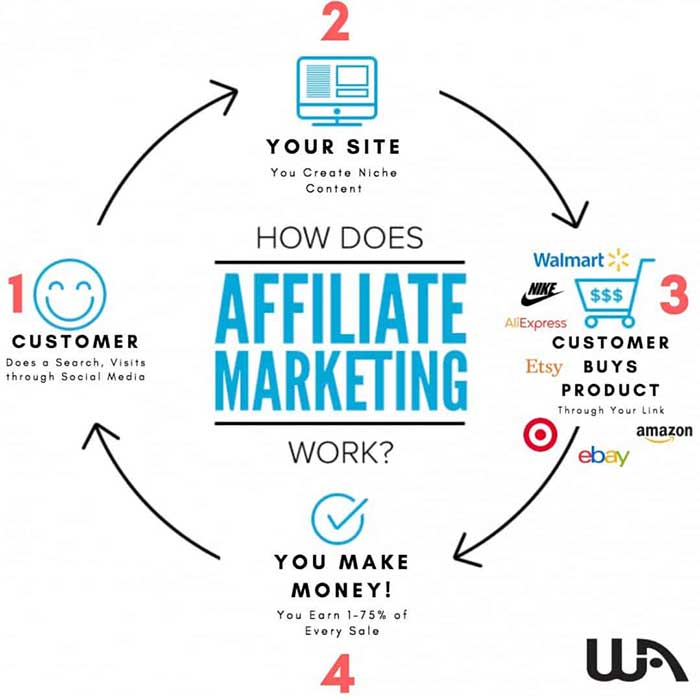 How This Online Business Model Works
My recommended method of doing affiliate marketing is by creating a niche website, also referred to as a niche blog.
The reason is that a niche website relies on content creation to generate free targeted traffic.
It is an easy way for anyone to become an affiliate marketer and more importantly, it is a long-term online business model.
The effort you put in now will pay off for years to come if you are consistent with creating content.
For example, if you want to promote sustainable products and earn affiliate commissions, you would create a niche website in the eco-friendly niche.
Then it is a matter of writing blog posts (your content) that is related to the topics people in this niche want to know more about.
The process involves doing some keyword research to learn what people in your niche search for and writing helpful content that helps answer their questions.
Learning affiliate marketing is not difficult. When I got started, I didn't want to spend time trying to figure it out on my own.
Instead, I searched for an online training program and found this one. 
Following the training there and putting what I learned into action helped me to transition out of a full-time retail job and work on my website full-time.
Example Eco-Friendly Affiliate Programs You Can Apply To
There are plenty of eco-friendly affiliate programs that you can apply to. The largest one of all is Amazon Associates.
Amazon carries a variety of eco-friendly products. However, if you prefer to get higher commission rates than what Amazon offers, you can search for other companies.
Here are three that offer awesome products and great commissions:
ReVessel
This company specializes in sustainable foodware. You can buy reusable lunch boxes as well as cookware.
These are the types of products that people in this niche are interested in. If you create an eco-friendly website, products like this would convert well when you recommend them.
Commission: 10%
Cookie Length: 30-days
Meshbottles
Reusable bottles are a popular item and Meshbottles has created a glass version with silicon mesh.
It is sustainable and worth promoting to the eco-conscious audience. Their affiliate program offers 15% commissions and a 30-day cookie length.
Commission: 15%
Cookie Length: 30-days
SimplyStraws
This company specializes in glass and stainless steel reusable straws. They also sell drinkware.
Reusable straws are another popular item that is sustainable and sell well to the eco-friendly niche.
SimplyStraws' affiliate program offers a 10% commission per sale.
Commission: 10%
Cookie Length: not disclosed
How to Make Money Selling Sustainable Products Using Affiliate Marketing
The way you earn income by promoting affiliate products is by creating content that helps your niche audience.
When you do this, it attracts the targeted visitors who are likely to benefit from the products that you recommend.
You can link to these products within your content using your affiliate links. There is no need to bombard your readers with affiliate links.
In fact, I don't recommend doing that as the search engines like Google frown upon tons of affiliate links on one page.
It makes for a poor user experience. All that you need is at least two call-to-actions on your page such as a button or link that lets the reader know about the product.
Another conversion booster is to write a review of the product you're recommending and linking back to your review page.
Your review page can have more than two affiliate links on it as you're linking to it from other pages on your website.
More than anything, put your niche audience first.
Content really is king and the way it can work best for you is by writing the most helpful and useful articles that you can.
Closing Thoughts
Affiliate marketing remains my favorite online business model. It has a low barrier to entry, it is low-cost to start, and low-risk in comparison to other online businesses.
One of the best ways to earn income by selling sustainable products is by creating a niche website.
A niche website is an excellent way to attract a niche audience and recommend affiliate products.
Learn how I went from working a full-time retail job to working on my website full-time with affiliate marketing. Click here to learn how.