Selling your own online course is an effective way to earn a steady income online. There are many eCommerce platforms to help you and SamCart has recently released a course feature to their platform.
I've used SamCart in the past to sell my own ebook and have no complaints about the platform. I do feel that they needed to step up their game compared to their competition and now they have.
If you are considering SamCart to sell your online course, I will share my experience with selling on the platform and what the new course feature offers.
What is SamCart?
I've made a few YouTube videos about SamCart and who it is for. I was surprised that many people assumed SamCart was used for affiliate marketing only.
SamCart is an eCommerce platform that anyone can use to sell both digital and physical products as well as services. You'll need to have a payment processor such as PayPal or Stripe. They also accept Google Pay and Apple Pay.
What makes SamCart different from other shopping cart platforms is that the checkout is located at the bottom of the sales page.
Unlike a multi-step sales funnel or multi-product online store that requires several clicks to get to a checkout page, SamCart's checkout is always at the bottom of the product page.
These sales pages focus on one product at a time, highlighting the product's features and benefits. Conversions are said to be much higher as the potential customer does not have to click elsewhere to buy the product.
Even if you want to sell more than one product, you can do so on this platform. Do keep in mind that you'll need a separate sales page for each of the products you want to sell.
The good news is that all of SamCart's pricing plans offer unlimited pages.
Why Sell Online Courses On SamCart?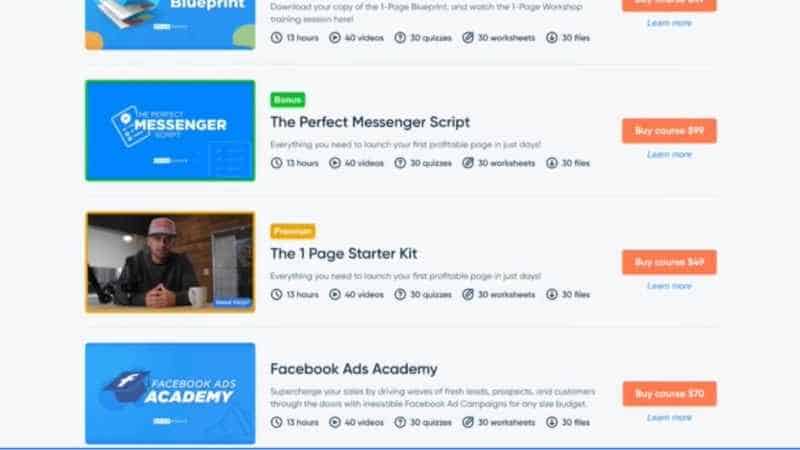 In the past, if you wanted to use SamCart as your shopping cart, you would need to host your online course on another platform and send customers to SamCart to pay for the course.
There are many platforms that you can choose from to sell your own courses. Some of the more popular ones include:
Teachable
Kajabi
Clickfunnels
Udemy
Now that SamCart has integrated online courses into their platform, you can host your courses within SamCart and continue to have the same great checkout experience.
What makes SamCart different is that you can completely customize your sales pages and your course pages.
They also offer add-ons and upsells to help boost your sales. Plus, you can continue to sell other physical, digital, or services that you want.
You also have the option to offer recurring payments, subscriptions, split payments, as well as pay-what-you-want pricing.
SamCart's One Page Funnel
One of SamCart's stand-out features is its one-page funnel and having the checkout on the same page. This feature is what attracted me to SamCart when I decided to sell my ebook on the platform.
I like the idea of the sales copy on one page and the checkout right at the bottom. It converted well and I had no issues.
Brian Moran, a SamCart co-founder, has stated on many occasions that the one-page funnel converts extremely well in comparison to a multi-step sales funnel.
This same format is what you can expect with selling your online courses. The difference now is that you can host all of your courses within SamCart as well.
SamCart Pricing
Another thing I like about SamCart is that they offer the course feature on all three of their pricing plans. Pricing starts at $49 and includes unlimited courses, unlimited students, drip content, quizzes, and more.
The pricing plans are as follows:
Launch – $49/month
Grow – $99/month
Scale – $199/month
They also offer yearly billing which can save you 20%. It's also good to find out all of SamCart's features such as having the ability to run your own affiliate program, A/B split-testing, cart abandonment, coupons & discounts, and many more.
What Kind of Course Should You Sell?
This is truly up to you. I think everyone has something that they are good at and can help others with their knowledge.
Maybe you've recently reached your goal weight and can help others reach theirs. Or maybe you have a particular skill that can help people earn extra income.
Selling courses has become a major trend and with the right marketing, there is no reason why you cannot make a good income from selling your own.
You don't need much to create an online course. If you have some way to record yourself and/or your computer screen, you are all set.
I use a webcam and screen recording software called ScreenFlow. Create an outline for your course and record your lessons.
The best thing is that since online courses are digital and you only have to create them once, you can earn income from them over and over again.
There is nothing to ship but you will need to handle any customer service issues that arise such as refunds, questions, etc.
Closing Thoughts
SamCart remains one of the eCommerce platforms that I recommend for selling digital or physical products. It is great that they've added online courses as that is a business strategy that many people are turning to.
If you are ready to start selling your own digital or physical products, take SamCart for a test drive using their 14-day free trial.