doTERRA is an essential oil company. They source, test, manufacture, and distribute therapeutic-grade essential oils. You can buy doTERRA products as a wholesale customer or as a Wellness Advocate.
When you become a wholesale customer, you pay a membership fee of $35. You can renew annually for $25. Membership enables you to save 25% on all of their products.
A Wellness Advocate receives all of the same benefits as a wholesale customer, except you also get to earn commissions on all of the sales that you make.
doTERRA is a multi-level marketing company. Therefore, Wellness Advocates also earn team volume as they move up in leadership.
Tired of not making sales? Learn how I went from zero to making a consistent income online with affiliate marketing. Click here to learn how I did it.
How To Sell doTERRA Products
Since doTERRA is a multi-level marketing (MLM) company, you will need to become an independent distributor in order to sell the products.
They refer to their distributors as Wellness Advocates. You will need to have a sponsor who is already a Wellness Advocate. Signing up will require you to buy a kit of their products.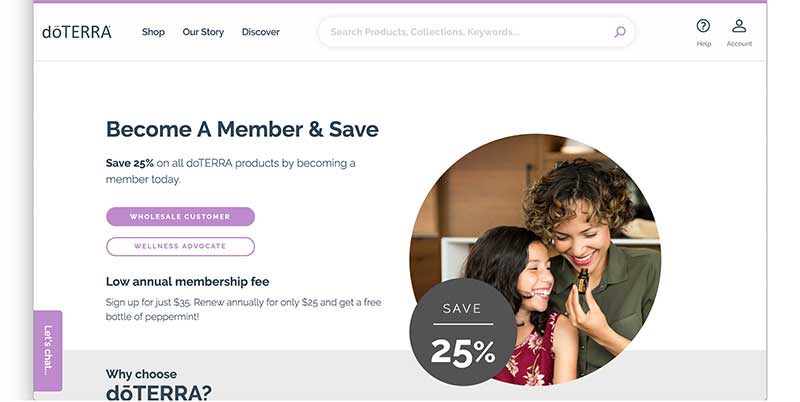 When you sign up under your sponsor, they can then earn on new enrollee volume for your first 60 days. This will apply to you as well when you sign up new Wellness Advocates.
You will also earn on team volume and as you grow your business and move up in leadership, you can earn even more.
Selling The Products
You can sell the products directly by having home parties or recommending them to people that you meet on a regular basis.
You are able to expand your reach by using social media. Share the ways that you use the products on platforms such as Instagram, Pinterest, and Facebook.
It is important not to oversell the products by claiming they do things they do not. Some distributors were making claims that the oils were helping to relieve specific health issues.
The Pros of Selling doTERRA Products
Essential oils have become quite popular. I love having and using an essential oil diffuser. Some oils can offer health benefits as well such as peppermint and rosemary essential oils.
Therefore, there is a strong market for these products. They aren't a hard sell as many people like aromatherapy and there are other uses for these oils as well.
doTERRA also has other products that they sell that are infused with these oils such as lotions and creams. Some other pluses of being a Wellness Advocate include:
Great product line to sell
Grow your business part-time
Develop your business into full-time income
Training tools and support
Multiple ways to earn
The Cons of Being a Wellness Advocate
Unfortunately, MLM companies usually come with the same cons. doTERRA offers an excellent product line but that doesn't mean you will have an easier time making sales.
What many MLM companies tend to gloss over is the fact that you are signing up to be in sales. Instead, they often say things like, "you are sharing products with others."
Sharing is not the same as selling. I can share a product with someone and they're likely to say thank you and go on about their business.
You have to sell the products and if you want to make more money, you will also have to sell the MLM opportunity as well.
That is why many people quit MLM. It is uncomfortable to sell to family and friends. When you run out of people within your circle to sell to, you then have to reach out to strangers.
The success rate for attaining a high-level rank within an MLM is low. Some people do well at it but most quit after the excitement has worn off.
doTERRA's Earnings Disclosure Summary
All MLM companies will have an earnings and disclosure summary. Below is a screen capture of doTERRA's. You can find the full summary here.

62% of doTERRA's distributors earn around $27k a year at a rank of Silver. Getting to Silver rank is not easy and making it to Platinum rank is even more difficult.
Getting in the top 1% of doTERRA is no easy feat. Achieving "Silver" rank, for instance, requires recruiting at least three other people who personally sell — or recruit people who sell — at least $3,000 in product per month.—Fool.com
This is just the nature of MLMs. It is difficult to break into the six-figures per year. It isn't impossible but many people find it challenging to reach that level.
To recap, here are some cons about being a Wellness Advocate:
Selling-you are in sales period
Recruiting others into your downline
Difficult to level up to a higher rank
Difficult to retain people on your team
My Final Opinion On If It's Worth It To Sell doTERRA
Personally, I am not a fan of MLMs. It is difficult to build a downline which makes it difficult to earn income. This especially true if you are wanting to make full-time income with it.
I am a part of a multi-level marketing company and have been for years. However, I do not actively build my downline.
Instead, I sell the products online with a niche blog. I work my business as an affiliate marketer. Affiliate marketing is a much better way to earn income online in comparison to MLMs.
Affiliate marketing is the promotion of other companies products and/or services in exchange for a commission when a sale is made.
It doesn't involve any recruiting. You don't have to ship anything and you don't have to deal with any customer service.
All that you need is your own website (blog) on any topic that you like. You create helpful content around the topic that you choose and recommend affiliate products within your content.
It still requires consistent effort but it isn't nearly as difficult as an MLM. I followed this affiliate training course to build an income-producing blog.