It is hard to decide which eCommerce platform to use when there are so many great options to choose from. However, each platform is different and each has its pros and cons. I've been selling my own digital product on SamCart for some time now and thought it was time to write my own SamCart reviews.
I'm currently selling an ebook on SamCart so at this point, I'm familiar with the platforms features and advantages over other eCommerce platforms. In this review, I will share my experience, the benefits, as well as where SamCart may be lacking.
Hopefully my selling experience will help you in your decision making process. I'll start off with what SamCart is, who the ideal user is, its features, some of its cons, and finally my closing thoughts.
READ NEXT: How to Sell an Ebook with SamCart and Make Passive Income
What is SamCart?
SamCart is an eCommerce platform for creators. You can sell digital products, physical products, subscriptions, almost anything you can think of.
What makes SamCart different than other eCommerce platforms is that they focus on selling one product at a time. Rather than a multiproduct shopping cart like Shopify, SamCart uses a one-page sales page.
The main focus is on the product and what helps to boost conversions is that the checkout form is always on the same page (either at the bottom or on the side of the page.)
The One-Page Sales Funnel
Chances are you've heard or been told that you need to have a sales funnel to sell your product. When I hear "sales funnel", I immediately think of ClickFunnels. Maybe you do as well.
It is no surprise as ClickFunnels has coined the phrase "one funnel away" and have done an excellent job of marketing their service as the go-to software for creating sales funnels.
A typical sales funnel consists of multiple pages. These pages may have a sales page, which redirects a customer to multiple upsell pages, all before they reach the final checkout page to buy the product.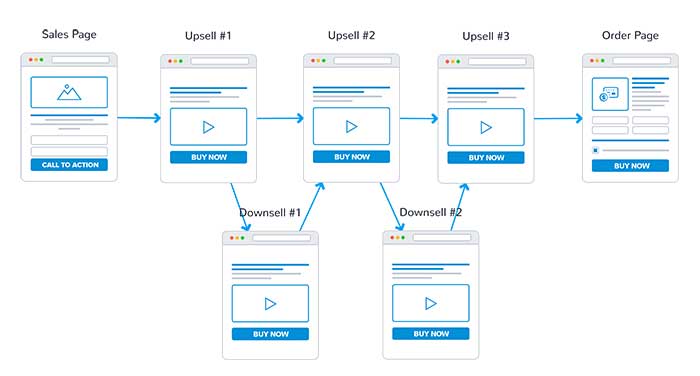 SamCart co-founders Brian Moran and Scott Moran have made a point of stating how a multistep funnel isn't necessary for selling your product.
In the video below, Scott Moran explains why a multistep funnel (particularly ClickFunnels) isn't necessary for selling more of your product:
I've used ClickFunnels in the past and I do like the platform. It is great if you want to put your customers through a multistep funnel with multiple upsells and downsells.
However, after using SamCart, I have to say that I like the simplicity of the one-page funnel. You can add order bumps to your SamCart page and upsells post checkout.
What's nice is that everything happens on the same page. Your customers don't have to add anything to cart or click through various pages before they actually buy your product.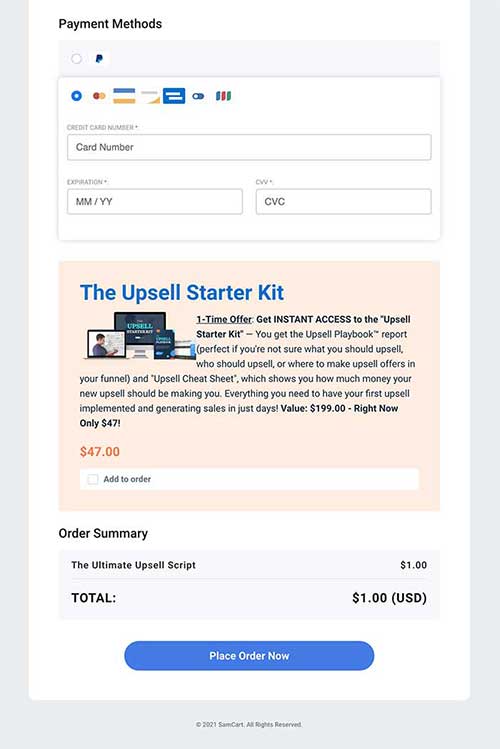 Who Can Use SamCart?
If you have a product to sell, it is highly likely that you can use SamCart. Here is a list of industries to give you an idea of who can sell on this platform:
Course creators
Agencies
Authors
Physical product sellers
Amazon/Etsy sellers
Entrepreneurs
Coaches/consultants
Side hustlers
Non-profits
I wouldn't recommend this platform if you are trying to dropship (but it is probably possible to do) or sell MLM products.
SamCart is really ideal for product creators and I think it works seamlessly for selling digital products.
Does SamCart Have Landing Pages?
Every sales page on SamCart is considered a landing page. However, if you are referring to a "squeeze page" also known as an "opt-in" page where you can collect a visitor's contact info, then no.
A squeeze page is a single page that offers a freebie (lead magnet) such as an ebook or video course in exchange for a visitor's email address.
SamCart is not designed to do this. Rather it is designed to highlight your product in order to sell more of it.
Does SamCart Integrate with Shopify?
There would be no reason for SamCart to integrate with Shopify. They are both eCommerce platforms that enable users to sell their products.
If you want to have a multiproduct store that sells a variety of products like Amazon does, then Shopify would be ideal.
SamCart is great for selling products but with one single page versus a typical shopoing cart platform such as Shopify.
You can sell multiple products on one SamCart page by implementing order bumps and upsells.
Does SamCart Host Courses?
Course creators will be happy to know that they can now sell their courses on SamCart. The courses app makess it extremely easy to set up your first course.
I went through the process without needing to read any documentation or watch any tutorials. It was a user-friendly process so if you already have a course created, it is easy to add it to SamCart.
Another plus is that the courses feature is available on all SamCart pricing plans. Each plan offers unlimited courses and unlimited students.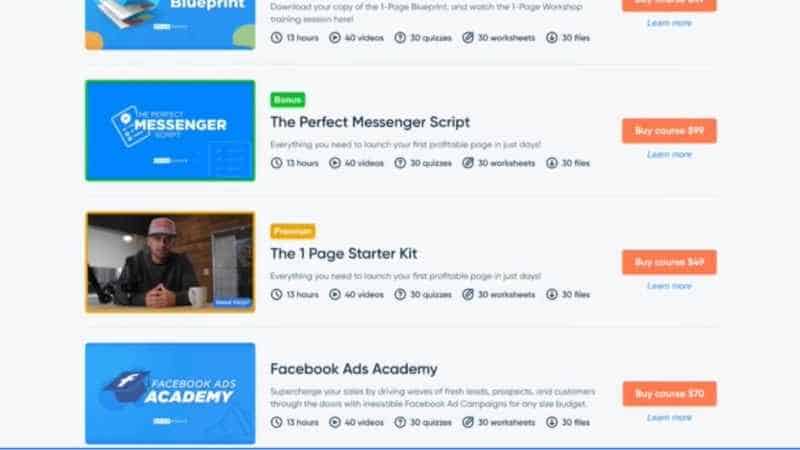 What I Like About SamCart
There are many things that I like about the platform but if I had to sum it up into one word, it would be simplicity.
I like the simplicity of the one-page sales page and having the checkout form at the bottom of the page.
Template Library and Drag-and-Drop Page Builder
The page designs are professional looking and you have the freedom to start with a blank page and create a unique design of your own.
There is no need to have any graphic design skills. Everything that you need to launch a sales page is in the drag-and-drop builder.
You simply drag an element to your page and position it where you want it. If you don't like it, you can delete it and add something else.
Pay What You Want Option
There are various pricing options that you can choose such as one-time, recurring, limited subscription, and pay-what-you-want.
The pay what you want option is great for customers as they can choose to pay what they feel your product is worth to them.
No Transaction Fees
SamCart has zero transaction fees when you make a sale. You will have transaction fees from your payment processors such as Stripe and PayPal, but SamCart doesn't charge any extra per sale.
That is helpful as some eCommerce platforms will charge you a monthly fee, plus transaction fees for every sale that you make.
Integrations
You can integrate a lot of different software with SamCart. Many of the popular ones include Stripe, PayPal, Zapier, MailChimp, AWeber, ConvertKit, Hubspot, Authorize.net, WordPress, and many more.
For example, I have integrated my email marketing service which is AWeber to my SamCart account.
I set up a rule that whenever someone buys my product, they are added to my email list. Also, when someone requests a refund, they are automatically unsubscribed from my list.
The Cons of Using SamCart
I don't have many cons that I can think of when it comes to this platform. The only one that stands out would be that you cannot create squeeze pages.
However, you can still build an email list from the customers you generate. What's also important to understand is that your email list will not be made up of freebie-seekers.
It will be made up of actual buyers and a buyer's list is more valuable than an email list full of people that wanted a free gift.
Another possible con is that if you want to add order bumps and upsells, you'll have to upgrade to at least the Grow plan which starts at $99 per month versus the Launch plan at $49 per month.
It would be nice to have those two options with the Launch plan as well.
Closing Thoughts
I think SamCart is excellent for selling a product you've created such as an ebook, online course, crafts, or if you're selling a coaching or consulting service.
The simplicity of selling using one single page is great for conversions and easy to implement versus a multistep sales funnel.
If you want to understand more in-depth about how it all works, I recommend taking SamCart for a test drive.
Take advantage of the 14-day free trial and upload a product, test the checkout process (they have a test mode) and get a feel for the platform and process.