The supplement market is a billion-dollar market and protein powders make up a large segment of this market. As an affiliate marketer, you can earn your share of this market by joining any number of protein powder affiliate programs.
These affiliate programs also offer a great alternative if you are seeking an alternative to the Amazon Associates affiliate program.
Below, I highlight some of these affiliate programs as well as share one of my recommended strategies for creating a consistent income online with affiliate marketing.
Protein Powder Affiliate Programs
Naked Nutrition
Bodybuilding.com
Vitamin Shoppe
BulkSupplements.com
A1Supplements
Jay Robb
Ground-Based Nutrition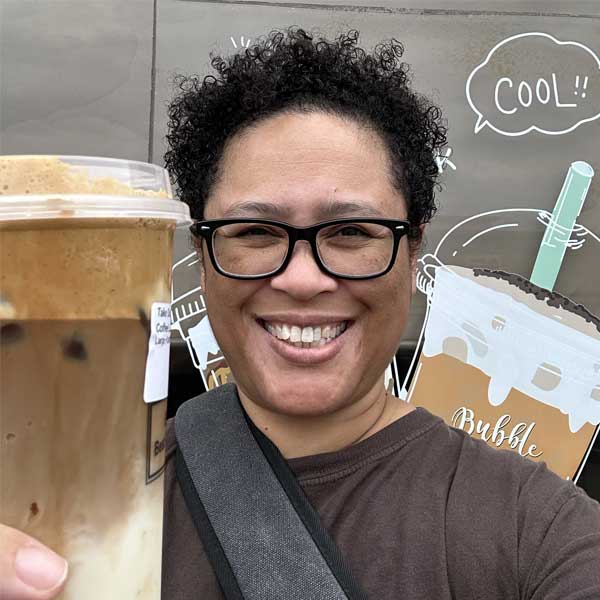 How I Make $1,000 Commissions Using a Simple 2-Page Website
Hi! I'm Eartha, the author of this blog and an affiliate marketer. The goal of my website is to share awesome affiliate programs as well as ways to help increase affiliate income.
One of the ways that I help increase my own affiliate income is by promoting high-ticket affiliate products.
These high-ticket affiliate offers result in high-ticket commissions. Imagine earning a $1,000 commission from just one affiliate sale!
That is what's possible. I know because I do just that. If you are ready to level up your affiliate income, learn how I make a steady income online by clicking below:
Click here to learn how I make $1K commissions and up using a simple 2-page website.
1. Naked Nutrition
This protein powder company creates products with only the purest ingredients. They are transparent about what they sell so that customers know exactly what is going into their bodies.
Naked Nutrition produces protein powders such as grass-fed whey protein, pea protein powder, organic brown rice protein powder, and more.
The affiliate program is managed by ShareASale and offers an 8% commission rate with a 30-day cookie length.
Commission: 8%
Cookie Length: 30 days
2. Bodybuilding.com
You are probably already familiar with the Bodybuilding.com website. They have been around for quite some time and carry a large number of whey protein and other supplements.
Their website receives more than 1.1 million visitors on a daily basis. There are two ways to make money with their affiliate program. You can be a store affiliate or a BodyFit subscription affiliate.
The affiliate program is managed by Impact and offers a 3%-9% commission on store sales and $9 per BodyFit subscription.
Commission: 3%-9%, $9 for BodyFit
Cookie Length: 7 days
3. Vitamin Shoppe
There are many Vitamin Shoppe store locations around my city and across the country. They carry a large variety of nutritional supplements to include a large selection of protein powders.
They carry whey protein, plant-based protein, casein protein, and more. The affiliate program is managed by CJ Affiliate and offers up to 10% commissions.
Commission: up to 10%
Cookie Length: not disclosed
4. BulkSupplements.com
This company is located in Henderson, Nevada and supplies over 400 pure nutritional supplement ingredients to consumers and manufacturers. All of their products are available from grams to metric tons.
All of their supplements are tested in their in-house laboratory. Their affiliate program is managed by ShareASale and offers a 15% commission rate and 90-day cookie length. They also have an average order value of $120.
Commission: 15%
Cookie Length: 90 days
5. A1Supplements
A1Supplements.com is an online supplement company specializing in sports nutrition and lifestyle supplements. They carry a number of nutritional supplements, plus a wide variety of protein powders.
They carry whey, egg, plant, casein, rice, and soy protein powders as well as weight gainers. Their affiliate program is managed by both CJ Affiliate and ShareASale. They offer a 10% commission and 30-day cookie length.
Commission: 10%
Cookie Length: 30 days
6. Jay Robb
I've used Jay Robb protein powders in the past and I would highly recommend them. Jay Robb has been interested in health, fitness, and nutrition since the age of 7.
Jay has spend the past 40 years of his life writing diet and health books, teaching sports nutrition, conducting seminars, and other activities in the health & fitness niche.
He created his protein powders in 1989 and the Jay Robb Protein line is the number one premium brand of protein in America. The affiliate program appears to be managed in-house and offers an 8% commission rate.
Commission: 8%
Cookie Length: not disclosed
7. Ground-Based Nutrition
The Ground-Based Nutrition company was founded by Charles C. Weller, a practicing attorney who has been involved in the fitness industry for over twenty years.
Ground-Based Nutrition products are the world's first Plant-Based Ketogenic product line. The typical keto diet is very meat-based which can contribute to many health issues.
However, being ketogenic does not mean you have to eat animal products. This is a great product line to promote if you want to pursue the keto niche.
The affiliate program is managed through Refersion and offers up to 20% commissions with a 30-day cookie length.
Commission: up to 20% (starts at 10%)
Cookie Length: 30 days
How to Best Promote Protein Powders
There are many ways to go about promoting any type of affiliate product. However, my recommendation is to create a niche website (blog).
Niche websites are an excellent way to promote affiliate products. That is because the content (blog posts) that you create attract targeted web visitors who are highly interested in the products you recommend.
Until I created my first successful niche website, I struggled to make affiliate commissions. Initially, I had no clue how to make money with a blog.
I purposely searched for an online training program and found this one. Implementing what I learned from that training program made all of the difference for me.
Choosing Your Niche
The great thing about protein powder affiliate programs is that you can enter into any number of subniches within the overall health & fitness niche.
You don't necessarily have to dedicated your niche website to nutritional supplement reviews or nutrition topics.
If you have an interest in kettlebell fitness, you can create a niche website about that and still recommend various protein powders.
Or maybe you want to create a niche website about your experience with the keto diet but want to approach it from a plant-based perspective.
There are so many health & fitness subniches that you can consider and still earn commissions from promoting protein powder affiliate products.
Earning Affiliate Commissions
Signing up to the various protein powder affiliate programs offers a great way to earn affiliate commissions. Another plus is that there are a variety of affiliate programs in the health & fitness niche that you can also join.
Some of these affiliate programs include:
Whatever your subniche is, some if not all of these types of affiliate programs can fit in well. Before you join an affiliate network, it is important to have your niche website up and running with at least 5 to 10 blog posts already posted.
Doing so will significantly increase your chances of being approved by most affiliate programs. If for some reason your application is not approved, you can always reapply later on after your website is more established.
Closing Thoughts On Protein Powder Affiliate Programs
I think the protein powder niche will always be a lucrative niche to be in as nutritional supplements continue to be in high demand.
Many of these programs offer great commissions and the companies have been in business for many years.
To give you an example of what is possible in affiliate marketing, here is a screen capture of a commission I received from just one affiliate program: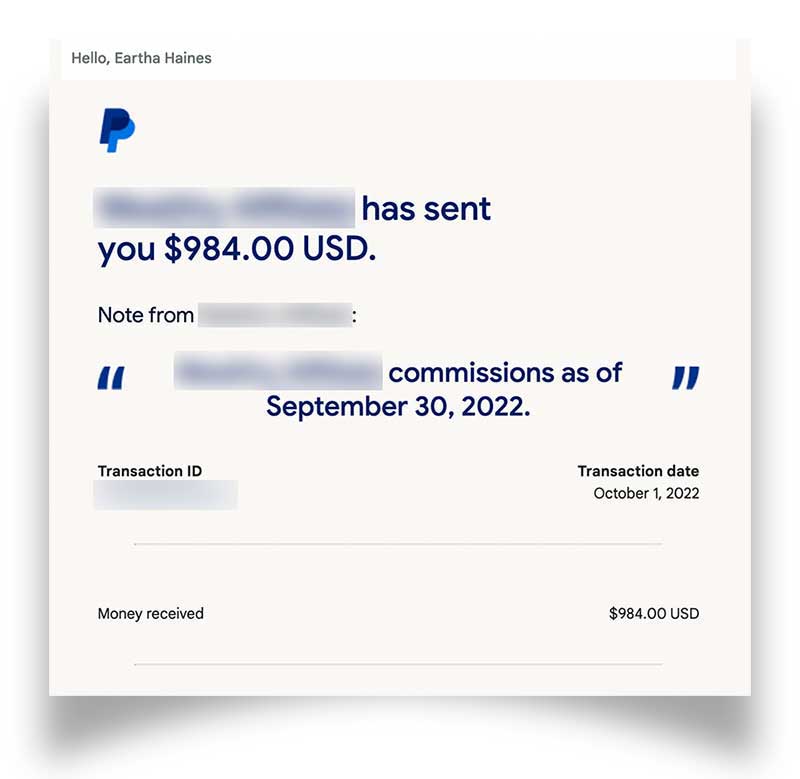 My number one recommendation for creating a consistent income with these affiliate programs is to create a niche website. Niche websites work extremely well for promoting affiliate products.
If you are ready to level up your affiliate earnings, consider following the same step-by-step training program I followed when I got started.