Are you doing your research to figure out whether Paying Social Media Jobs is worth buying?
First, let me congratulate you for researching before buying. Hopefully, after reading this Paying Social Media Jobs review, you will have a better understanding of it.
Why should you read this post? Let me introduce myself. My name is Eartha and I'm a full-time affiliate marketer. I have been in this industry long enough to sniff out whether a product is a scam or if it's legit.
I've done some research on this particular service and I'll share my thoughts below. Be sure to read until the end as I will explain exactly what I do WITHOUT having to work for anyone else.
NEXT: Why This Online Business Is Better Than Social Media Gigs
What is Paying Social Media Jobs?
PayingSocialMediaJobs.com is a website that offers listings of social media related jobs that you can apply to.
When you land on the homepage, you will be presented with a short quiz that asks about your preferences when it comes to these types of jobs.
After you've completed the quiz, you'll be presented with a page with a job example for any of the popular social media platforms.
My page was an example of earning $175 per day replying to Facebook comments.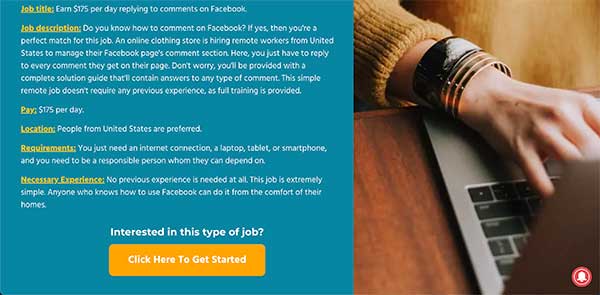 I find this type of job for $175 per day a bit far-fetched. However, the example is there to entice you to click the get started button below it which is what I did.
When you click the button, you'll be taken to a form to input your first name and email address to "create your account."
No account was actually created as far as I can tell. I didn't have to create a password. I didn't receive an email with a login and password.
All that happened was that I was added to their email list so they can keep marketing these so-called social media jobs my way.
After submitting my info I was redirected to a sales page that talks more about how there is high demand for social media workers.
It talks about how there is an abundance of companies that need to hire social media workers.
The sales page then goes on to say that there is a small fee for training and access to tools on the platform.
Since this product is sold through Clickbank there is a 60-day money-back guarantee. If you do not like it for any reason, you can request a refund within 60-days.
Who is Paying Social Media Jobs For?
This website is geared toward anyone who wants to work from home, particularly doing work on social media.
Why this is such a popular niche is that it appeals to a younger audience as well as those who are stay-at-home parents or cannot work outside of the home.
According to the Paying Social Media Jobs affiliate program page, the primary demographic is females, ages 35 and up.
I would consider that demographic in the stay-at-home mom category. Likely moms that want to bring in extra income without leaving the home.
When you consider the types of jobs the website says are available, it seems like an easy way to make money.
How difficult is it to reply to comments and post photos? You can see why it is a trending niche and why a product like this sells so well.
How Much Does PayingSocialMediaJobs.com Cost?
The price of access to the platform is only $27. However, there are multiple upsells. There is an upsell for four other products. Here is what is offered:
Upgrade Writing Jobs and App Review – $57
Upgrade Writing Jobs – $37
Upgrade App Reviews – $37
Social Media Arbitrage – $37
You likely won't need any of those upsells. However, it's good to be aware of them so that you do not pay more than necessary if you still want to pursue buying the product.
Who is the Creator of PayingSocialMediaJobs?
The creator of this service is a single mom by the name of Annie Jones. Whether or not this is a real person, I do not know.
Other websites I've come across say that it is a fake person. It wouldn't surprise me as many products on Clickbank use "pen names" for their products.
I've come across many popular selling products on Clickbank to find out that a product creator is actually a well-known person in the internet marketing world.
This usually happens because the product creator may be well-known in a specific niche and doesn't want to associate their name with an unrelated niche.
Is Paying Social Media Jobs a Scam?
I wouldn't call it an outright scam. What I do question is whether this service is particularly helpful?
I'm sure anyone can find these types of jobs with a bit more effort. If you live in a large enough city, you can search Craigslist under the Marketing/PR jobs section and find similar jobs.
Is it convenient to have these jobs listed in one place? Sure. Chances are if you do a bit of footwork on your own, you can find legitimate jobs that will let you work remotely.
There are also freelance websites like Upwork and you can list your own job posting on a website like Fiverr.
Where there is a will there is a way!
Is Paying Social Media Jobs Worth It?
At this point in my review, I can't say that it is worth it to pay for the service. Even with the training and software that is offered, I don't doubt that each particular job would have its own guidelines anyway.
Yet, it is a matter of convenience and some people would rather pay for convenience which I understand.
The price point is low enough not to feel too bad if you buy it and stick with it past the 60-day refund mark.
In my opinion, really ask yourself if doing these types of jobs is serious enough for you to invest.
I would also try finding these jobs on my own first to get an idea of what is out there and what is required.
You never know what you may stumble upon without having had to pay for another service for opportunities.
Is There a Refund Policy?
As mentioned above, there is a 60-day money-back guarantee. The one plus about this product being sold on Clickbank is that it is Clickbank's policy that all products have a 60-day money-back guarantee.
I think it really protects the buyer. I've bought products on Clickbank in the past only to refund because they were not worth the money.
Clickbank does a good job of refunding right away. Unfortunately, there are a lot of questionable products sold on Clickbank.
It is only right to offer an awesome guarantee like that in order to keep the customers happy and coming back.
What Do You Get with Paying Social Media Jobs?
The only thing that I found offered on the sales page was training and access to tools. There were specifics in terms of what you will learn in the training nor what the tools are exactly.
I did a bit more research and found that the training covers the basics of using social media as well as having training on negotiating pay, etc.
I'm sure this training is helpful but definitely not required to land these types of jobs. It seems like an added bonus for the price paid to access the job listings.
Paying Social Media Jobs Overview
I think this website will appeal to a lot of people. Some will get great benefits from it and others may think it's a waste of time.
It's all about perspective, I guess. As I said, it's $27 for access (plus upsells) and there is a money-back guarantee.
You can roll the dice and take your chances that it is a good fit for you. Otherwise, save your money and find these jobs on other reputable freelance-related websites.
I hope this review was helpful!
How I Make Money Online Without Working for Anyone Else
Do you wonder if there is an alternative way to make money online without the hassle of working for someone else?
The good news is that there is and I'm going to share it with you right now. It is called affiliate marketing.
Affiliate marketing is the promotion of another company's products in exchange for a commission when a sale is made.
We do affiliate marketing all of the time in our daily life. The only difference is we're not paid for it.
Think about the last time someone asked you for a recommendation. "Where's a good restaurant around here?" or "Can you recommend a good dentist?"
I bet you recommend all types of businesses. These businesses gain new customers from your referral but you aren't compensated for it.
Affiliate marketing lets you recommend products but get paid for your referral. Here's how it works:
Choose a niche (cooking, personal finance, law of attraction, you name it!)
Build a website (a simple WordPress website will do)
Attract visitors (write blog posts to get free traffic)
Earn revenue (promote affiliate products and makes sales!)
Here is a screenshot of an affiliate commission payment I received from one company: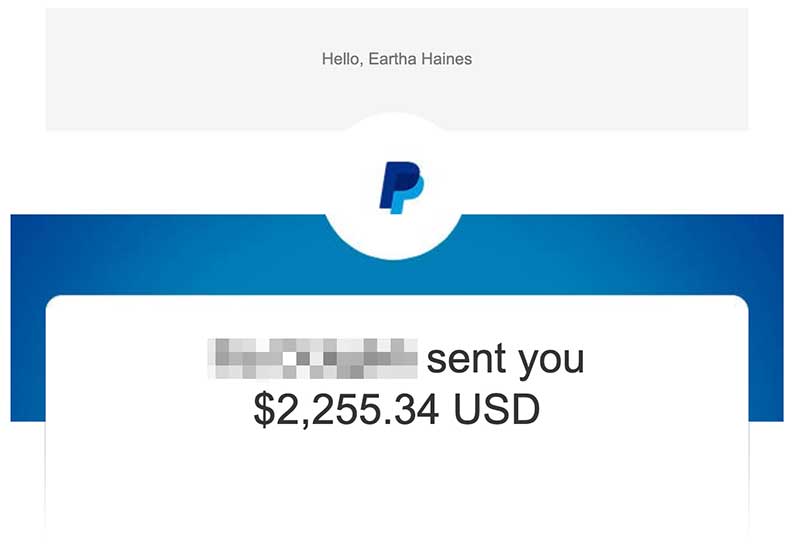 I never have to buy products. There is never anything to pack or ship. Best of all, there is no customer service and no employer to answer to.
My #1 recommendation is to follow the same training program I did when I got started.
By following the lessons and applying what I learned to my own website, I was able to quit a lousy retail job to work on my website full-time.
With affiliate marketing, the sky is the limit! It is my all-time favorite way to make an income online.
Learn how I went from zero to making a steady income online with one website. Click here to learn how.