The diet and weight loss niche is one of the most popular niches on the Clickbank platform. As of this writing, the Okinawa Flat Belly Tonic is trending highly within this niche.
In this Okinawa Flat Belly Tonic affiliate review, I will highlight what the product is and what the affiliate program offers.
I will also cover some of the various ways that you can promote this product in order to earn consistent commissions.
Sell more Clickbank products using a simple 2-page quiz. Click here to learn how.
What is the Okinawa Flat Belly Tonic?
Commission: 75%
Average Commission: $126
Average Order Value: $210
Cookie Length: 60 days
Unlike many of the diet and weight loss products on Clickbank, this product is not a digital product. It is a weight loss supplement.
The supplement is based on a Japanese tonic and is used to burn fat. The demographic for this product is men and women over the age of 30.
As an affiliate, you can begin promoting this product immediately. This product is sold as 1 bottle, 3 bottles, and 6 bottle packages.
One bottle is priced at $67. At a 75% commission, you can earn around $50 per sale. The average order value is $126.
What is Included with the Okinawa Flat Belly Tonic Affiliate Program?
Some of the products on Clickbank do a good job of providing plenty of assets for their affiliates. This particular product offers some assets that may be very helpful.
They have various VSL (video sales letter) pages that have no exit popup, no autoplay, and both no exit popup and autoplay.
You can also download email swipes to use and modify for your own email list. If you plan on running Facebook ads, they also have a Facebook Ad resource section.
In this section, they provide a checklist of what you can do to remain compliant with their terms. They also recommend using the Commission Hero training course to learn how to be successful using Facebook ads.
How to Promote the Okinawa Flat Belly Tonic
Running Facebook ads as part of your affiliate campaign is a popular option for generating traffic and sales.
Often times, for a weight loss product like this, it is recommended to create a sales funnel that consists of a quiz.
As people answer questions on the quiz, they are led to an opt-in page where they can submit their email address.
After someone submits their contact information, they can be redirected to the product's presell page or sales page.
A percentage of these email list subscribers will buy the product. Those that do not buy immediately will be on your email list.
That means you can continue to market to them anytime you want. You can schedule your pre-written email messages within an autoresponder.
Within your emails, you can link to the presell page or sales page.
This is why sales funnels are so effective for selling Clickbank products. Once you have set up your sales funnel, it can run on autopilot. All that you have to focus on is driving traffic to your funnel.
The easiest way to create such a quiz and opt-in page are by using software such as Clickfunnels or Thrive Architect for WordPress.
You would then drive traffic to your sales funnel using Facebook ads or by using free traffic sources such as your social media accounts.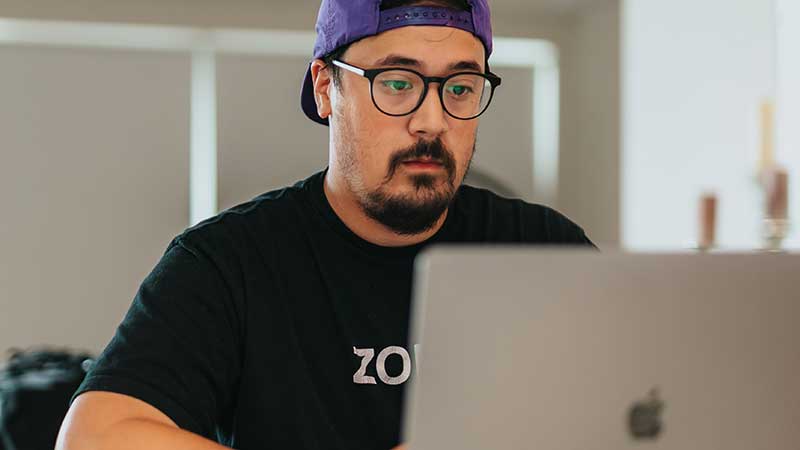 Alternative Method Without Using Paid Traffic
I know as a beginner affiliate marketer, you may not have the budget to pay for sales funnel software or paid ads.
The good news is that you can still make affiliate commissions without relying on paid advertising. This is accomplished by creating a niche blog.
I got my start as an affiliate marketer by creating a niche blog. Niche blogs are excellent for earning a consistent income online by promoting affiliate products.
Initially, I did not know how to make money with a blog. At the time, I was recently laid off from my job so I didn't want to waste time trying to learn affiliate marketing on my own.
I searched for an online training program and found this one. Following that training made a big difference for me.
Implementing what I learned resulted in my being able to transition out of a full-time retail job to working full-time on my blog.
There are only three things you will need for your blog:
your own domain name
a web hosting account
installing WordPress with one-click installation
You can get everything that you need from almost any web hosting provider. I recommend either Siteground or WPX.
Both of those hosting providers have fast hosting and excellent customer support. You can also install WordPress easily with one-click software installation that is offered in your hosting dashboard.
Choosing a Niche for Your Blog
Since the Okinawa Flat Belly Tonic is a weight loss product, you'll want to choose a niche that falls under the overall broader weight loss niche.
You can target both men and women that want to burn fat. Therefore you can create a niche blog that focuses on subniches such as:
fat burning exercises
cooking easy healthy meals
bodyweight exercises
strength training
low-carb diets
Within your blog content, you can recommend the Okinawa Flat Belly Tonic using your affiliate link. Creating a review page can also boost your overall affiliate sales.
The content that you create for your niche blog is what gets indexed and ranked by the search engines like Google and Bing.
It is important to create content on a regular basis. That is the power of a niche blog. Over time, the content that you create is what brings your free targeted web traffic.
Is the Okinawa Flat Belly Tonic Worth Promoting?
In terms of commissions, most affiliate marketers have the potential of earning hundreds of dollars per day. The average commission for this product is $126.
If you can make two sales per day, your estimated daily commission is around $252!
That is dependent on how well you set up your sales funnel and what kind and how much traffic you can generate.
In most cases, experienced affiliate marketers will run paid advertising to drive traffic. Paid traffic is faster but it can also be expensive.
It is important to learn how to use specific paid ad platforms such as Facebook ads. That is why the affiliate program for this product recommends Commission Hero to learn how to run Facebook ads.
Again, you do not have to use paid advertising to make affiliate commissions. A niche blog can work extremely well.
It is a bit slower in comparison to paid ads but your traffic will be free and it can last for the long-term.
Closing Thoughts On the Okinawa Flat Belly Tonic Affiliate Program
Like any affiliate product that you promote, it helps to have experience with the product yourself so that you can know the ins-and-outs about it.
The more that you know, the better your affiliate campaigns will be. My recommended method of promoting this affiliate product or any affiliate product for that matter, is to create a niche blog.
Niche blogs are an excellent way to earn consistent income online with affiliate marketing. It is how I got my start and what I continue to do today.
If you are ready to level up your affiliate earnings, consider following the same step-by-step training program I followed when I got started.
I use this training platform today to help others one-on-one with creating their own successful niche websites.
ALTERNATIVE: The SIMPLE 3-Step Formula Responsible For A $156,000+ Profit In 30 Days