The metaphysical niche is quite large which makes metaphysical affiliate programs popular. Need proof? Take a look at some of the metaphysical channels on YouTube.
You can discover them by typing in keywords such as tarot readings, the law of attraction, reiki healing, etc.
Many of these metaphysical channels have tens of thousands of subscribers. Therefore, you can rest assured that diving into the metaphysical niche as an affiliate marketer will earn income.
Below are seven metaphysical affiliate programs that you can promote as an affiliate. I'll even share my number one method of earning affiliate commissions.
Tired of not making sales? Learn how an odd 2-page website makes up to $14K per day. Click here to learn more.
Metaphysical Affiliate Programs
Sage Goddess
Sounds True
Live and Dare
Hay House
Manifestation Miracle
The Mindfulness Summit
Dharma Crafts
1. Sage Goddess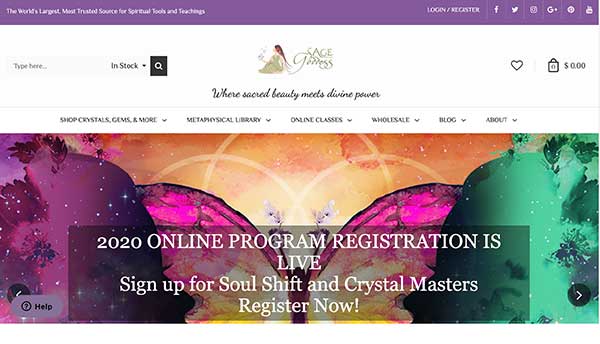 Sage Goddess was founded by Dr. Athena Perrakis in 2011. The company has both an online store and a retail space.
They carry products such as stones, gems, crystals, tarot cards, sage, home decor, and more. There are also online classes available to learn tarot and spiritual leadership.
The affiliate program appears to be managed in-house. They pay commissions via PayPal. The commission rate is 7% on products and new membership sales as well as 3% on sales made by advisors beneath you.
The only downside, in my opinion, is the short cookie time of 24 hours. Otherwise, Sage Goddess does have a nice variety of products and is a well-established metaphysical store.
2. Sounds True
Sounds True was founded in 1985 by Tami Simon. The purpose of Sounds True is to disseminate spiritual wisdom.
The company has created the largest living library of transformational teaching. Products cover topics such as spiritual journey, health & healing, relationships, and meditation.
These courses are available in audio and video format. They also carry books as well.
The affiliate program offers a 35% commission and 10% on your affiliate referrals. There is a nice cookie length of 90 days.
This is another well-established company with excellent products from well-known spiritual teachers.
3. Live and Dare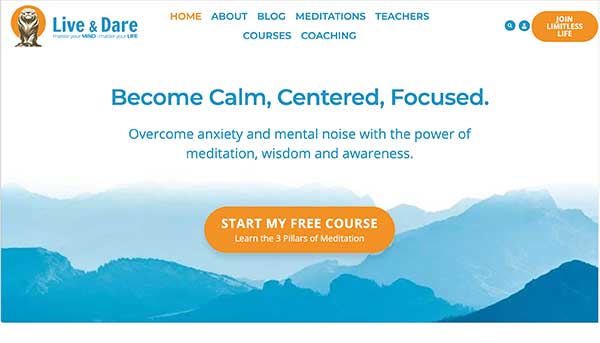 Live and Dare is the fifth most popular meditation blog in the world. It was founded by Giovanni Dienstmann, an international author, meditation teacher, speaker, and coach.
The products sold include meditation courses and personal coaching by Giovanni. The affiliate program is managed by Kartra.
There is a 40% commission on all courses and 10% for coaching. Commissions payments are made 45 days after purchase with no minimum threshold.
Payments are made via PayPal in the first week of each month after the 30-day money-back warranty has ended.
Meditation is a great sub-niche to target within the metaphysical niche. Live and Dare is a popular website that has high conversions and low refunds.
4. Hay House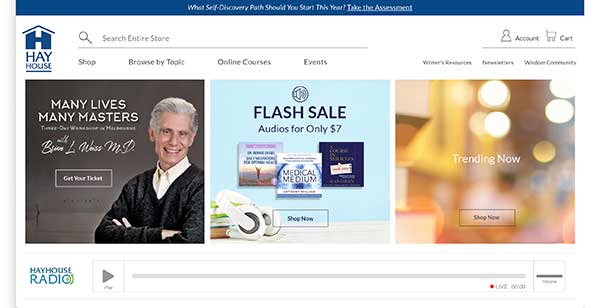 Hay House was founded in 1984 by Louise Hay as a way to publish her first two books Heal Your Body and You Can Heal Your Life.
Hay House now publishes books, CDs, DVDs, calendars, and card decks. The company publishes books by well-known metaphysical/spiritual teachers such as Wayne Dyer, Jerry & Esther Hicks, Iyanla Vanzant, Marianne Williamson, and more.
The affiliate program is managed by RevShare and offers up to 50% commissions with a 30-day cookie length.
You really can't go wrong promoting any of the products by Hay House. They have been in business for decades and the company's founder, Louise Hay, is well-known, well-loved, and is a legend in the metaphysical space.
5. Manifestation Miracle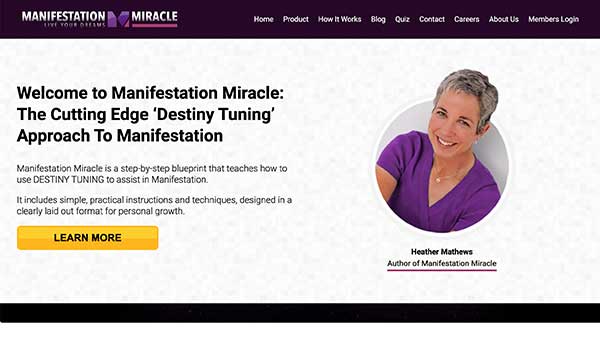 Manifestation Miracle is a Law of Attraction based training program whose author is named Heather Mathews.
The program is sold in both digital and physical packages. It is one of the most popular digital programs on the Clickbank affiliate platform.
The affiliate program offers one of the highest commissions in comparison to others at 75% on front-end and back-end sales. A 35% recurring commission is also a great incentive for affiliates.
If you want to be in the Law of Attraction niche, this could be a high-converting product for you.
Clickbank pays commissions via check or direct deposit.
6. The Mindfulness Summit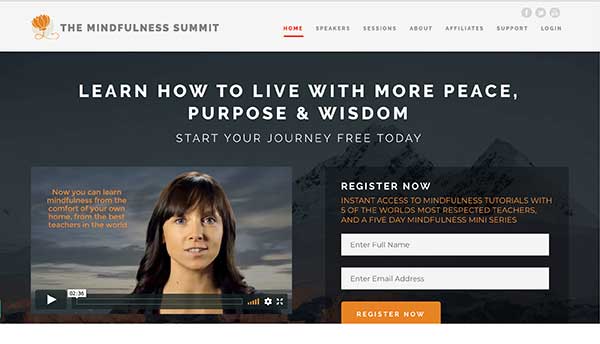 The Mindfulness Summit was founded by Melli O'Brien and Matt Dickenson. The summit is a not-for-profit project with a mission to make mindfulness mainstream.
100% of profits generated are donated to mindfulness charities. Users can register for free and gain access to a mindfulness mini-series and tutorials.
There isn't much information on the affiliate page in terms of how commissions are paid out, thresholds, or money-back guarantees periods.
It appears that they manage their affiliate program in-house. They offer a 50% commission on all paid summit access passes.
7. Dharma Crafts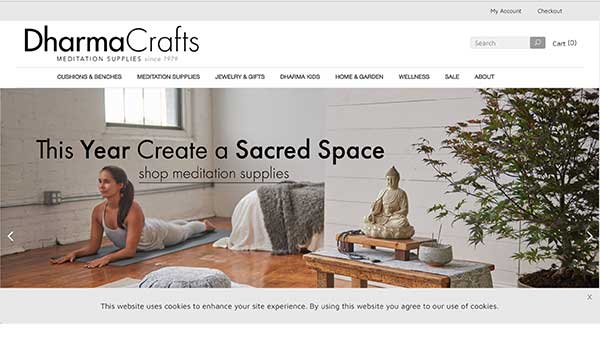 Dharma Crafts was founded by Dyan Eagles in 1979. The company sells meditation supplies such as cushions & benches, jewelry & gifts, home decor, yoga mats, incense, and more.
The affiliate program is managed by ShareASale and offers a 9% commission and 30-day cookie length.
There is a wide variety of products offered that focus on meditation. If you choose the meditation niche, this is a great company to promote.
How to Earn Commissions from Metaphysical Affiliate Programs
If you are fairly new to affiliate marketing or have been doing it for a little while without much success, I recommend creating a niche website (blog).
It is how I got my start in affiliate marketing and is what I continue to do now to earn consistent affiliate commissions.
Niche websites are low-cost to start and easy to manage. It does take some time for your website to grow but it is well worth it when you are making consistent commissions.
Choosing a Niche within the Metaphysical Niche
The first thing needed for creating a niche website is to choose the niche that you want to be in. There are many sub-niches within the metaphysical niche that you can target.
For example, the Law of Attraction niche is extremely popular and has plenty of room to attract targeted visitors.
You can also target sub-niches to include:
Creating Your Website
After you've chosen the niche that you want to be in, it is a matter of getting your website up. I recommend getting a self-hosted WordPress website.
This requires registering your own domain name, getting web hosting, and having WordPress installed on your web hosting account.
You can get all three at a reputable web hosting provider such as WPX Hosting.
Growing Your Website
When your WordPress website is up, it is a matter of creating helpful content for your niche. It is this content that is indexed in the search engines and ranked for visitors to find.
Content creation is often overwhelming for those new to niche websites. Don't worry if it sounds easier said than done.
I felt the same way starting out which is why I searched for an online affiliate marketing training program.
I found this one and the step-by-step training is what helped me to accomplish what I have with my own online business.
My Closing Thoughts On Metaphysical Affiliate Programs
The metaphysical niche is a widely-popular evergreen niche. There are many sub-niches you can target to promote the affiliate programs above.
Niche websites are what I use to earn a consistent income online through affiliate marketing.
It is one of the best ways to earn affiliate commissions. I make commissions while I am sleeping, out grocery shopping, or relaxing with my loved ones.
Beginners may find it a bit challenging to get started. I did as well so I followed a step-by-step training program.
That training program made all of the difference for me and I use it today to help others one-on-one with creating and growing their own niche websites.
Ready to make money with a blog? Learn how I went from zero to consistent affiliate commissions every month. Click here to learn how I did it.