There are plenty of commissions to be made in the men's niche. You can get started with any of these men's affiliate programs covered below. You'll find products for grooming to drinking glasses.
Some of these products are quite unique and can make for easy sales when targeting the right audience, in this case, men.
NEXT: How I Went From Zero to Working On My Website Full-Time
Men's Affiliate Programs
The BroBasket
Grooming Lounge
Real Bearded Men
Cigar of the Month Club
Underwear for Men
BEAST
Ties.com
Stuck in Glass
1. The BroBasket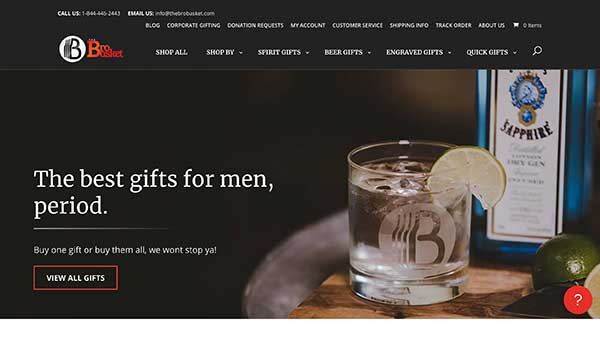 The BroBasket is a company that creates custom gift baskets for men based on their favorite beer, wine, or spirits. You can find baskets for any occasion such as birthdays, graduations, going away gifts, care packages, weddings, bachelor party, housewarming, and more.
The affiliate program is managed by ShareASale and offers a 12% commission. They also offer ongoing commissions for up to 120 days from any orders that your referrals buy up to then.
Affiliate commissions are paid via PayPal.
Why The BroBasket Worth Promoting
Gift baskets for men are a unique gift. It solves a common problem for anyone trying to figure out what to get for a guy on a special occasion.
You can target this to pretty much anyone as almost everyone has male family members and friends they buy gifts for. Gift basket prices range from under $50 to over $200.
With enough web traffic, it is possible to make a nice steady income from this affiliate program.
2. Grooming Lounge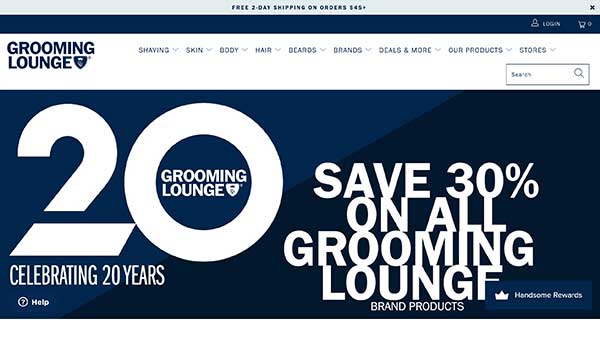 Grooming Lounge is an online shop that curates the very best in men's grooming products as well as having their own product line. They also have barbershops and men's spa locations in D.C. and Northern Virginia.
The affiliate program is managed by Commission Junction and offers a .5% commission with a 10-day cookie length.
Why Grooming Lounge Worth Promoting
They offer a very large selection of men's grooming products and tools. Men's grooming and hygiene is a growing market as men are seeking products for skincare, shaving, bathing, and more.
Grooming Lounge has products for every concern. Targeting this niche can mean easy conversions once they land on the Grooming Lounge website via your affiliate link.
A large number of products offered can lead to larger sales as most people are likely to order more than one product.
3. Real Bearded Men
Real Bearded Men specializes in beard grooming carrying products such as beard oil, balm, wash, mustache wax, combs, and other accessories.
The affiliate program is managed by Affiliatly. They offer a 15% commission with a 30-day cookie length. They pay commissions monthly via PayPal or gift cards with a $50 minimum.
Why Real Bearded Men is Worth Promoting
Real Bearded Men was founded by a group of friends that are true beard enthusiasts. They have created all-natural beard grooming products as well as accessories for beard grooming.
Growing a beard was extremely trendy at one point. However, there is still a large segment of men that grow beards and need products to maintain them. That being said, Real Bearded Men offers the products that you can market to this segment.
4. Cigar of the Month Club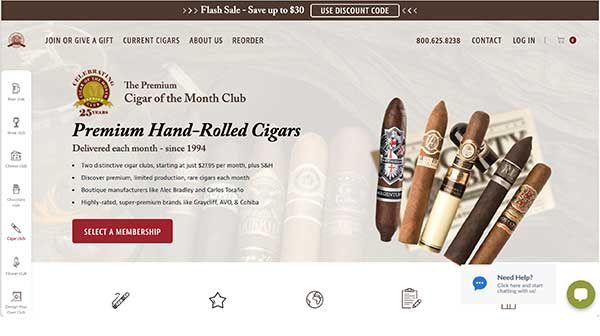 The Cigar of the Month Club is part of the MonthlyClubs.com company. They offer two types of memberships. One is The Original Premium Cigar Club that offers 5 hand-rolled cigars per month.
The second is The Rare Cigar Club which offers 4 hand-rolled, rare, small-batch cigars each month. The affiliate program is managed by CJ Affiliate. The commission is up to $12 for every membership with a 90-day cookie.
Why Cigar of the Month Club is Worth Promoting
A cigar subscription box is a great gift for someone that is an up and coming cigar enthusiast. A monthly subscription is a gift that keeps on giving.
Although the commission isn't super high, at $12 per new membership, it can really add up by targeting the right niche. Target cigar lovers and conversions are likely to be easy.
5. Underwear for Men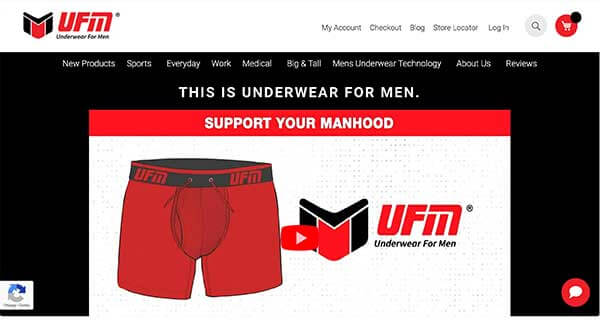 UFM (Underwear for Men) is a company that creates specialty underwear for men. The underwear is designed to isolate and support. There is underwear for sports, everyday, work, medical, and big & tall.
The affiliate program appears to be managed in-house. They offer a 15% commission with a $50 minimum payout.
What is great is that they have a 90-day return policy but if your referral returns their order within 90-days, you still earn commission on the initial and repeat orders.
Why Underwear for Men is Worth Promoting
Men's underwear is an evergreen product that is purchased on a regular basis by millions of people. Therefore, placing specialty underwear in front of this niche should make for plenty of sales.
Underwear for Men solves an issue for men's underwear which is providing isolation and support. Highlight these key features and conversions could be quite high.
6. BEAST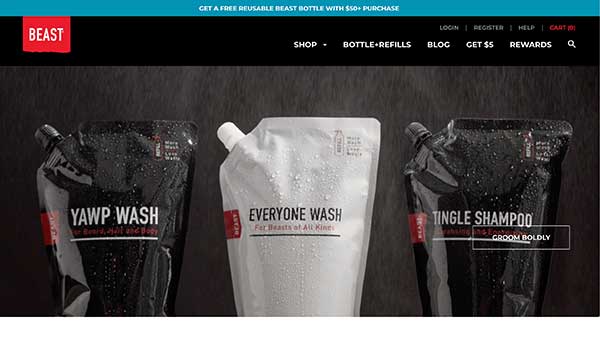 BEAST specializes in men's grooming and personal care products that feature arousing scents and energizing properties. The product line consists of body washes, shampoos and conditioners, soaps, lotions, and shaving supplies.
The affiliate program is managed by Refersion. It has a 20% commission with a cookie length of 15 days.
Why BEAST is Worth Promoting
The BEAST brand of grooming products is geared toward men but also athletes. Their products contain natural botanicals and their specialty Beast Bottle made for holding refills is recyclable.
I think this brand has a lot to offer in terms of men's hygiene products. I think a majority of men would check out these products and likely buy when recommended to them.
7. Ties.com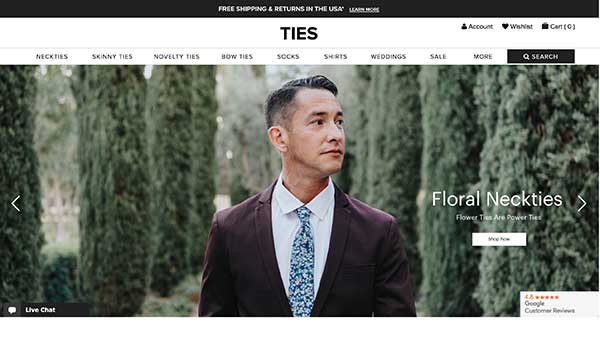 Ties.com sells a large variety of neckties, neckties, novelty ties, bow ties, socks, and shirts. The selection is so large that I have no doubt a potential customer may spend at least fifteen minutes browsing.
The affiliate program is managed by Commission Junction and offers a 12-15% commission and 45-day cookie length.
Why Ties.com is Worth Promoting
Ties are worn for all types of occasions and for some folks, every day for work. Ties.com is a one-stop-shop for all things ties. Besides that, they carry additional items such as socks and shirts.
Promoting this website should bring in easy conversions, especially if you have a niche website that caters to men's fashion.
8. Stuck in Glass
Stuck in Glass is a cool novelty glass company that features various types of glasses with specific items stuck in them. These are handmade glasses featuring "stuck in glass" items such as golf balls, dice, poker chips, corks, and more.
They make excellent gifts for men and women. The affiliate program is managed by ShareASale with a 10% commission and an opportunity to earn up to 12-15%.
Why Stuck in Glass is Worth Promoting
This glassware makes awesome gifts and people are always in search of cool gift ideas for birthdays, holidays, and special events.
I think you could promote this product on any type of men's niche website and in combination with other men's affiliate programs.
I don't doubt that conversions would be quite high as these are unique and fun products.
Closing Thoughts On Men's Affiliate Programs
I hope that these men's affiliate programs have offered you some terrific options in terms of what to promote in the men's niche.
What is nice is that you can sub-niche down with any of these affiliate programs. For example, if you only wanted to focus on men's grooming, you could definitely recommend BEAST or Grooming Lounge or both!
Affiliate marketing is one of the best ways to make money online. To give you an idea of what is possible, here is a screen capture of a commission I made from just one affiliate program: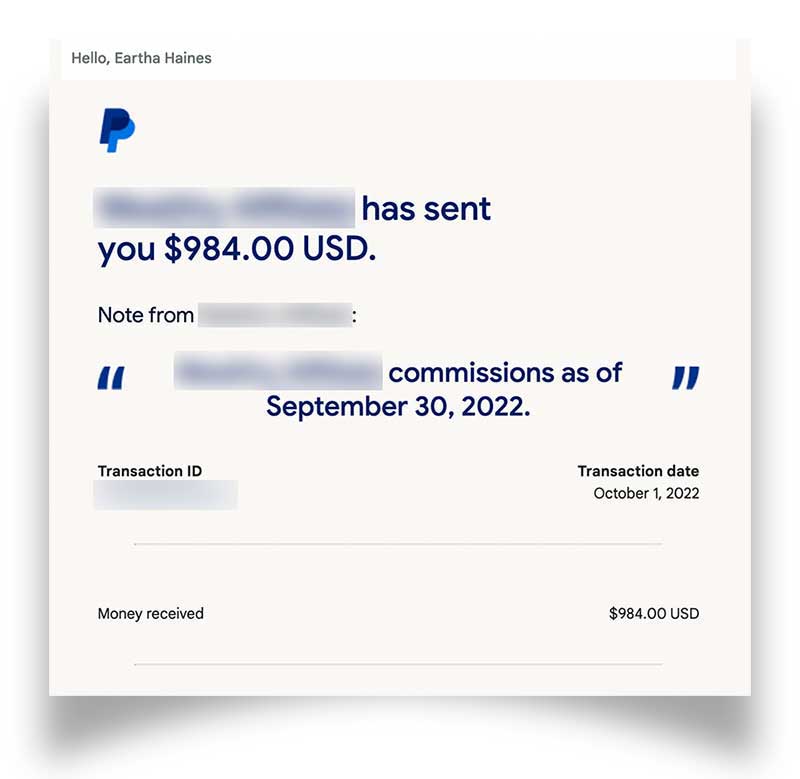 If you are ready to start earning consistent affiliate commissions every month, I recommend following the same step-by-step training program I used.
By following the training here and implementing what I learned, I am now making consistent affiliate commissions every month.
Now I use the same training program to help others start their own niche websites and offer one-on-one help as they go along.
NEXT: Why This Make Money Online Strategy Works for Most People