CBD products are estimated to reach 1.8 billion dollars in sales by 2022 according to Statista.com. So the question of, can you make money selling CBD products is a definite a yes.
CBD stands for cannabidiol. It is now available in a variety of products to include oil, tinctures, gummies, topical creams, and more.
Many people use CBD products to relieve anxiety, body aches and pains, stress reduction, and other uses. CBD does not produce the psychoactive effects of THC.
I'll explain the very basics of how to sell wholesale CBD products as well as an alternative way to cash in on this billion-dollar industry without having to invest in any products.
Do You Have a Genuine Interest in CBD?
Jumping into selling CBD products can be considered a smart business move. However, it does help to have a genuine interest in the products.
It is important to understand how CBD can help people. Many people use it to help relieve anxiety, stress relief, muscle pain relief, relaxation, and more.
You should make a point not to falsely advertise what CBD can do.
Like other holistic and herbal supplements, CBD is not a cure for health issues. You should not make false health claims.
Selling CBD is still in a grey area and knowing the laws surrounding the sales of CBD can help prevent your business from being shut down.
Brick and Mortar or Online?
The next thing to think about is whether you want to sell CBD products out of a physical storefront or online.
Of course, having a physical location will require more money. These store locations are popping up everywhere in my city.
Almost everywhere we turn, we notice signs for little shops selling CBD products. The first one we ever encountered was actually a water store.
The owner not only sold filtered water, but she also carried a wide variety of CBD products.
An online store will have lower costs. You need only set up an online shop using an online eCommerce software or using WordPress and the WooCommerce shopping cart plugin.
Focusing solely on online sales lowers your costs. A bulk of your start-up costs will be for buying your CBD products wholesale.
Finding CBD Wholesale Suppliers
Finding wholesale CBD suppliers is a matter of doing a quick web search. There are a ton of companies that offer their products wholesale.
If there is a particular brand that you use, you can contact the company and ask if they sell wholesale.
Since there are so many suppliers to choose from, you'll need to narrow down your search.
It helps to ensure that the products are made to the highest standards of quality possible. Find out if the company does third-party testing.
Order samples so that you know what you sell to your customer is quality.
Business Basics for Your CBD Store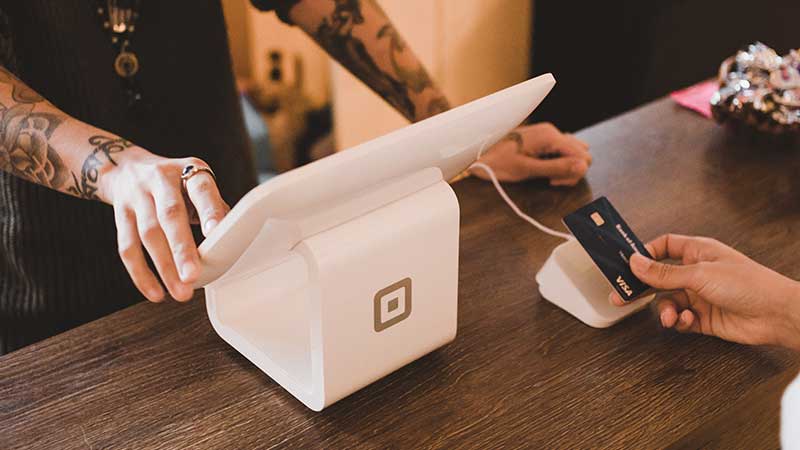 Before you jump into buying CBD products wholesale, there are several business basics that you'll want to cover.
Form a Business Entity
Your best bet is to consult with a tax attorney or other professional to help you determine what the best business entity will be for your situation.
Considering the product that you are selling, forming an LLC (limited liability company) may be an ideal option.
An LLC is a corporate structure in which the owners are not personally liable for the company's debts and liabilities.
Other types of business entities include:
corporations
limited liability companies
partnerships
limited liability partnerships
Again, speak with a business professional to help you figure out which business entity will be a good fit.
Permits and Licenses
It is important to find out what types of licenses and permits will be required to sell CBD products in your state.
A standard business license may be required. Since the laws surrounding the sale of CBD products are in such a gray area in many places, it is wise to do your due diligence in finding out what you need.
The last thing you'll want is to have your business shut down for something that could have been avoided in the first place.
Business Insurance
Having business insurance is especially important if you plan to sell your products out of a physical storefront.
Business insurance helps to cover costs associated with property damage and liability claims.
If you do not get business insurance, you could end up paying out of pocket for damages and legal claims.
Business Bank Account
You should keep your business income separate from your personal income.
When it comes to opening a business bank account, you may or may not have a difficult time due to the products you are selling.
It may depend on the state that you live in and the specific bank's policies.
Business Website
In today's world, you really cannot have a business without also having a website. Your business website will serve as a home base.
Whether you choose to open a physical store location only or you plan to also sell online, a website is not a luxury, it is a requirement.
It all begins with your company's domain name. You can choose to pick a domain name that is your company's name (if available).
If the domain name that you want isn't available, try adding on to the name such as "yourcompanynameshop.com" or "yourcompanynamestore.com".
I do recommend buying a domain name ending in .com as that is the most popular and what people will tend to type in first. However, it isn't a requirement.
Find a domain starting at $0.88
Getting your website up is a fairly simple process. I recommend using self-hosted WordPress website.
All that means is getting your own web hosting account with a commercial hosting provider such as A2Hosting.
You can then install WordPress using one-click installation software. Most commercial web hosting providers offer this, you need only ask.
If you are wanting to sell your CBD products online, you can install the WooCommerce plugin. It is a free shopping cart plugin for WordPress.
Using WordPress and WooCommerce will save you money on monthly software fees as both are free to use.
Promoting Your Business
Getting sales will be your top priority. Marketing online can help you to build an audience and generate sales.
Online marketing works for all types of businesses. The first step is to create social media profiles for your business on platforms such as Facebook, Instagram, Pinterest, and Twitter.
It will require creating consistent posts on these accounts. In most cases, you may need to outsource that work as you will be busy managing your store.
If you choose to build your website using WordPress as recommended above, you can take advantage of the Social Rabbit Plugin which is a social media marketing plugin.
It will automate the updating of all of your social media accounts to include Facebook, Instagram, Pinterest, and Twitter.
I created a video tutorial about this plugin which you can watch below:
Paid marketing is another option that works well for generating new leads. You can run paid ads on Facebook, Google Shopping, Instagram, and more.
Running paid advertising campaigns can be costly so it helps to establish a marketing budget for yourself.
There is also a large learning curve so expect to take time to learn how each ad platform works.
Alternative Method of Selling CBD Products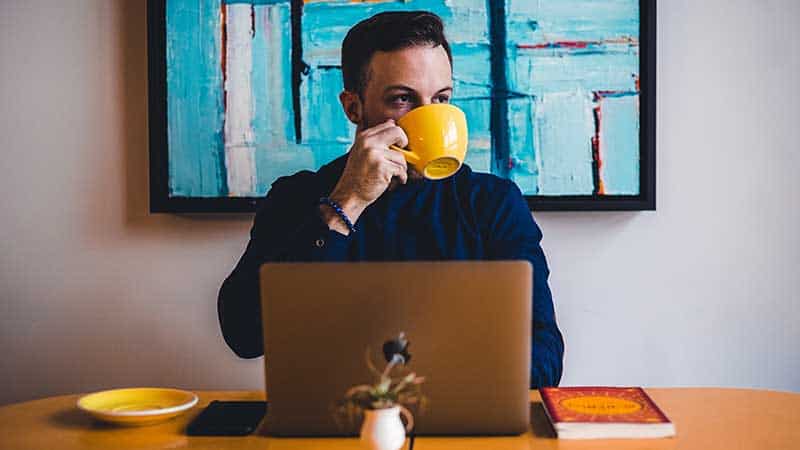 Another alternative to selling CBD products is to do so as an affiliate marketer. Affiliate marketing doesn't require you to buy any inventory or run an online (or offline) store.
Instead, you create a niche website related to the topic of CBD and recommend various CBD products as an affiliate.
Basically, you join a CBD affiliate program (and there are tons of them) which are free to join.
You are then provided special links with a tracking ID (your affiliate links) that you can place within the content of your website.
When a visitor clicks on your affiliate links and makes a purchase on the merchant's website, you earn a percentage of the sale, also known as a commission.
You do not have to deal with shipping & handling. You do not deal with any customer service. All that you do is create helpful and informative content on your website and link to your product recommendations.
I have been running my own affiliate niche websites for years. After a job layoff, I decided to pursue affiliate marketing full-time.
It has freed me from a 9-to-5 job and I have lifestyle freedom. I work when I want, take days off when I want, and I literally make money while I sleep.
In fact, I woke up to five sales today from affiliate products that I promote on one of my niche blogs: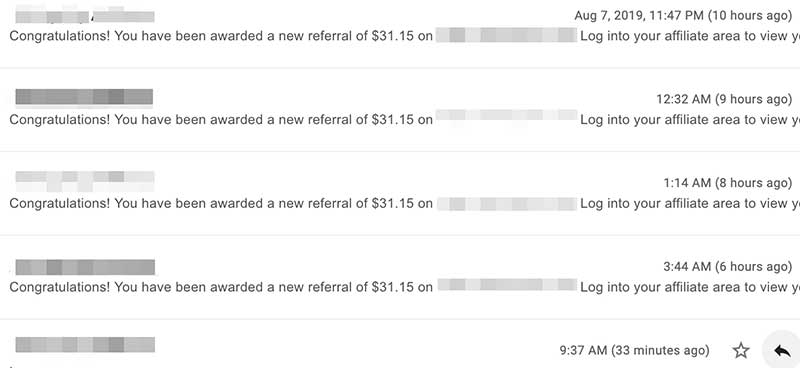 I made $155 dollars while I slept. It isn't difficult to learn but it still requires hard work. However, the payoff is huge if you stick with it. This affiliate training course taught me what I know and what I use today.
Can You Make Money Selling CBD Products? – My Closing Thoughts
So to answer the question, can you make money selling CBD products, my answer is a definite yes. You can buy CBD products wholesale and sell them in a physical storefront or online or both.
Selling them on your own requires a lot of start-up cash. You may also have to deal with understanding the various laws surrounding the selling of these types of products in your state.
An alternative solution is to become an affiliate of CBD products. By selling these products via affiliate marketing using a niche website, you won't have to worry about permits, licenses, and start-up costs.
Creating an affiliate marketing website is one of the best ways to earn income online, literally while you sleep.
There is a learning curve but it is made easier using this step-by-step online affiliate marketing training course.