Fashion makes a statement. It enables individuals to express themselves through their clothing and accessories. What's even better is that if you want to make a fashion blog, you can make money in the process through affiliate programs and display ads.
A fashion blog is considered a niche blog and niche blogs work extremely well for generating income online. I have experience with earning income with blogs. It is one of the best ways to make money online.
I will share how you can start your own fashion blog in a specific subniche and earn income from it by promoting affiliate products.
Learn how I went from zero to consistent affiliate commissions every month. Click here to learn how I did it.
Make a Fashion Blog By Choosing a Fashion Subniche
Choosing a niche is the first step to creating a niche blog. Fashion is the overall niche and you can stay with the general fashion niche if you want to. As you know, the fashion niche is quite large.
Therefore, you may want to consider choosing a subniche of the fashion niche. Some subniche ideas can include:
women's fashion
men's fashion
high-end fashion
urban fashion
sneakers
high-ticket items (watches, shoes, handbags, etc.)
celebrity fashion
kids fashion
fashion accessories
fashion design
You can choose a subniche and create a fun and helpful website made for your target audience. Then you can join affiliate programs related to your niche and recommend those products using your affiliate links.
How Fashion Affiliate Programs Work
Affiliate programs like the SHEIN affiliate program are how your niche blog can make money. First, let's discuss how an affiliate program works. Companies can create an affiliate program and share a percentage of their sales with affiliate marketers.
This percentage is called a commission. There are many fashion affiliate programs that you can join. For example, you can join high-end watch affiliate programs and promote Rolex watches or other luxury affiliate programs.
When you join and are approved by an affiliate program, you will gain access to your affiliate links. These links are your special tracking links that credit you commissions whenever someone buys from a merchant's website using your affiliate link.
The Benefits of Affiliate Marketing
The reason why niche blogs work so well with affiliate marketing is that you are creating content for a specific audience. That content is what gets indexed and ranked by the search engines.
This generates free web traffic to your blog. A percentage of your web visitors will click on your affiliate links and buy from the merchant's website.
Affiliate marketing has so many benefits. Some of my favorite include:
unlimited earning potential
nothing to store or ship
never any customer service issues to deal with
easy to learn and easy to start
work from anywhere with a WiFi connection
plenty of products to promote
Most affiliate programs pay commissions once per month via PayPal, check, and some by direct deposit. Affiliate programs are either managed by the company or by an affiliate network like CJ Affiliate, AvantLink, Impact, and others.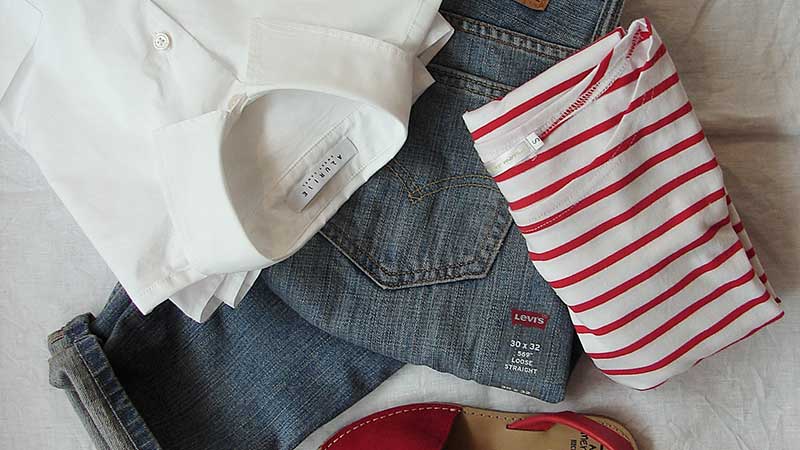 How to Make a Fashion Blog Using WordPress
The great thing about niche blogs is that they are extremely easy to create. You don't need any technical experience to get your own blog up and running.
All that you need is your own domain name, web hosting, and WordPress. Almost any web hosting provider can provide you with everything that you need.
Two web hosts that I recommend include SiteGround and WPX Hosting. I like both for their speed and excellent customer support. Both offer domain registration and have one-click WordPress installation.
That is really all there is to it. Once you have WordPress installed on your web host and domain, you can change your WordPress theme.
I use and recommend Generate Press for my niche blogs. It is a fast theme and you can customize it any way you want.
Creating Content for Your Fashion Blog
Content is the key to a successful niche blog. Without content, your blog will not rank in the search engine results. That means creating new blog posts on a regular basis. By regular basis, I mean at least 1 to 2 times per week minimum.
You can accomplish that even with a very busy schedule. I was able to crank out 3 to 4 new posts per week while holding down a full-time job.
Where to Get Content Ideas for Your Blog Posts
Getting content ideas is really easy. You'll want to write content for your niche audience. The way that I come up with blog post ideas is by doing some longtail keyword research.
You find tons of content ideas for the fashion niche. I use Google's autosuggest feature to get keyword phrases that people are searching for.
Let's say your niche blog is about shoes. You can think about some of the keyword phrases that your audience may type into Google.
I use the KeywordTool.io website to get a long list of Google autosuggest keywords: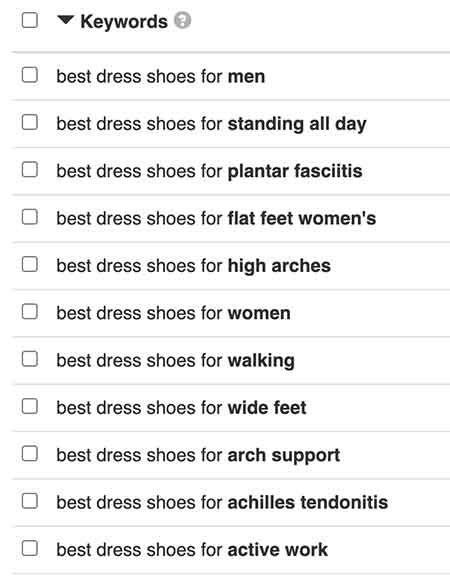 As you can see from the search example above, people want to be fashionable but also comfortable. People search for dress shores for arch support, flat feet, and plantar fasciitis.
You could create a new blog post that highlights dress shoes that are fashionable but also are made for extreme comfort.
If some of the shoes you highlight have an affiliate program, you can join them and link to them using your affiliate links.
Making Money with Your Blog
In order to get the best conversions from your blog, there are some things that you can implement in your blog posts. First, create various types of blog posts that can help with conversions.
A good example of this would be a product review post. Product reviews convert really well as people that are ready to buy often seek out user reviews first.
Product reviews are also great to link back to from other blog posts that you write. If a reader wants to learn more about a product that you are recommending and then clicks over to your review, it is pre-selling them on buying the product themselves.
Another good strategy is to use a call-to-action at the end of each of your blog posts. A call-to-action is a sentence that informs the reader what to do next.
You could write something such as "click here to learn more" or "get price information here", etc. A call-to-action can be placed at the end of a post as well as a few times throughout a post.
These are just a couple of strategies that I use on my own niche blogs. You can learn more about niche blogging and affiliate marketing by following the same step-by-step training program I used.
That training program is what helped me to progress much faster than if I had tried to learn everything on my own.
Closing Thoughts On Making a Fashion Blog
If you have a genuine interest in the fashion niche, you can have a lot of fun and make a fashion blog.
Niche blogs are excellent for promoting affiliate products. A niche blog is how I got my start as an affiliate marketer and it is what I continue to do today as my online business.
If you are ready to level up your online income, consider following the same step-by-step online training program I used.
I use that same training platform today to help others one-on-one with creating their own niche websites.