As far as all-in-one marketing platforms go, Kartra is a popular option for many online marketers. Besides it being awesome software, the Kartra affiliate program is really good and worth checking out.
As a Kartra affiliate, you can earn 40% of every sale and recurring payment generated by your referrals while they remain a member of Kartra.
I will dive into what Kartra offers, some of its key features, and how you can start leveling up your affiliate earnings by promoting this software.
Tired of not making sales? Learn how I went from zero to consistent affiliate commissions every month. Click here to learn how I did it.
Kartra Affiliate Program Review
Like any affiliate program, the purpose of the Kartra affiliate program is to help generate new customers through the marketing efforts of its affiliates.
In return, affiliates can earn a 40% commission for each new sale as well as recurring commissions on their referrals that remain a member of Kartra.
Their commission rate is comparable to other popular all-in-one marketing platforms. That keeps it competitive for attracting new affiliates.
How Do I Become a Kartra Affiliate?
Before you sign up as a Kartra affiliate, it is a good idea to read the affiliate terms of service.
Signing up is easy once you get to the partners page. They manage their own affiliate program so you'll have to create a free account if you don't have one already.
Kartra Affiliate Program Compensation
One thing I like to know before signing up for an affiliate program is what the terms are as far as commission payouts go.
I've been a part of affiliate programs that do not have the best payout terms and poor management.
I don't believe this is an issue with Kartra. Their terms for compensation are as follows at the time of this writing:
You must have $100 in commissions due for the current period
You'll need to have made at least two sales since acceptance
They have received any funds due and owed from the relevant customer(s) for the current period
The refund period (30 days) has passed for all sales for the current period
Their terms are not that stringent in my opinion. I've seen affiliate programs that require a much higher payment threshold before they will pay your commissions.
Affiliate Support Offered By Kartra
One thing that helps a lot with any affiliate program is having the ability to reach out to someone when you need help.
I've had subpar experiences with other affiliate programs I have been a part of.
There were times I've had important questions about promoting a specific product or I've had to reach out because my commission wasn't sent on time and no reply.
Kartra displays their affiliate support team with contact information:

A well-managed affiliate program will have a support team dedicated to their affiliates.
You shouldn't have to struggle to reach someone with affiliate program questions and you certainly should not have to chase down your commissions.
Being able to reach someone who is knowledgeable about the affiliate program offers peace of mind.
I've had poor experiences with other affiliate programs that didn't have a dedicated affiliate team.
You end up being shuffled around by different customer service reps that don't know how to answer your question.
Kartra Affiliate Assets
Another plus with the Kartra affiliate program is that they do provide various assets for affiliates to market the products.
You have access to email swipes, various banners, and social media swipes.
What is Kartra?
Kartra is an all-in-one marketing platform that enables you to manage key aspects of your business.
If you are selling a product or service, you can benefit from the features of this service.
Rather than having to pay for separate software such as email marketing, online schedulers, helpdesk software, video hosting, and more, it's all in one place here.
Members can create landing pages with opt-in forms and track leads, tag them, and send emails automatically.
You can also create sales funnels and have your own affiliate program to recruit, manage, and track your own affiliates.
Similar platforms to Kartra include:
ClickFunnels
Kajabi
Infusionsoft
Builderall
Overall, Kartra gives all of these platforms a run for their money.
How Do You Make Money with Kartra?
Kartra provides the tools and features but you will need to provide the product or service.
Making money with Kartra as a non-affiliate means you are using the service to help you market and manage your business.
However, actual members of the service that use it for their business would make excellent affiliates.
It doesn't hurt to earn income recommending the same service that is helping you to grow your business.
How to Make Money with the Kartra Affiliate Program
It helps to have a good understanding of what Kartra is. Therefore, if you can afford a membership, that would be ideal so that you can really become familiar with the platform.
You do not have to stay a member long-term. However, if you can actually use the service for a month or two, that will provide you with plenty of experience to talk about the ins and outs of the service.
If you cannot afford to try out Kartra, no worries. You can still recommend this service to your niche audience.
Create a Niche Website and Go All In!
If I were going to promote Kartra as an affiliate, I would create a niche website that focused on the issues that Kartra helps resolve.
My sole focus would be to recommend Kartra. Each piece of content that I create would lead visitors to a Kartra review page that I've created and/or to Kartra itself using my affiliate link.
That is what I mean by "go all in." Essentially, my niche website would be devoted to promoting Kartra.
How to Get Started
A niche blog doesn't require a lot in terms of software or start-up costs. All that you'll need is a domain name, web hosting, and WordPress set up on your hosting account.
Almost all web hosting companies can provide you with everything that you need.
When I created my first successful niche website, I had no idea how to create a steady income with it.
Rather than waste time trying to learn it all on my own, I searched for an online training program and found this one.
That training platform is also a domain registrar and web hosting company. They are an all-in-one platform for affiliate marketers.
Taking action on what I learned there is what helped me to transition out of a full-time retail job into working on my niche website full-time.
What Kind of Content to Create?
I don't write a new piece of content (blog post) without doing some long-tail keyword research.
This is easily accomplished by using Google Search and its autocomplete feature.
As you type in keywords into Google Search, you will be returned with autocomplete searches that is based on what users type into Google.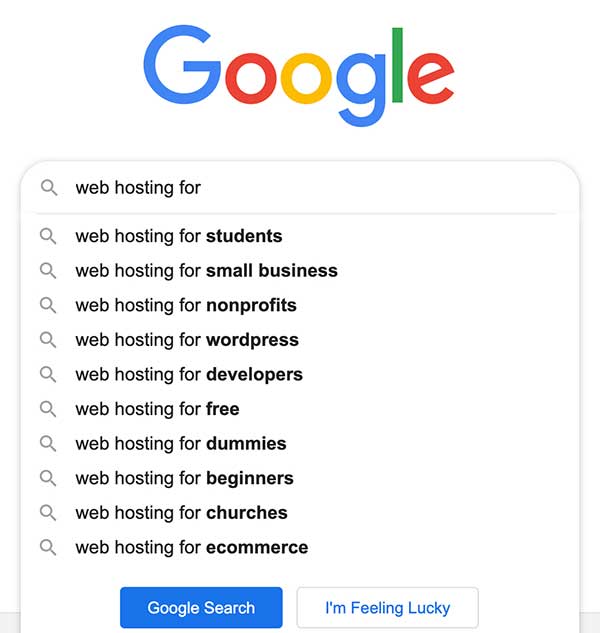 This will give you great blog post ideas. You'll then be able to create a helpful piece of content that will attract your target audience.
The key to a successful niche blog is to create content often. At least 2 to 3 times per week is ideal but if you can produce a really quality piece of content once per week, that is fine too.
Focus your writing on your niche audience. When you recommend Kartra, link to a review page that contains your affiliate links.
Your review page will act as a pre-sell page and warm your visitor to what to expect when they click over to the Kartra website.
Closing Thoughts On the Kartra Affiliate Program
Promoting software can be very lucrative for affiliate marketers. In fact, promoting software is what generated my first consistent commissions.
Kartra offers a generous commission and even better, recurring commissions. It is definitely worth promoting if you are interested in the internet marketing niche.
If you're just getting started with an affiliate website or have one and are struggling with making sales, I recommend following the same step-by-step training I used.
Ready to make money with a blog? Learn how I went from zero to consistent affiliate commissions every month. Click here to learn how I did it.