Are you interested in starting your own business selling goods on Amazon? Chances are you have come across the Joshua Crisp AMZ Together business. Joshua Crisp is a 7-figure Amazon seller and I wanted to learn more about what his business offered.
I signed up for his free webinar to learn more about the AMZ Together business. Read on to learn what it is about and if it is worth checking out.
How I Make $1,000 Commissions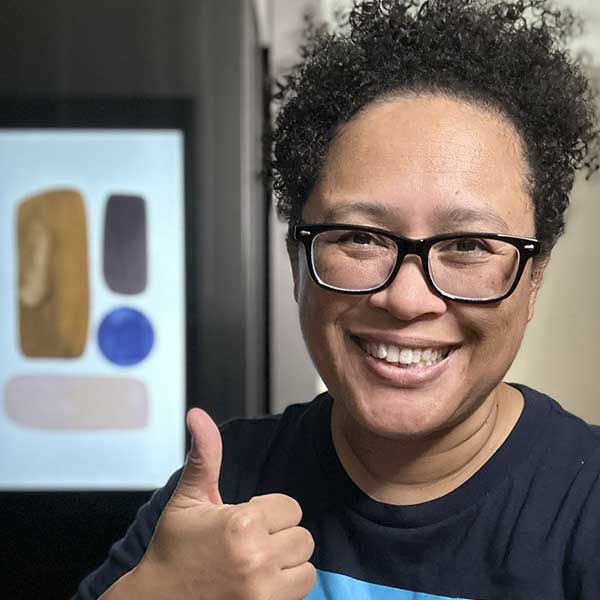 Hey there! I'm Eartha, the author of this website and an affiliate marketer. Affiliate marketing has helped me to work my way out of a full-time retail job. I don't need my own product, there is zero order fulfillment and zero customer service issues. Click the link below and I'll share how I make $1,000 – $2,000 for every sale that I refer:
Who is Joshua Crisp [Short Bio]?
Joshua is a successful 7-figure Amazon seller. Like many beginners, it took him several tries before he found a product that hit it big.
Since then, he has mastered the entire process of selling on Amazon and now has three large world-recognized brands that have 12 SKUs.
Now he teaches others how to replicate the same success through his online courses and the AMZ Together business is one of them.
What is the AMZ Together Business?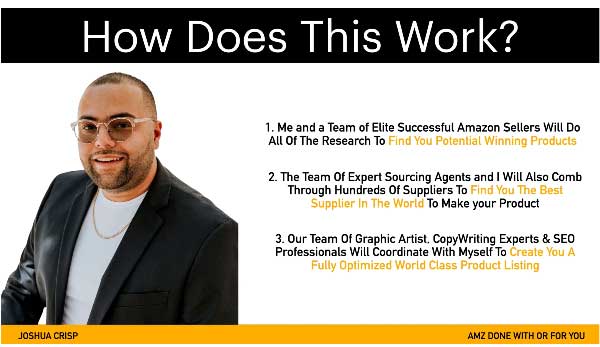 This is an all-in-one offering for anyone who wants to start selling on Amazon and needs guidance and support to do so.
When you invest in AMZ Together, you get help from a team of successful Amazon sellers. They will do product research, find the best suppliers to make your product, and set up all of your graphics, copywriting, and SEO for your product listing.
Now, although the webinar states that Joshua will be a part of the entire process of setting up your Amazon business, let's be realistic.
Most business owners don't have the time to dedicate to helping anyone one-on-one unless you're willing to pay for such attention and that is not cheap.
However, it does make more sense that the team Joshua has in place likely follows a standard that he himself uses in his own business.
The price of AMZ Together was not disclosed and in order to learn more about it, you have to book a consultation.
Usually, these consultations consist of an appointment with a "closer" who is trained to sell a high-ticket product. You can expect a done-for-you business such as this one is going to be in the high 3-figures or 4-figures.
Why Selling On Amazon is Not Easy
The truth of the matter is that becoming a successful Amazon seller is not easy. In fact, with so much competition today, it is harder than ever.
Besides spending money on a done-for-you service like AMZ Together, you'll also need income for whatever product you're going to sell, Amazon fees, and advertising.
Therefore, you can expect to spend several thousand dollars to start your Amazon business.
Once you have your product up on Amazon, you'll then have to work on marketing and receiving product reviews.
Products on Amazon sell based on product reviews. I've received requests from many sellers to leave a review of their products. That alone will take consistent effort on your part.
Is AMZ Together Worth It?
There are a variety of Amazon seller courses to choose from. Some are low-cost while others are in the thousands of dollars.
What makes AMZ Together stand out from the rest is that it is a DFY service. They basically handle the start-up portion for you which can alleviate a lot of stress.
It may be worth it to you if you want to speed up the process of launching your Amazon business.
Like anything you want to invest in, do your own research and find out what others have thought about the service.
An Alternative Way of Making Money Online
Selling on Amazon is not the only way to earn a steady income online. One of my favorite ways is affiliate marketing. It's what I do today and it is another great way for anyone to earn income online.
Affiliate marketing is the promotion of another company's products and/or services in exchange for a commission when a sale is made.
That means you never need your own product and you never need to worry about shipping & handling or customer service.
It is also a super low-cost online business model. Unlike selling on Amazon, you can start for under $50 in most cases.
All that you need include:
Domain name
Web hosting
WordPress website
The best part about affiliate marketing is that you can choose any niche that you want. Let's say you have an interest in coffee. Maybe you love coffee and know quite a bit about it.
You can create a coffee niche website and talk about all things coffee. There are tons of coffee affiliate programs that you can apply to and join for free.
Once you are a part of some affiliate programs, you can promote those affiliate products on your website.
When I got started, I wasn't sure how to make money with a website. I searched for an online training program and found this one.
By following the training and taking action on what I learned, I was able to transition out of a full-time retail job and work full-time on my website.
What it Requires to Run a Niche Website
A niche website is also referred to as a niche blog. In order to achieve success with such a website, you will need to create content (blog posts) on a regular basis. Meaning, writing a new piece of content at least 1 to 2 times per week.
This type of online business is easy to maintain but it does require discipline on your part in terms of writing content.
However, this type of online business can provide both time freedom and lifetime freedom if you are willing to do the work.
Closing Thoughts
I do not think that Joshua Crisp and AMZ Together is a scam in any way. You should do your own research about the service before investing.
Whether you find user reviews or even reach out to the company with questions before making the investment, you'll be able to make a more educated choice.
In the meantime, if you want to consider an alternative method of creating a steady income online, consider following the same step-by-step training I did and learn how to become an affiliate marketer.
Learn how I went from working a 40+ hour per week retail job to working on my website full-time. Click here to learn more.