Have you applied to the Farfetch affiliate program but you weren't accepted? This isn't uncommon in the affiliate marketing space. I've been doing affiliate marketing for quite some time and have dealt with my fair share of rejection.
However, over time, I've realized what helps to get approved the first time or the second time when you reapply. The key is to have some type of online asset to serve as proof that you understand how to drive targeted traffic to the company's website.
I'll share how to create an online asset that may greatly improve your chances of getting approved for the Farfetch affiliate program or any other affiliate program you may be interested in.
Hey there! I'm Eartha, the author of this website and an affiliate marketer. I share different affiliate programs that I find here on the blog.
I also talk about ways to help improve affiliate income. I've been able to increase my affiliate income by focusing on promoting high-ticket affiliate products.
You can learn how to level up your income and f
How the Farfetch Affiliate Program Works
You are likely already familiar with the Farfetch website and the products that they sell. If not, Farfetch sells high-end designer brands of clothing, shoes, handbags, and more. You'll find designers such as Alexander McQueen, Dolce & Gabbana, Versace, and many more.
The Farfetch affiliate program offers a 7% commission rate and a 30-day cookie length. Before you can apply, you'll have to send an email with your website URL to the email address listed on the affiliate program page.
Once they get back to you, they will send you information on where to go next to apply to the affiliate program. Chances are they are filtering out applicants before they are even sent to apply. Therefore, it is of utmost importance that you create an online asset (I go into further detail below.)
Commission: 7%
Cookie Length: 30 days
What to Do If You're Not Approved to Be an Affiliate
If you've already tried to apply and were rejected the probable reason why is that you do not have some type of online asset to demonstrate that:
You are a serious affiliate
That you understand how to drive targeted traffic
As an affiliate, it is our job to connect the right audience to the products that we are recommending. A niche website is one of the best ways to do that which is why almost all affiliate programs will ask for your website URL.
Creating a niche website was one of the best things I did as an affiliate marketer. Many of my niche websites are still generating traffic for me today.
Create Your Online Asset
You'll really be doing yourself a favor by creating a niche website as it can generate traffic for years to come if you maintain it.
In the case of the Farfetch affiliate program, you'll want to create a website related to the fashion niche. People who are interested in fashion are going to be interested in luxury brands that are offered on Farfetch.
I don't recommend creating a website in the general fashion niche. It's way too competitive. It helps to dig down and serve a more targeted audience.
For example, fashion for women over 40. If you do a bit of keyword research or even search for fashion on social media platforms, you'll find out exactly what people are searching for.
I see a lot of Instagram and TikTok accounts of women over 40 who are staying trendy and up-to-date with the latest fashion.
Once you've selected your niche, it's time to create your website.
Why a Niche Website Makes a Great Asset
There are many reasons why a niche website makes a great asset. Here are some of my favorites:
It can generate traffic for years
Use it for applying to multiple affiliate programs
You own it (no worries about anyone closing it down)
Possibility of selling it in the future
I've come across many beginner affiliates who are opposed to creating a niche website because of the work involved.
They don't want to create content (which are the blog posts) on a regular basis. Yet, if you choose to use social media, you're still having to create content.
The only difference is that blog content is text versus photos and videos on social media. Social media content is short-lived. If you create a video, it only lasts for about a day before the algorithm on whatever platform you're using stops sending you views.
Then you have to keep cranking out videos to stay relevant. Whereas, if you write one quality blog post, it may eventually rank well in the search results and bring you traffic for months and possibly years.
What Type of Content to Create and How Often
Always create content that your niche audience is looking for. You can figure this out by doing some basic keyword research using keyword tools (paid or free.)
Google's Keyword Planner is a great place to start. Type in a seed keyword and get ideas for new blog posts. Paid keyword tools aren't necessary but some of the good ones can give you insight into other data besides search volume.
I recommend writing 1 – 2 new blog posts per week. One good post is completely doable even with the busiest schedule. It should only take a couple of hours to write one post per week.
Once you have 5 to 10 posts on your niche website, you can begin using it to apply to different affiliate programs.
Keep in mind that some affiliate programs may also have a traffic requirement. Meaning, they want your website to be receiving a set amount of traffic each month. It's rare but some may require it.
Most affiliate programs aren't that strict so having several posts up is a good way to demonstrate that you are a serious affiliate and you know how to attract your target audience using SEO (search engine optimization.)
You'll pick up SEO skills as you go along and there are plenty of articles online that will explain the basics of what you need to do for optimizing your blog content.
Social Media as an Alternative Option
Another option is to create a social media account on a platform such as Instagram, Facebook, or TikTok. The content you create should be related to the fashion niche.
The type of content created for social media can consist of photos and videos. Short-form content is easy to create but you have to create lots of it and post on a daily basis.
When you have several pieces of content up and possibly some followers, you can use your account URL on affiliate applications.
There is no guarantee that it will help you get approved as every affiliate program is different in terms of what they will accept. However, it's better than not submitting any type of website at all.
When to Reapply to the Farfetch Affiliate Program
If you recently applied and was not approved, I would wait at least 30 days before reapplying. Some affiliate programs may have terms for reapplying as well.
What I would do during that time (30 days or more) is to build my online asset. I'd build a niche website and start posting content to it on a regular basis.
You may even do both a niche website and a social media account. The more traffic the better.
How I Make $1K – $2K Commissions
I've been doing affiliate marketing for quite some time and for a majority of that time, I promoted low-ticket affiliate offers. The average commission for a product that I promoted was $47 per sale.
While low-ticket commissions add up by the end of the month, it is very difficult to scale your income. Let's say your goal is $5,000 per month. It would take about 107 sales of a product with a $47 commission to meet that goal each month.
Versus, only 5 sales of a product that has a commission of $1,000. It takes the same amount of effort to promote a high-ticket product as a low-ticket product.
I'd rather put in the effort to make the $1,000 commissions and that's exactly what I do.
Below are some screen captures of affiliate commissions that I've earned doing high-ticket affiliate marketing: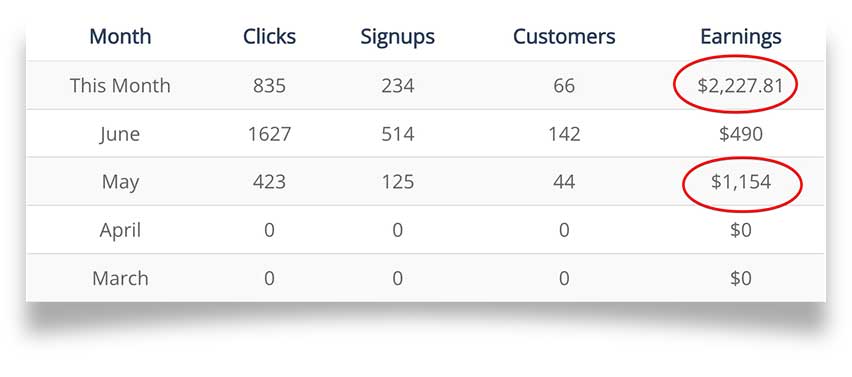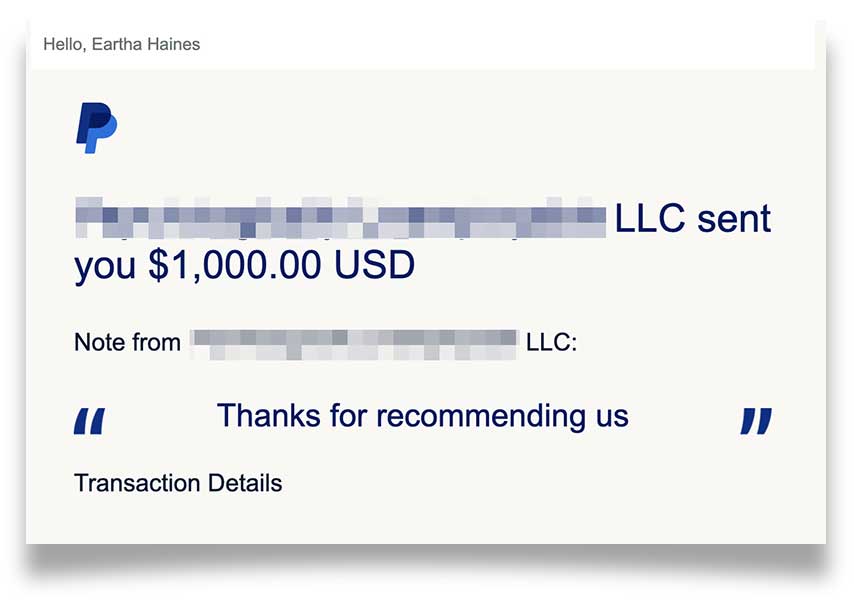 I had to learn the high-income skills necessary to be able to make these types of commissions. You can follow the same training I followed here. Taking action with what I learned is what made the difference.
Conclusion
I hope that the strategies above may help you the next time you apply to the Farfetch affiliate program. There is no guarantee as there are a variety of reasons why an affiliate program doesn't accept an application.
In the meantime, I also recommend considering high-ticket affiliate marketing if you want to scale up your online income.
Click here to learn how I'm able to make $1K – $2K commissions