There are so many online business models to choose from that fall under eCommerce like dropshipping, Amazon FBA, creating and selling your own product, and more.
Ecommerce is a popular option for many people for the fact that the barrier to entry isn't as high as it was in the past. Almost anyone can start an eCommerce business without having their own product.
Ecommerce Empire Academy is an online training program created by a successful online entrepreneur, Peter Pru.
I've done some research to share in this review to figure out if this training is worth the investment. Who am I? I'm Eartha, the author of this blog and a full-time affiliate marketer.
Working online for as long as I have, I've had my own share of buying scam products and legit ones as well. I make it a point to do my own in-depth research before I consider buying something new.
Hopefully, what I share below will be of some help to you as well!
NEXT: How This Online Business Model Helped Me Escape The 9-to-5
What is Ecommerce Empire Academy?
The Ecommerce Empire Academy is Peter Pru's flagship training course that teaches how to run a profitable eCommerce business using sales funnels.
Students learn how to scale their businesses to 6 and 7-figures. During my research, I did find that the course teaches dropshipping which is another type of eCommerce business.
What is nice about dropshipping is that you don't have to invest any money upfront to buy inventory. It also enables you to swap out products much faster without spending more money.
The downside to dropshipping is that it is not as easy as a lot of people may make it seem. Most beginners never make a real profit and don't understand the work involved with running ads, finding winning products, etc.
My interest is already piqued by this training course as it incorporates sales funnels to scale an eCommerce business. That is something I have yet to come across in other training programs.
How Does Ecommerce Empire Academy Work?
The training is a 7-module step-by-step course that can be taken at your own pace. It will teach you how to create a successful online business by using eCommerce subscription funnels.
You don't need any prior eCommerce skills or tech skills. The training is set up to last for 7-weeks. I've taken online courses in the past and I don't recommend rushing through the training in order to launch faster.
The courses are designed to be followed step-by-step. I'm still part of an online training platform that I recommend.
I can't tell you how many people that I refer that rush through the training and then ask questions that are answered in the training.
Even worse, I've met people that never complete the training. If you're going to invest in a program like Ecommerce Empire Academy, don't cheat yourself.
Go through each module, take notes, and most of all, apply what you learn.
Who is Ecommerce Empire Academy For?
This training course is good for anyone who wants to launch their own eCommerce business. No prior experience is necessary.
It is also ideal for someone who has had their own eCommerce business before but struggled to make a steady income.
Something to be aware of is the startup costs. Besides buying the course, you'll need a budget for any software you'll need to use as well as money for ad spending.
This is not a low-cost business model. You will need to have several thousand dollars (including the price of the course) to get your business off the ground.
Also, you should probably be okay with dropshipping. Dropshipping has a lot of benefits but it comes with its own issues too.
For one, you're relying on the supplier to get your orders out. Second, depending on where you are sourcing products, shipping times could be too long which can lead to customer complaints.
I'm sure the course dives into these types of concerns. If not, I'm sure you can ask these types of questions in the weekly Q&A.
What Do You Get with Ecommerce Empire Academy?
This is a 7-module course that is self-paced. When you buy the training, you get immediate access to all modules, plus bonuses. Here is what is included:
Module 1: The Mindset Shift
Module 2: Markets & Offers
Module 3: Funnels & Continuity
Module 4: Email Marketing
Module 5: Influencer & Organic Traffic
Module 6: Facebook Advertising
Module 7: Scaling & Sales Channels
You also get:
Access to the Elite Mastermind
Weekly Q&A and Recordings
Peter's Private 7-Figure Funnel Template Library
Real-time Business Buildout Case Study
Bonuses include:
30-Day Business Empire Calendar
$10,000/Month Product Picker
Private 1-on-1 Strategy Call
Who is Peter Pru?
One thing I like about Peter Pru is that he is not in the shadows. He is active on his YouTube channel and other social media profiles.
I've come across products where you never know who the course creator is. Red flag! However, Peter is well-known in the eCommerce niche.
Peter has plenty of experience when it comes to launching successful eCommerce businesses. He has scaled multiple 6 and 7-figure businesses online.
He has also won the Clickfunnels 2 comma club aware multiple times for achieving over $1 Million dollars in sales in his own businesses.
What's even cooler is that he is the founder of Untapped Focus, a natural supplement for entrepreneurs and high-performers.
Peter's companies include:
Ecommerce Empire Builders
Untapped Focus
StoreFunnels.net
How Much is Ecommerce Empire Academy?
The entire course is priced at a one-time payment of $1,997 or 5 payments of $497. It also includes a 100% double your money-back guarantee.
What this means is if you implement what is taught in the training and don't see a positive ROI in 30-days, you will get a complete refund plus an additional $997.
Don't get too excited yet! There is a catch when it comes to the refund policy. You have to prove that you've followed the program and used the resources provided for a 3-week period with no results.
You may not like this type of refund policy but they're not that uncommon, especially with digital products. It is a way for product owners to reduce their refund rates.
Is Ecommerce Empire Academy a Scam?
There is nothing that I've come across thus far that makes me think this course is a scam. I did look up whether or not there were Trustpilot and BBB reviews.
This course had both. It has a Trustpilot rating of 4.8 out of 5 stars and about 9 complaints on the BBB website.
Most complaints had to do with sales reps and the money-back guarantee. What is positive is that the company replied to many of the negative reviews (particularly on the BBB website.)
Some customers were satisfied and canceled their disputes.
What Others Have to Say About Ecommerce Empire Academy
Many of the positive Trustpilot reviews state that the course is easy to follow.
There are over 200 Trustpilot reviews with a small percentage of negative reviews mixed in.
You can choose to read between the Great, Average, Poor, and Bad reviews. Some of the reviews were for Peter Pru's books.
However, a majority of them are for the actual eCommerce course. I'm not sure how trustworthy Trustpilot reviews are.
How difficult is it to ask for a review in exchange for a free gift of some type? I'm not saying that is what is going on here. Nothing really surprises me when it comes to reviewing websites.
Final Thoughts On Ecommerce Empire Academy
From what I gathered, this is a legitimate training program. If I had a strong interest in opening an eCommerce business, this would be a course I'd consider investing in.
The only con is the dropship model. While I do believe there are some benefits to dropshipping it isn't my favorite method of eCommerce.
I don't like the idea of relying on vendors to fulfill my orders, nor do I like the idea of constantly finding new products to promote when others fizzle out.
The upside to this training is that it teaches how to use a sales funnel subscription model. Recurring income is my favorite type of income to make.
If you can find a business that will pay you over and over again from the same customers, that is the way to go, in my opinion.
However, you can create recurring income without opening an eCommerce business. More on that below.
An Alternative to an Ecommerce Business
Years ago, I was laid off from my web designer job. I immediately made the decision to start an online business.
Starting an eCommerce business was out of my budget. I had to start on a shoestring budget so I put up a WordPress website not knowing how to make money with it but it was a start.
I began researching and discovered that lots of bloggers were making full-time income from their websites and many of the were doing so using affiliate marketing.
I had dabbled in affiliate marketing for years and never made much money. That is until I lost my job and had to become serious about it.
Instead of wasting time trying to figure things out on my own, I searched for a legitimate online training course and found this one.
If you are not familiar with affiliate marketing, it is the promotion of another company's products in exchange for a commission when a sale is made.
I create simple niche websites and recommend other people's products. One of the main affiliate programs I am a part of offers recurring commission.
The business model works like this:

There are tons of affiliate programs out there so there is bound to be affiliate products that you can promote regardless of the niche that you choose.
My preference is to promote products that have recurring commission or have a high-ticket commission (meaning commissions over $500.)
How I Earn Income Online Without My Own Products
All that I do is find a niche that I like OR I find an affiliate program that meets my criteria of having recurring commissions or high-ticket commissions.
Then I create a website which involves registering a domain name, getting web hosting, and installing WordPress. Most web hosting companies can set you up with all three.
Next, I start creating content (blog posts) to attract the niche audience that is highly likely to buy the products that I recommend.
When visitors to my websites click my affiliate links and buy the products, I make a commission. It is that simple!
Best of all, I don't have to deal with any customer service, refunds, complaints, etc. The product owners handle all of that.
I can work from anywhere with a WiFi connection. It is a long term business model and can create time freedom and lifestyle freedom.
Here is a screenshot of an affiliate commission I've made from one affiliate program: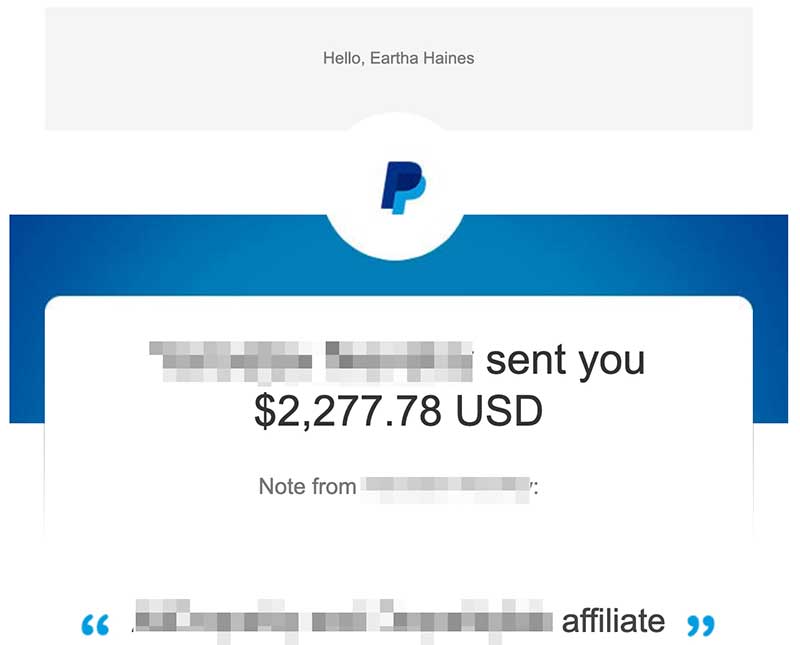 Of course, I was not able to figure this all out on my own. Like you, I had to research training courses. The one that I found made all of the difference for me.
By following what I learned and applying it to my website, I was able to quit a lousy retail job to work on my website full-time.
If you want to take action today using the same training, click the button below to get started!
I hope this overview of Ecommerce Empire Academy was helpful to you. Explore your options!
Eartha 🙂