Clickbank remains one of the top affiliate marketing networks online. I wanted to create this Commission Hero affiliate review as it is one of the top-selling programs on Clickbank. You can earn great commissions by promoting it as an affiliate.
Commission Hero is a self-paced online training program created by Robby Blanchard that teaches students how to create Facebook ads and landing pages to promote affiliate products (primarily Clickbank products).
I feel that promoting any type of affiliate product requires understanding the product as best as you can. That being said, let's dive into what Commission Hero is and how the affiliate program works.
Product Details:
Product Creator: Robby Blanchard
Product Price: $997 or $597 (2 split payments)
Commission: 40%
Average Sale: $304.85
Tired of not making sales? Learn how I went from zero to making consistent affiliate commissions. Click here to learn how I did it.
What is Commission Hero?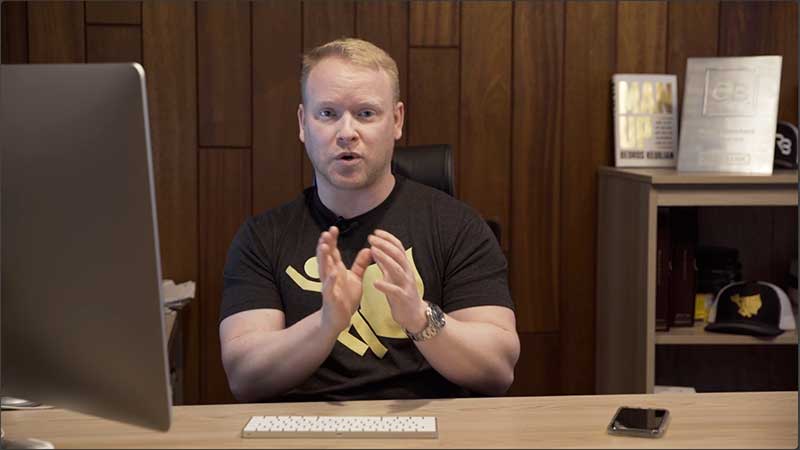 The Commission Hero training program was created by Robby Blanchard who is currently the #1 Clickbank affiliate in the world.
His background is in fitness. He opened a Crossfit gym years ago and was struggling to keep the doors open due to a lack of gym members.
Rather than give up, he started to teach himself how to run Facebook ads to promote his gym. His ads worked so well, that his gym membership blew up and his business grew.
Eventually, he created his own product and placed it on Clickbank. He figured he could use the same Facebook ad strategy he used for his gym to sell his product and it worked.
He began reaching $1,000 weeks promoting his own product. Soon he began using the same strategy as an affiliate promoting other people's Clickbank products and began reaching $1,000 days.
Fast forward and Robby Blanchard is now the number one Clickbank affiliate in the world.
The Commission Hero Training Program
What you will learn inside Commission Hero is Robby's strategy of using Facebook ads and landing pages to promote affiliate products.
He has a 3-step process which consists of:
Ad image
Landing Page
Offer
It is about attracting clicks with your Facebook ad image so he teaches which types of images work best for attracting clicks.
The next step is the landing page which continues the curiosity of the visitor. The landing page could be a quiz or text that presells the offer.
Facebook does not allow clicks directly to the affiliate offer so having a landing page is essential. The landing page then directs visitors to the affiliate offer.
This is not a new strategy at all but most affiliate marketers do not understand how to implement this strategy effectively.
Most people stumble with all of the steps, particularly with Facebook ads and creating presell landing pages.
Who better to learn from than the number one Clickbank affiliate? This is what makes Commission Hero a great product to promote.
I do recommend watching the webinar to get full details of what is taught in the course.
Keep in mind that this is all about paid advertising. It is only one way to make consistent affiliate commissions.
A Commission Hero Affiliate Review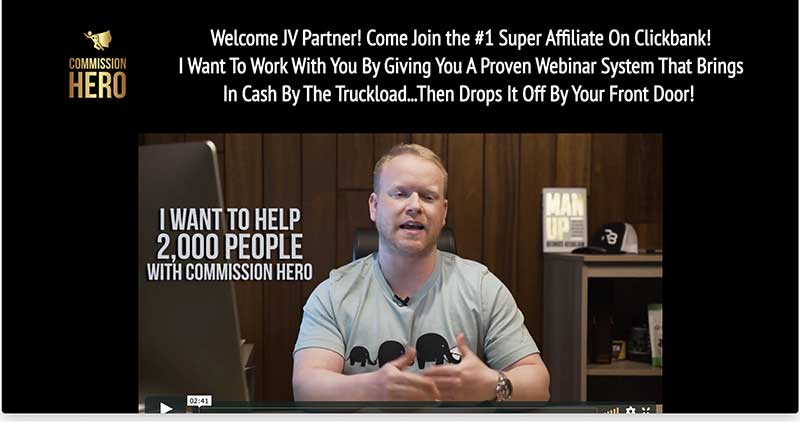 Since Commission Hero's affiliate program is managed by Clickbank, you can expect a high commission rate. In this case, the commission rate is 40%.
The training program sells for $997 and the average sale is $304! You can imagine why many affiliate marketers are promoting this product.
While similar products as this one tend to come and go on Clickbank all of the time, the big upsell here is Robby himself.
If someone has a goal to earn $1,000 days or weeks promoting Clickbank products, who better to learn from than the top promoter of Clickbank products? It's a no-brainer.
Besides that, you get to promote a training course that will actually help those new to affiliate marketing.
The method taught is a tried-and-true method that works but without proper guidance, most affiliates will burn through their marketing budget with nothing to show for it.
As a Clickbank product, it will have a 60-day refund. Your commissions will be paid via check or direct deposit. You can also opt for weekly or bi-weekly payouts.
Potential Commission Hero Affiliate Earnings Per Month
Your earning potential for promoting this training program can be quite large. With an average sale of $304, you would only need to make 10 sales to earn over $3K per month.
If you have the budget to do paid advertising, you could actually follow the course, implement the strategies that you learn, and possibly earn even more.
Like I said, paid advertising is only one method of making consistent affiliate commissions. Learning free traffic strategies is not the basis of Commission Hero.
Is Commission Hero Worth Promoting?
I feel that Commission Hero is worth promoting as an affiliate marketer as the course teaches one of the standard methods of promoting affiliate products using Facebook ads.
It is taught by someone that started with zero knowledge of using Facebook ads to becoming the top Clickbank affiliate.
When promoting it, keep in mind who your target audience will be. In this case, affiliate marketers but particularly those that have a desire to learn Facebook advertising.
An Alternative Method for Promoting Commission Hero
Fortunately, there are other methods you can use to promote affiliate products without spending money on paid ads.
I started my online business with a niche website. That is how I continue to run my business today. You can earn consistent affiliate commissions with niche websites without spending a dime on ads.
It takes a bit more time to get going as you rely on your content to drive traffic. However, once your website begins receiving traffic, it can begin making money as well.
If I were to focus on promoting Commission Hero, I would create a niche website that relates to what the course is teaching or to an audience that desires to start an online business (quit their day job, etc.)
There are many niches to target with this product. It is a matter of brainstorming and then creating helpful content for your audience.
When I got started with my niche website I searched for a course that taught how to make money with niche websites. I found this one and it has helped me progress much faster than if I had learned everything on my own.
My Closing Thoughts On My Commission Hero Affiliate Review
I hope this Commission Hero affiliate review has been helpful. After watching the webinar and learning a bit more about Robby Blanchard and the course itself, I think that Commission Hero is a great affiliate offer to promote.
It is a course targeted to those interested in learning affiliate marketing and the 40% commission rate is awesome.
Niche websites are what I use to earn a consistent income online through affiliate marketing.
It is one of the best ways to earn affiliate commissions. I make commissions while I am sleeping, out grocery shopping, or relaxing with my loved ones.
Beginners may find it a bit challenging to get started. I did as well so I followed a step-by-step training program.
That training program made all of the difference for me and I use it today to help others one-on-one with creating and growing their own niche websites.