Weight loss solutions on Clickbank have been converting well for many years. This is why I wanted to create this Cindrella Solution affiliate review as it is currently the top-selling weight loss product on the platform.
Cinderella Solution is a digital weight loss product on the Clickbank platform that is targeted to women between the ages of 40 and 65. The product teaches "carb pairing" or "flavor pairing" in order to stimulate the weight loss doubling molecule which signals 22-hour a day fat-burning effect in the female body.
With the right targeting, it makes sense that this product is currently a top-seller in the diet & weight loss category. They provide plenty of help on the affiliate information page on how to promote the product.
I will cover those details as well as share my preferred method for earning affiliate commissions on a consistent basis.
Product Details:
Product Price: $37
Commission: 95% ($73 average order value)
Tired of online scams? Learn how I went from zero to earning a consistent income online with affiliate marketing. Click here to learn how I did it.
What is Cinderella Solution?
The Cinderella Solution is one of the latest digital weight loss products on Clickbank that is selling like hotcakes.
Weight loss products tend to sell extremely well, even in digital format. The weight loss products on Clickbank come and go quite often.
Most of them have some "gimmick" or spin that they promote and affiliates with large email lists or who are willing to spend money on paid ads can make a large number of sales.
The Cinderella Solution appears to be no different. The program's pitch is based on "flavor pairing" or "carb pairing" that re-awakens a weight loss doubling molecule.
This weight loss doubling molecule signals a 22-hour a day fat-burning effect in the female body.
Whether or not this is actually backed by science, I do not know. What I do know is that if you have a target audience of women between the ages of 40 and 65, you will likely make some sales.
That being said, let's dive into the affiliate program itself and find out what type of commissions and earnings that you can expect.
Cinderella Solution Affiliate Review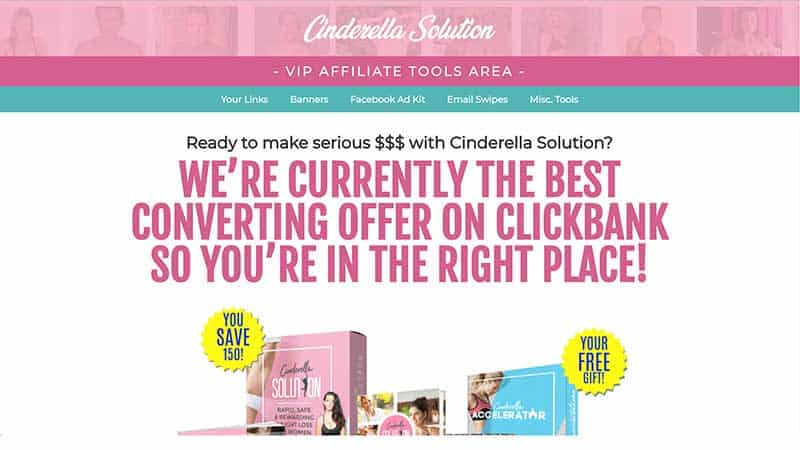 One nice thing about Cinderella Solution's affiliate program is that they provide plenty of information on how to promote it.
First, let's talk about commissions. They offer 95% commissions which is one of the highest commissions I've come across for a Clickbank product.
The average order value is $73+ as there are upsells. One of the upsells includes a green supplement called Cinderella's Lean Greens.
How to Promote Cinderella Solution
The affiliate information page talks about the best method of promotion for the Cinderella Solution. They recommend promoting the offer using Facebook ads.
This is where it can get a bit difficult for many affiliates. If you've ever run a Facebook campaign before, you likely know that you'll need a nice-sized budget to get a return on your investment.
Besides that, when you take into account that this is a weight loss product, there is also the issue of getting your ad approved.
What is helpful is that they do hook you up with landing pages that include a Facebook ad quiz lander.
They have a funnel template that works with ClickFunnels so you will need a ClickFunnels account to import it. ClickFunnels has a 14-day free trial if you want to give the quiz landing pages a shot.
Even with the free landing pages and funnel, there is still the issue of using Facebook ads. There is a learning curve so it is wise to learn as much as you can before spending money on ads.
You can check out this free Facebook Ads Academy webinar to get a better idea of how to use the ad service.
The other option that is mentioned is to promote the product to your email list. If you do have an email list that is in the weight loss niche, this could be a good product to promote.
Is Cinderella Solution an Evergreen Product?
When it comes to weight loss products on Clickbank, I would consider Cinderella Solution to be an evergreen product.
What you need to keep in mind is that a lot of products on Clickbank are removed after a while.
Therefore if you want to promote Cinderella Solution for the longterm, it may not be a product that stays on Clickbank for years.
Most products do not, especially in the weight loss niche. There are always new products popping up that take over.
I do feel that this particular product will be around for a little bit so it is worth promoting and earning some commissions.
Promoting Clickbank Weight Loss Products with a Niche Website
Many years ago when I initially learned about affiliate marketing, I wanted to try my hand at promoting Clickbank products.
At the time, making money on Clickbank was how most beginner affiliates got their start.
I created a niche website in which I wrote reviews of the various weight loss products on Clickbank.
It worked out fairly well at the time but that website would not rank today with the way I managed it back then.
I didn't create content on a regular basis. In fact, I barely touched the website after I put up the initial product reviews.
That doesn't cut it today. Search engines like Google want to return the most relevant and helpful content to their users.
Niche Websites Work Extremely Well
When I became serious about affiliate marketing again, I decided to take niche website creation more seriously as well.
Rather than try to figure it all out on my own, I found an affiliate training program. It was this training program that helped me to progress much faster than if I tried to learn it all on my own.
Since that training, I have created niche websites and now I am earning consistent affiliate commissions.
My Closing Thoughts On Becoming a Cinderella Solution Affiliate
This product seems to convert well, even on the upsells. By targeting the right audience (women ages 40-65), you could do quite well.
Many affiliates are making sales using Facebook ads. However, if you do not have the budget to do so, you can create a niche website.
Niche websites are what I use to earn a consistent income online through affiliate marketing.
It is one of the best ways to earn affiliate commissions. I make commissions while I am sleeping, out grocery shopping, or relaxing with my loved ones.
Beginners may find it a bit challenging to get started. I did as well so I followed a step-by-step training program.
That training program made all of the difference for me and I use it today to help others one-on-one with creating and growing their own niche websites.