Are you wondering if CB Profit Sites is worth promoting as a Warrior Plus affiliate? In this CB Profit Sites affiliate review, I will go over what the product is and how much you can earn promoting it as an affiliate.
CB Profit Sites is a done-for-you cloud-based app that generates websites that are pre-loaded with Clickbank product reviews, videos, and bonuses.
Done-for-you websites are always helpful for new affiliates as many do not know how to get started with affiliate marketing. Let's dive into what is included and how the commissions work.
URL: https://warriorplus.com/aff-offer/o/wpsgl2
Product Creator: Glynn Kosky
Commission: 50% through the funnel
Affiliate Network: Warrior Plus
Tired of not making affiliate commissions? Learn how I went from zero to making consistent affiliate commissions every month. Click here to learn how I did it.
How CB Profit Sites Works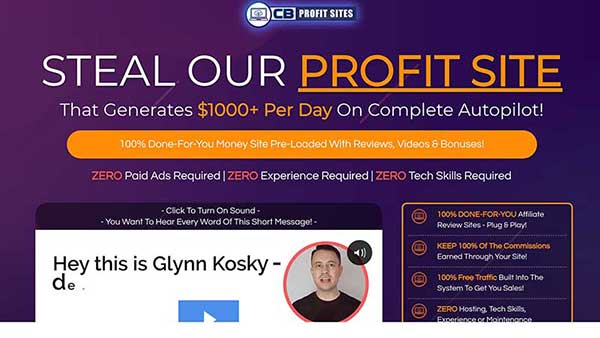 The CB Profits Sites system was created by Glynn Kosky. It is a web-based app that generates a Clickbank review website pre-loaded with reviews, videos, and bonuses.
Users can input their Clickbank affiliate ID, select the products they want on their website, and the app creates a review website. There is nothing to install and no hosting set-up is required as they host the website for you.
The system is supposed to include free traffic but it doesn't state where this traffic comes from. This product is definitely geared toward the newbie affiliate marketer.
It would be enticing for someone inexperienced in affiliate marketing to find this to be an easy way to generate commissions. However, it is not as simple as it seems to make sales. Read below for what I mean.
Possible Content Issue
If you haven't figured it out on your own yet, these replicated websites are also producing the same professional reviews for each website the app generates.
In order to solve this issue, they include a free content spinner to turn the reviews into "unique content." I am not a fan of spinning content and most affiliate marketers are not either.
This is why affiliate marketers that are building niche websites create their own content or pay writers to create unique content. Spun content is not the most ideal choice for building a niche website.
Search engines like Google are seeking the most relevant content to return to their users. Spinning content simply won't cut it today. It is hardly ever helpful to the reader and that only leads to a high bounce rate (visitors clicking away immediately.)
I am not sure how well these CB Profit Sites will rank in the search results if they do at all. If someone is willing to drive traffic using paid ads, it is possible to make some sales but as far as SEO goes, I highly doubt these types of websites will rank well in the search results.
Many times new affiliate marketers are seeking an easy button for making commissions. Unfortunately, there is no such thing.
CB Profit Sites may help in the sense of demonstrating what a review website can look like but how effective these websites are is up for debate.
CB Profit Site Affiliate Review
This isn't at all the worst product for newbies that I've come across. They are offering done-for-you websites that market Clickbank products.
It is a solution that you can offer as an affiliate marketer yourself. If you want to promote this product, you must become an affiliate of the Warrior Plus website.
CB Profit Sites is currently selling for $21.97 and may go up in price as time goes on. Once you are approved as an affiliate, you have the opportunity to earn commissions on the many one time offers that are included.
There are six OTOs that are part of the package. They include:
Unlimited: $97 – $47
Done-for-You: $97 – $67
Automated Traffic Flow: $97 – $67
Conversion Boosting Tools: $67 – $47
Bonus Page Builder: $67 – $47
License Rights: $197 – $97
The low front-end pricing makes it easy for someone to want to buy but your commissions will be made primarily on the one-time-offers.
Many affiliates promote Warrior Plus products via their email lists and blog posts. Most Warrior Plus products have launches that last for several days.
These launches are well suited to email lists as you can build up the excitement of the product which can lead to higher conversions.
If you do not have an email list, you could consider creating a niche website to promote this product and others like it.
Of course, you would have to be in the make money online niche. You could review these products on your website and provide a genuine user experience.
Most Warrior Plus products are low-cost on the front end ranging anywhere from $6 and up. That is primarily because most of the sales are made from one-time-offers.
Therefore, you won't break your budget by buying and reviewing some of these products on your website.
Niche Websites are Excellent for Promoting Affiliate Products
I got my start in affiliate marketing by creating a niche website. It is what I continue to do today to make a consistent income online from affiliate commissions.
When I created my first website I had no clue how to make money with affiliate marketing. I made a point to find an affiliate marketing training program and found this one.
Once I followed the training and implemented what I learned, it changed everything for me. I was finally making consistent commissions. It took time but that is the nature of SEO.
In the grand scheme of things, waiting at least 8 to 12 months is not a big deal when you consider that you will have free traffic and your website will continue growing over time.
Besides that, I always remind people to ask themselves how long they have spent working for someone else. In many cases, the answer would be YEARS.
Waiting 8 to 12 months for your website to take off is nothing in terms of time. All businesses take time to develop and niche websites are no different.
Creating a Niche Website is Easy
Not only is it easy to create a niche website, but it is also extremely low cost. All that you need is a domain name, web hosting, and WordPress. You can get all three with any commercial web host.
You can even start your website for free using the same training platform I used and am still a part of today. Watch the video preview below:
Otherwise, I recommend a web hosting provider such as WPX Hosting. I use them for hosting my websites. They have some of the fastest hosting, stellar reviews, and excellent customer service. There is also an easy one-click WordPress installation.
My Closing Thoughts On My CB Profit Sites Affiliate Review
I hope this CB Profit Sites affiliate review has been helpful in terms of promoting it as an affiliate marketer. I think CB Profit Sites is an easy newbie-friendly way to get started with an affiliate marketing website.
However, I don't feel it is a long-term strategy and likely will not produce the best results in terms of consistent income.
As for promoting the product, you can definitely make some sales as done-for-you websites convert well. I have promoted done-for-you services with great results.
Niche websites are what I use to earn a consistent income online through affiliate marketing.
It is one of the best ways to earn affiliate commissions. I make commissions while I am sleeping, out grocery shopping, or relaxing with my loved ones.
Beginners may find it a bit challenging to get started. I did as well so I followed a step-by-step training program.
That training program made all of the difference for me and I use it today to help others one-on-one with creating and growing their own niche websites.